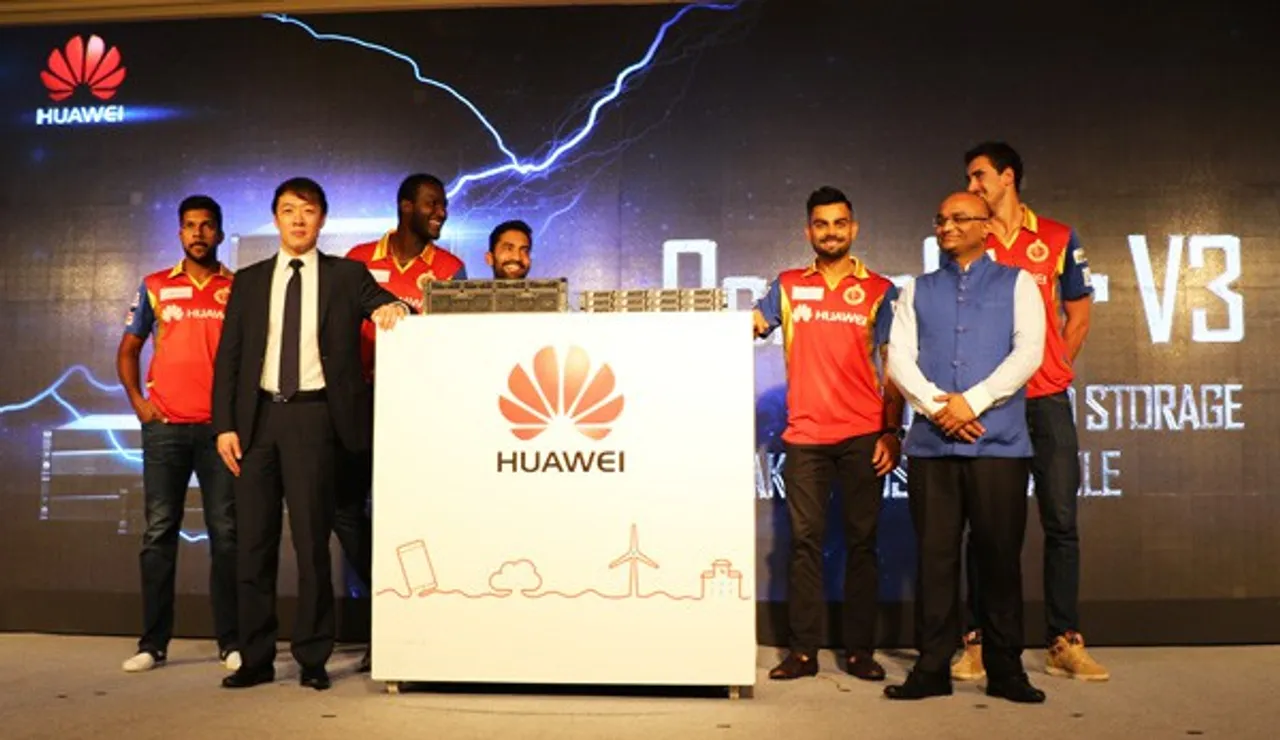 Huawei recently unveiled its OceanStor 5300, 5500, 5600, and 5800 V3 mid-range storage systems (also referred to as the V3 mid-range storage systems).  The launch event was also attended by the Royal Challengers Bangalore team, with whom Huawei recently extended its partnership for three years. The programme focused on Huawei's next generation IT storage solutions which are fuelling the power of data while also forming the foundation of Enterprise of the Future.
Speaking at the launch, Derek Hao, vice president, Huawei Enterprise Business Group, South East Asia said, "Huawei has developed a versatile range of storage solutions, generating its own unique competitive advantages and leaving its mark on the global storage market. In an IT ecosystem which sees data volumes multiplying every day, the need for unified storage solutions, which offer the benefit of convergence is being increasingly recognized by enterprises. Our presence in the Indian market has been met with enthusiasm, especially for the vast IT product amd solution portfolio. Reinforcing our intent to deliver more and better in this region, we are delighted to unveil the OceanStor V3 storage solution in the esteemed presence of our global partners, who strive to deliver Huawei's technological innovation as they cater to the right needs for the right customers"
Sameer Rawal, vice president, Huawei Enterprise Business Group in India said, "In the background of the consistent customer centric innovation taking place at Huawei, we are proud to present the V3 mid-range storage systems – the next generation unified storage solutions, designed keeping in mind the requirements for enterprise-class applications. The unveiling of this solution is a testimony to Huawei's endeavour to cater to business needs, and not simply to solve an IT problem. With V3 storage solutions, we bring the value proposition of helping customers build business-driven, on-demand, and cloud-oriented storage services."
Huawei OceanStor V3 series storage systems are next-generation unified storage products designed for enterprise-class data center applications. Leveraging a storage operating system built on a cloud-oriented architecture, a powerful new hardware platform, and a suite of intelligent management software, the OceanStor V3 storage systems enable five levels of convergence, including storage area network (SAN) and network attached storage (NAS) convergence, high-end, mid-range and low-end convergence, solid state drive (SSD) and hard disk drive (HDD) convergence, main storage and backup convergence, and heterogeneous storage convergence. It also provides data storage for applications such as large-database Online Transaction Processing (OLTP), Online Analytical Processing (OLAP), file sharing, and cloud computing, and can be widely applied to industries ranging from government, finance, telecommunications, and energy, to media and entertainment.