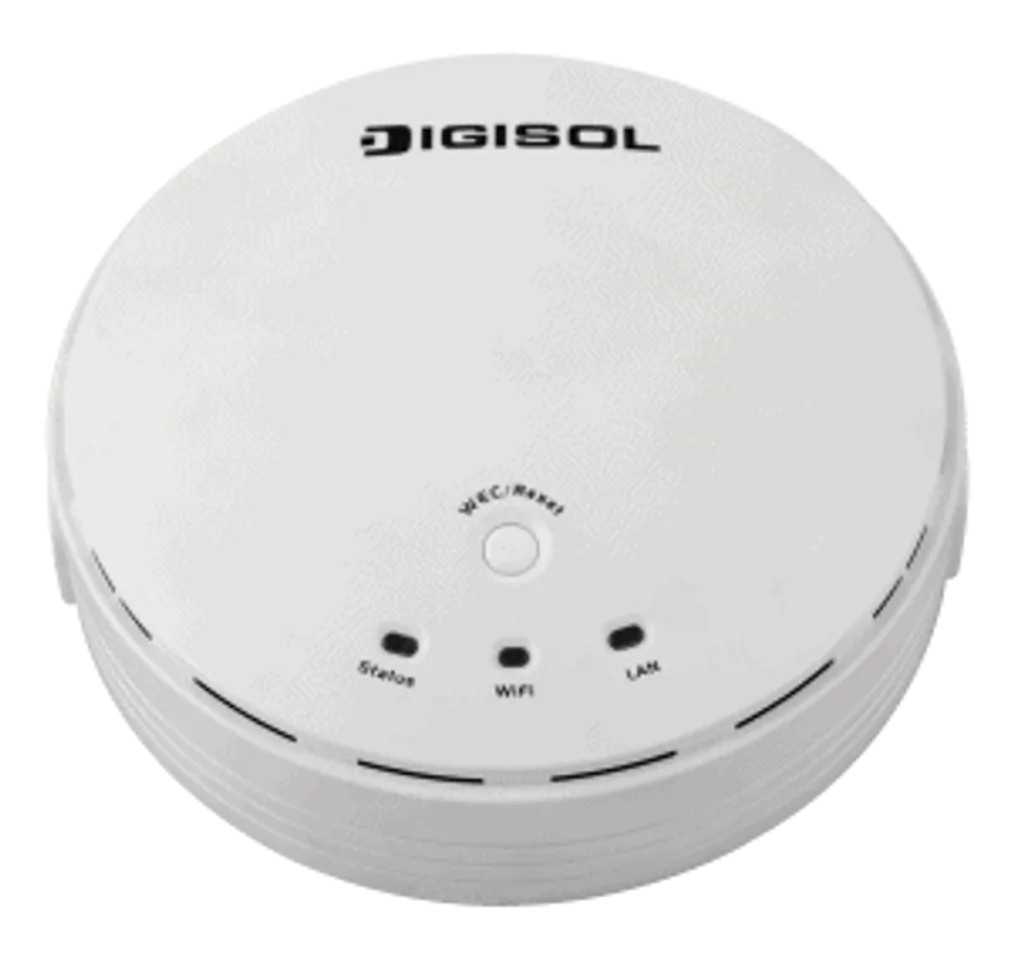 Organizing and securing network components can be complicated by the wide range of equipment involved and the need to consider the passage of wireless signals in both selection and placement of the storage unit.
The DIGISOL The DG-WM6305SI dual band wireless access point can provide wireless data transmission rate up to 300Mbps in 2.4GHz & up to 900Mbps in 5GHz Frequency Bands which enhances the sharing of files, photo, audio, video and gaming experience over wireless network. The DG-WM6305SI is perfect choice for Hotels, office premises and Education institutes.
DIGISOL wireless access point DG-WM6305SI enables communication between wireless and wired notebooks/desktop computers in the network. It complies with IEEE 802.11n & IEEE802.11ac standards. DG-WM6305SI supports IEEE802.3af PoE, which helps in easy installation by eliminating the need of a dedicated power source for the camera. Easy configuration of Master & Slave access points with just a press of WEC Button.
The access point features up to 26 dBm transmit power that delivers long-range coverage and enables its wireless signal to better penetrate walls, ceiling and floors. This access point is supplied with free Rangerview AP Management software for bulk AP management upto 100 APs that includes Auto Discovery, Monitoring & Alerting, Profile based Configuration, CAPWAP, WiFI Control, System Control, LAN & VLAN Control, IPv6 Control, MAC Control, Packet Filters Control, AP Load Balance. Combined with these Enterprise Class Management features along with VLAN/SSID, Giga port and upto 128 users connectivity per Access Point,
Product Features
l 1x 10/100/1000Mbps IEEE 802.3af PoE Port
l 802.11n 2Tx2R (2.4GHz) & 802.11ac 2Tx2R (5GHz) Wireless Compliance
l Multiple SSID: 8 + 8
l QoS-WMM Support
l IEEE 802.1q Tag based VLAN
l Multiple Operational Modes
Advanced Features
l Firewall: Bridged SPI Firewall Wireless IPS
l Access Control: MAC Address Control Packet Filters
l QoS & BWM: Policy Based Bandwidth (BW) Control, Packet Flow Prioritization based on MAC/ VLAN Tag/ IP/ TCP/ UDP/ Well known Services
l VPN: IPSec Tunneling for Remote Access Point (AP) Management
The feature rich DIGISOL DG-WM6305SI is available at street price of Rs. 18,000.