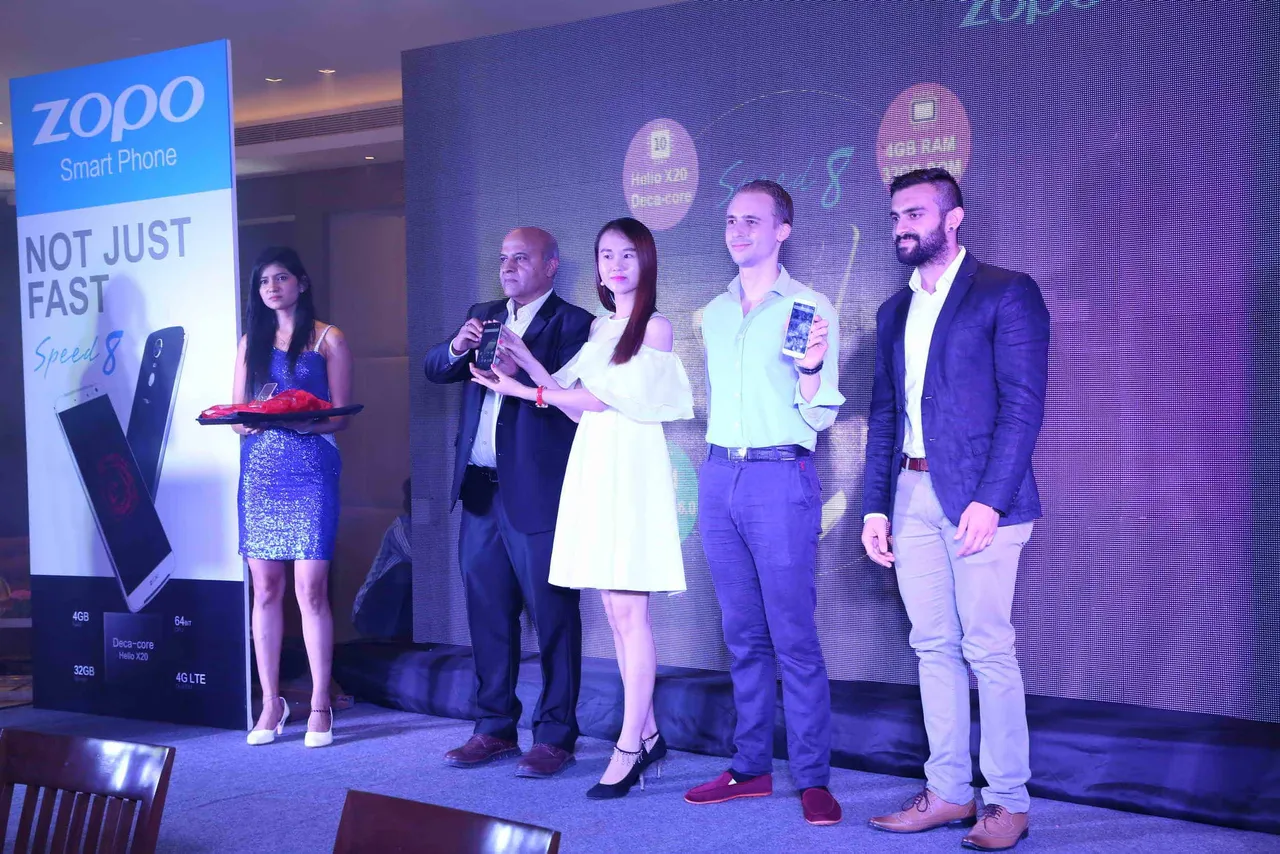 Zopo, the hi-tech enterprise which is engaged in designing, manufacturing and marketing of mobile intelligent terminal products, announced the launch of Speed 8, the world's first blazing fast deca-core smartphone. The mobile device boasts of striking functionalities and ace performance matrix.
Zopo Speed 8 is powered by Helio X20 64-bit Deca-core CPU and has a 4 GB RAM and 32 GB internal storage. The brushed metal looking, curved body, aesthetically designed smartphone comes packed with a finger print scanner, 5.5 inch 1080P full HD IPS Symmetrical display, reversible Type C USB and a Sony IMX230 top-of-the-line camera sensor. The primary camera is 21.0 mega-pixels and the secondary camera is 8.0 mega-pixel with dual LED flash and front flash. Supporting all these premium features is a powerful fast charging 3600mAh battery which ensures a really long lasting talk time. The smartphone is built on energy-efficient Stock Android 6.0 Marshmallow and it supports NFC.
Announcing the launch at a press conference, Kevin Xu, Founder Zopo brand, commented, "The smartphone market in India is going through a cut-throat competition of sorts and relevance and technology innovation dictates what is here to stay. There is no place for 'me toos' in the market. Keeping today's smart, discerning and technology savvy millennial in mind, we design our smartphones and make sure they are at par with contemporary trends and at the same time, they are futuristic as well. India is a strategic market for us and we are in India, for India. With this overriding commitment at our core, we launched the sophisticated Zopo Speed 8 here."
"Apart from being the world's first deca-core CPU processor, Speed 8 comes stacked with 1/2.45 CMOS image sensor in the camera making pictures look clear and refined. Additionally, the sensor also includes PDAF technology, which, in practice means you'll be able to take phenomenal pictures with a super-fast focus that triggers itself in just 2/10th of a second. The built in NFC technology in the device enables it to double up as a digital wallet for monetary transactions and many other such operations;" he added.
Priced at Rs. 29,999, Zopo Speed 8 will be available online and offline.