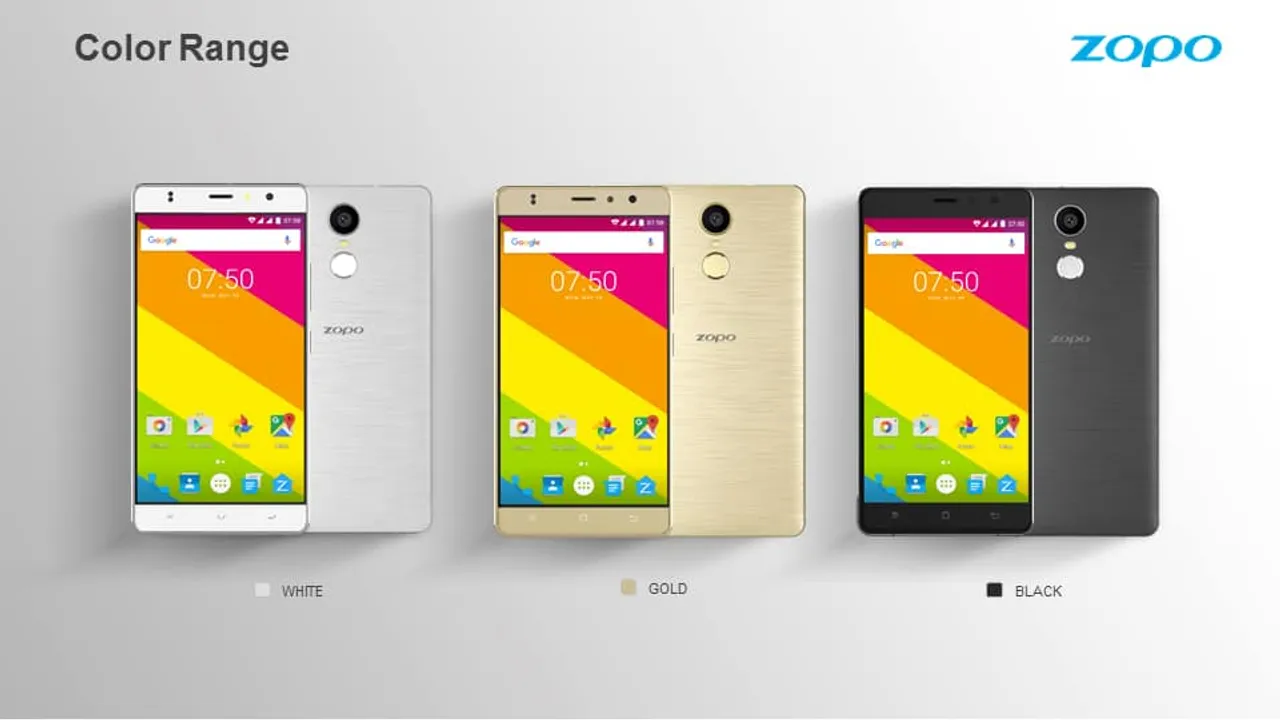 ZOPO recently announced the launch of ZOPO Color F1. The product is an extension of its widely held Color Series. Combining innovation with accessibility, the company has introduced Multi-function Fingerprint scanner in its latest smartphone, enabling customers to control a number of functionalities of their smartphones with this feature. ZOPO Mobiles, a hi-tech enterprise which is engaged in designing, manufacturing and marketing of mobile intelligent terminal products, has earned a reputation amidst its young, fast-paced and multitasking audiences for its innovative products.
With its Luxurious Metal Frame, the Color F1 has a superior texture and its metallic finish gives users the perfect in-hand feel. However, the biggest USP of this product lies in its Fingerprint scanner, which allows users to control the device's camera, gallery, and other significant features. Following are some of its innovative characteristics:
Fingerprint Camera control: Take as many selfies as you wish with this feature. Use the fingerprint scanner to shoot pictures by simply hitting the scanner with your finger.
Gallery control: Tap and scroll through your pictures easily with the scanner.
Music: Change music tracks by hitting the fingerprint scanner.
Video: Pause/Play any video just by pressing the fingerprint scanner.
Launcher control: Quickly swipe through the app window with just a touch on the scanner.
App Lock: You can now keep all your apps secure thanks to the App Lock feature of this scanner. With this, you can select which apps you want to keep safe & private by having unlocking them only with your fingerprint, or by pattern lock encryption.
Apart from its multi-functional fingerprint scanner, ZOPO Color F1 also includes the following features:
Multi-Account Application: Support two accounts simultaneously with this feature by cloning your favorite apps within your Color F1 (Parallel Space App included). Create balance in both your work and personal life with an option to have 2 social media accounts on the same app.
Floating Video Integration: The video player integrated in the Color F1 allows you to watch your favorite videos without any interruption. This feature enables videos to 'float' on top of another app, while still allowing access to them.
Barcode & QR code scanner: Make shopping more informative with the Color F1 Barcode & QR code scanning feature. Get instant information about products, brand's information, and much more!
Competitively priced at INR 8890/-, the ZOPO Color F1 comes with a 2.5D Curved Glass, Front & Back LED Flash, 5.5" HD IPS Screen, MT6580 Quad-core CPU, 1GB RAM + 16GB Storage, 8MP AF Rear Camera & 2MP Front Camera, Android 6.0 Marshmallow, and 2300mAh Battery.
With this new launch, ZOPO has maintained its reputation as a leading innovative smartphone developer in both India and China – manufacturing technologically advanced, yet affordable smartphones that suits every pocket.