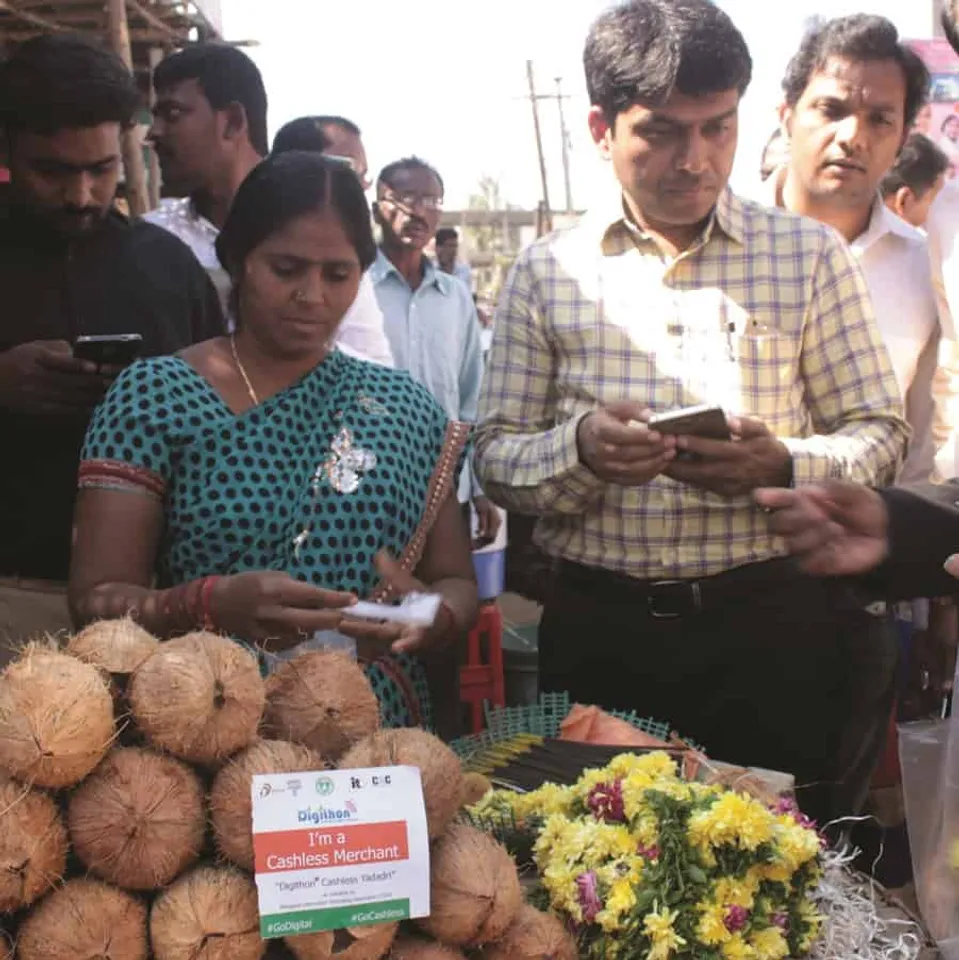 Telangana Information Technology Association (TITA) flagship project 'Digithon' has achieved another milestone of making the temple town Yadadri as the 'First Cashless temple town in 'Telangana State' by enabling 815 merchants near the temple for cashless transactions.
"This unique initiative of making the entire temple town cashless is first adopted by TITA with the support of Aler MLA and Government Whip Gongidi Sunita, under the banner of 'Digithon Cashless Yadadri'. The aim of this mission is to impart Digital Financial Literacy to the merchants in Yadadri with the help of 100 Digithon Digital Leaders. Digital Leaders, who travelled all the way from Hyderabad sensitized, trained and on boarded all the auto drivers, coconut merchants, prasadam counters, etc. for cashless transactions in Yadadri." said TITA President Sundeep Kumar Makthala.
Travelling in Cashless Auto Rikshaw, MLA and Government Whip Gongidi Sunita said, "Lack of awareness of digital financial literacy, especially among merchants in rural area, is a major challenge in the country, more so in light of the Center's recent demonetization and plans to make India a cashless economy. There is an urgent need to create awareness among the citizens, especially in rural and semi-urban areas regarding digital finance services and also enable/support access to digital finance services options. Now, devotees can feel ease to pay the money using the cashless transaction for travelling in auto, purchasing coconuts, prasadam, etc in Yadadri.
Yadadri Collector Anita Ramachandram purchased the coconuts using the cashless transaction through SBI Buddy said that it was happy to participate in historic event and appreciated TITA for taking the unique initiative.
This remarkable event was attended by Government Whip Gongidi Sunitha, Collector Anita Ramchandran, TITA Global President Sundeep Kumar Makthala, Yadadri District Join Collector Ravi Naik, TITA Vice President Ranapratap Bojjam, Srilatha Chinthala, Nagaraj Marayala, Podishetti Ramesh, Venkat Vanam, Sai, Praveen, Raju, and others participated in the event.