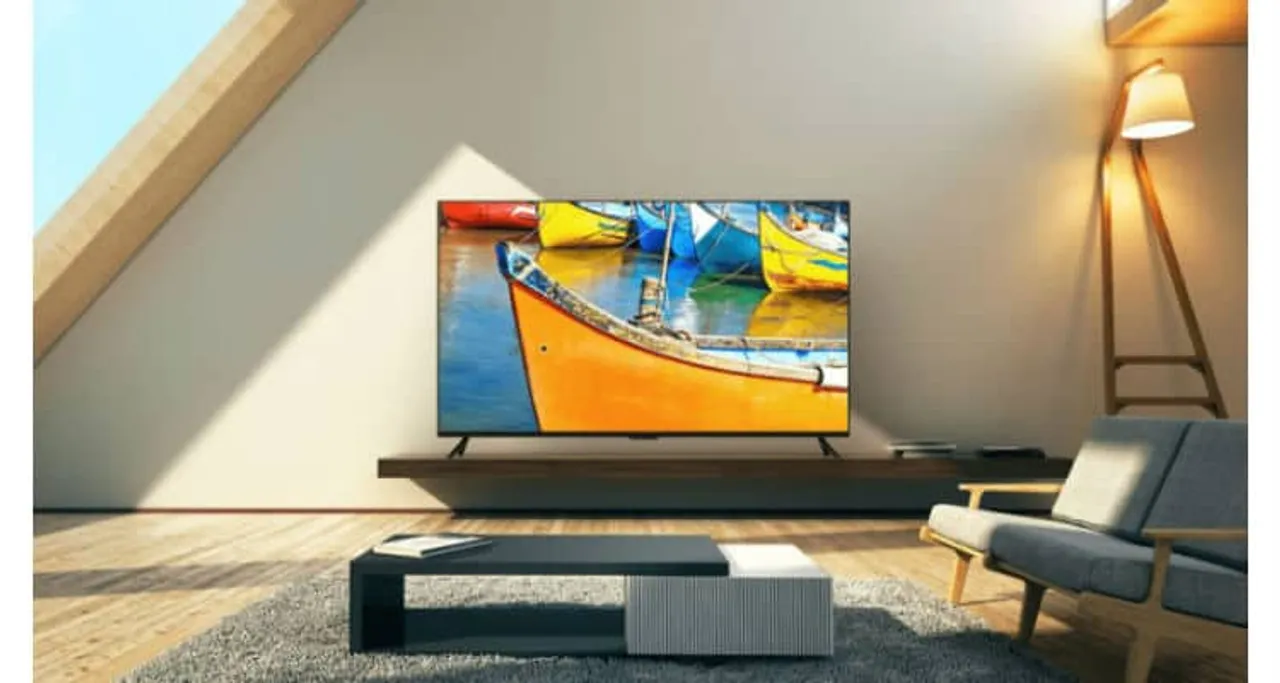 Xiaomi is starting 2018 on a high note in India with a blockbuster event where it broke new ground with the launch of three products. The world got its first glimpse of Redmi Note 5 Pro in India , and for the first time ever Xiaomi has launched its TV in a global market outside of China.
Redmi Note 5 and Redmi Note 5 Pro bring full screen display innovations at an amazing price to Mi Fans in India, starting from INR 9,999. The wildly successful Redmi Note 4, which was the top-selling smartphone in India in 2017 as per Counterpoint, has come to represent Xiaomi's commitment to quality and design at an amazing price. As users have come to expect from the Redmi Note series, these two new smartphones will exceed expectations in terms of  design, camera and performance.
In a significant move for Xiaomi globally, Mi TV is making its way outside of China for the first time ever. Mi LED Smart TV 4 138.8 cm (55) is the world's thinnest LED TV at just 4.9mm slim, and comes with an intelligent content-first PatchWall software completely redesigned from the ground up for India. Starting from INR 39,999, Mi LED TV 4 is set to completely transform the TV industry in India.
Redmi Note 5 Pro—World's first Snapdragon 636 smartphone 
Redmi Note 5 Pro is the world's first smartphone to feature the octa-core Qualcomm Snapdragon 636. As part of the Snapdragon 636 package, Redmi Note 5 Pro features Qualcomm Kryo cores which are typically only seen on the flagship-grade Snapdragon 800-series of SoCs.
With AnTuTu benchmark scores of well over 100K, Redmi Note 5 Pro blows the competition out of the water with its eight Kryo 260 cores, Adreno 509 GPU, and up to 6GB of DDR4X RAM.
For people who love taking photos, Redmi Note 5 Pro is a dream come true.  It features a 20MP front camera with an LED Selfie-light, which uses complex algorithms to deliver the perfect selfie—now also in portrait mode.
On the rear, Redmi Note 5 Pro makes use of a dual camera setup, consisting of a 12MP + 5MP sensor to deliver mind-blowingly detailed pictures and portraits that have a sharp focus on the subject, with a creamy, blurred-out background.
To top it off, Redmi Note 5 Pro, for the first time, features Beautify 4.0—a method to software-tune images that uses algorithms developed especially for Mi Fans in India to adapt to beards and accessories such as bindis and nose rings.
Featuring an 18:9 full HD+ display with rounded corners, Redmi Note 5 Pro fits just as well in the hands while giving 12.5 percent more display area compared with smartphones using 16:9 screens.
Redmi Note 5 Pro is priced at INR 13,999 for 4GB RAM, 64GB storage variant and INR 16,999 for 6GB RAM, 64GB storage variant.
Redmi Note 5—India's all-rounder
Redmi Note 5 fills the shoes of its predecessor Redmi Note 4, and more. Designed with the same 18:9 FHD+ display as Redmi Note 5 Pro, it features an SoC with a proven track record, the Qualcomm Snapdragon 625.
With an improved 12MP rear camera (with large 1.25μm pixels), up to 4GB RAM and 64GB storage, Redmi Note 5 improves upon the bestselling Redmi Note 4 in every aspect. Redmi Note 5 will still feature the great battery life and reliability its predecessor was known for, while featuring upgrades in all other aspects.
Like Redmi Note 5 Pro, it will feature an LED Selfie-light for the perfect selfie even in challenging lighting conditions.
Redmi Note 5 is priced at INR 9,999 for the 3GB RAM and 32GB storage variant and INR 11,999 for the 4GB RAM and 64GB storage variant.
Available in Black, Gold, Rose Gold, Blue color variants, Redmi Note 5 and Redmi Note 5 Pro will go on sale on Flipkart and Mi.com on 22 February 2018 at 12 noon. Post this, Redmi Note 5  and Redmi Note 5 Pro will be made available every Wednesday.
Mi LED Smart TV 4 138.8 cm (55) : World's thinnest LED TV
Mi LED Smart TV 4 138.8 cm (55) is the thinnest LED TV in the world, boasting an extremely slim design that measures only 4.9mm, with a frameless display design for a more immersive viewing experience.
Featuring a large, 138.8cm (55 inch) 4K LED display with support for HDR10 content, Mi LED TV 4 provides more detail and richer colours. Along with this, Mi TV 4 also has a dual-speaker set-up boasting Dolby and DTS audio for a truly cinematic experience.
To create the almost-zero gap display of the Mi TV 4, Xiaomi used Corning Iris Glass light guide plate, which is three times more expensive and five times harder than plastic light guide plates usually found in most other TVs.
An amazing display deserves great content, and Mi LED TV 4 is set to revolutionize the viewing experience with its PatchWall system, which redefines what a smart TV OS means. Completely redesigned from the ground up for India, Mi LED TV 4 brings together more than 15 different content partners, across 12 Indic languages, resulting in the most diverse and rich library of video content ever integrated on a smart TV in India — over 500,000 hours of content to watch, across the largest library of Video-On-Demand providers, with over 80 percent free content.
PatchWall is also the first Smart TV OS in the world to intelligently connect to set-top boxes, allowing users to switch to any channel, or specific TV show with just one click.
With all this content available, the universal search makes it easy to find content to watch, along with personalized recommendations that get better the more users watch their Mi LED TV 4. There's also support for 13 system languages including 12 Indic languages out of the box.
Along with this, Mi Remote is incredibly easy to use, with just 11 buttons which is a stark contrast to traditional remotes full of buttons. Mi Remote can also replace your STB controller and control any HDMI device that supports CEC.
Powering Mi LED TV 4 is an Amlogic 64-bit quad-core processor with a Mali-T830 GPU, which keeps PatchWall quick and fluid. Easily accessible at the back, Mi TV 4 has 3 HDMI ports (including 1 ARC port), and 2 USB ports (3.0+2.0), as well as an Ethernet port along with Dual-Band Wifi, and Bluetooth 4.0 to connect wireless headphones or other Bluetooth devices.
Mi LED Smart TV 4 138.8 cm (55) will be available at a price of INR 39,999, on 22 February 2018, across Mi.com and Flipkart.