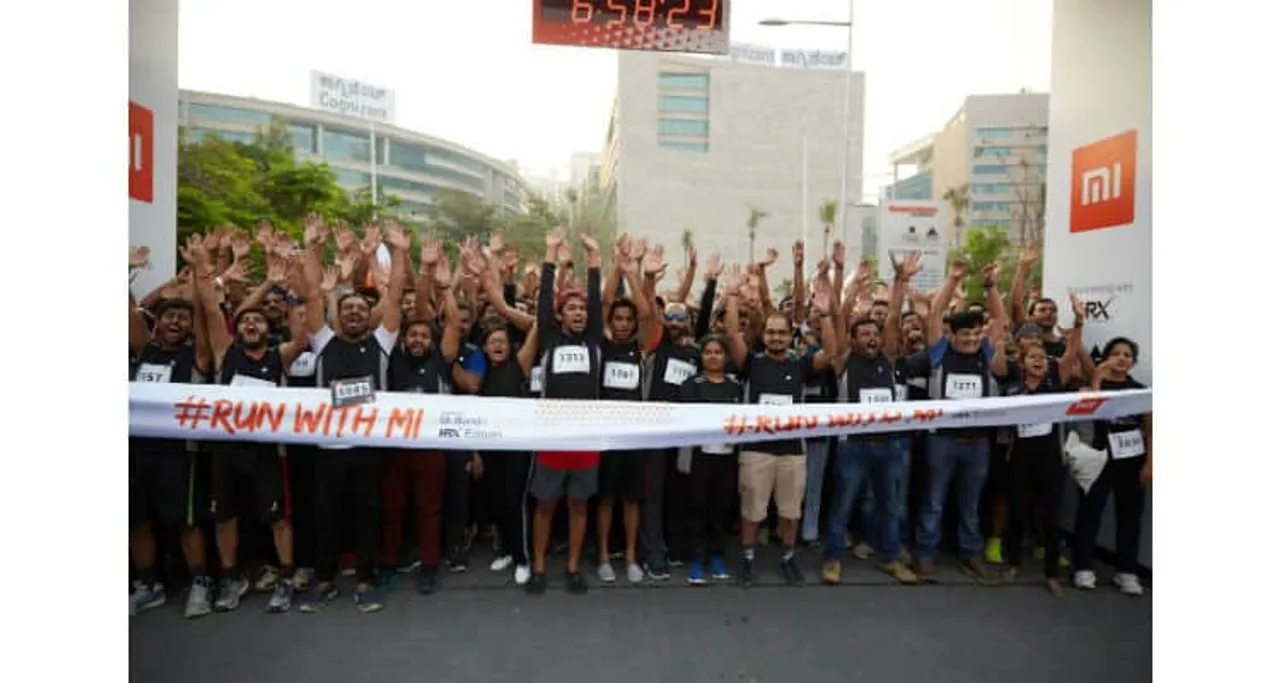 Xiaomi concluded its first 'Run with Mi: Powered by Mi Band – HRX Edition' in Bengaluru. Run with Mi is a step forward from Xiaomi to encourage India to spend a little more time towards a fitter self.
The run was conducted in partnership with HRX and Hrithik Roshan, Founder, HRX flew down to participate with 1000+ other participants in the state capital of Karnataka. 'Run with Mi' denotes the common brand philosophy of providing consumers with the best, which resonates with both HRX and Xiaomi's brand vision for its products. Both the brands believe in having a large array of fitness products at delightful prices. Run with Mi's aim is to build a culture and environment of a better and healthier lifestyle for all.
In September 2017, HRX and Xiaomi jointly forayed into the fitness wearable category in India with the launch of Mi Band HRX Edition. Founded upon a common philosophy of providing high quality, innovative products and aimed at cultivating a healthy environment, #RunWithMi is an extension of the successful partnership between the two brands.
The run which was divided into two categories - 3 km and 5 km run, commenced from Embassy Manyata Tech Park in Bengaluru and was flagged-off by the Bollywood heartthrob Hrithik Roshan, Founder, HRX and Manu Kumar Jain, Vice President, Xiaomi and Managing Director, Xiaomi India.
Hrithik Roshan, Founder, HRXsaid, "#RUNWITHMI is a collaborative effort by Xiaomi India and HRX to bring together runners of all age groups for the main purpose of fulfilling the dream of making a fitter India. We at HRX and Xiaomi want to continue building such properties and products that reach out to the masses and help them maintain discipline and commitment to keep up a healthy lifestyle"
Milind Soman who likes to be known as a tree lover and running person also joined Run With Mi to promote the cause of fitness and wellbeing. He said, "I have always been a big promoter of the easiest, no fuss form of workout – which is running. I am so proud of Xiaomi to have kickstarted this annual property of Run With Mi: Powered by Mi Band – HRX Edition focusing entirely on fitness. Being a strong believer of the same philosophy, I was absolutely kicked to run for this cause and had a blast with all the Mi Fans."
The fitness landscape in India is evolving with more people becoming cognizant about leading healthier lives. Moreover, sedentary jobs and increasing number of lifestyle related ailments, have also boosted interest in fitness related activities. 'Run with Mi' is an effort by both the companies to encourage individuals to make healthier choices.