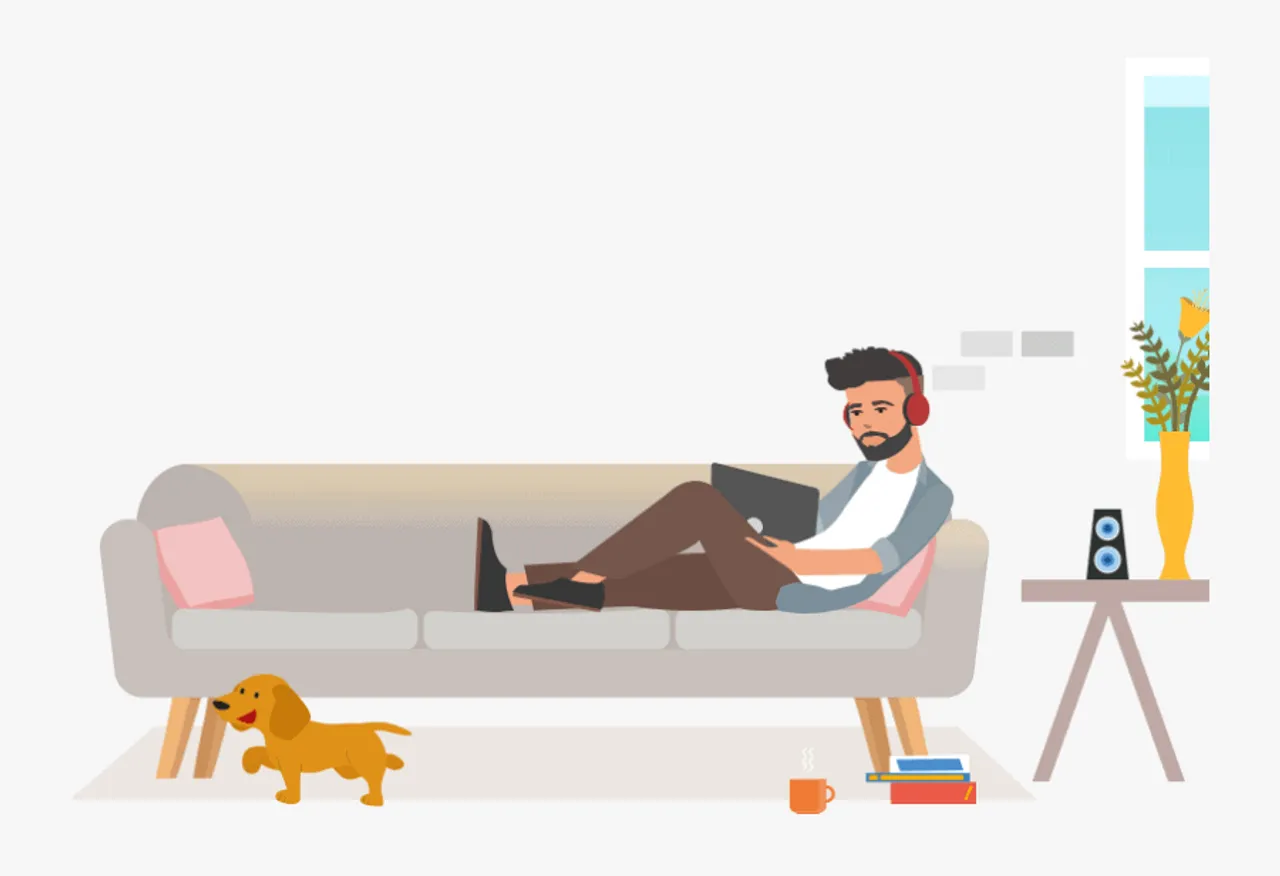 WFH for IT employees has been relaxed till 31st of July, Ravi Shankar Prasad, the Union Minister for Electronics and IT said in a meeting with State IT Ministers in a video conference.
It is to be remembered that the IT employees had asked to be given the facility  of WFH, while many IT  organisations preferred the work from office mode, especially if the employees had to meet the clients. Earlier the government had allowed them  WFH till 30th of April. However, now the WFH for the IT employees has been relaxed till 31st of July. The difference from the current situation is that at present, WFH is mandatory for all except in essential services. However,  after 30th of April it won't be mandatory for all . Those IT employees who want to work from office will be able to do so. But those who ask for WFH will have to be granted the facility by their employers.
Ravi Shankar Prasad clarified in a later tweet that this is not an extension of mandatory WFH, but a relaxation in the terms for the IT industry employees. See his tweet below -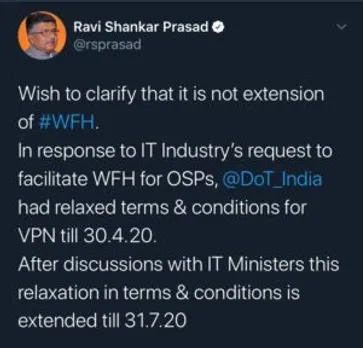 The NASSCOM had asked the government to make a stable regulation rather than give extension after every short periods, as it caused instability in the IT sector.
The IT ministers' meeting was attended by the Chief Ministers of Haryana and Sikkim. The deputy Chief Ministers of Bihar, Uttar Pradesh and Karnataka were also attending the meeting. State IT Ministers from twelve states, including Andhra Pradesh, Telangana, Gujarat, Kerala and Maharashtra, were also present, in addition to the IT secretaries of all states.
"If the government develops a digital platform for sharing best practices and innovations of different states, then others could also learn from that."

--Sushil Kumar Modi,   Deputy CM, Bihar
"Not just the IT sector, all states should give importance to developing startups and research. Focus will be on providing effective E-governance and E-passes. The working of almost all sectors after Covid-19 has changed. Nearly 80 per cent professionals are working from home. Almost all the work is done online. To help this, internet services will be strengthened through Bharat Net.''
--Ravi Shankar Prasad, Union Minister, Electronics & IT
Ravi Shankar Prasad directed his ministry to evolve such a platform to help  innovations of states to be showcased at the national level.
The IT industry is divided  in its opinion about whether WFH for an extended period is viable or not.  There are some organisations which are involved in long-distance communications, which support the idea of a prolonged WFH. It  is to be noted that this  is in line with their business growth. Avaya is one such company.
"The Government's decision to further extend WFH rules for the IT/ITES sector comes as a relief to the workforce and is well-lauded by Avaya as the nation moves ahead to fight the pandemic. Avaya is enabling tens of thousands of remote agents to work remotely ensuring business continuity and economic stabilization in the face of challenges brought down by the pandemic especially to the Indian BPO industry/Other Service Providers (OSP).Through Avaya's technologies, workforce have adopted to the new-normal facilitating productivity and providing customers the experience they expected while maintaining healthy social distancing protocols, amidst the ongoing crisis"

--Vishal Agrawal, MD, Avaya India & SAARC
"The network and data infrastructure in India is not robust enough to address or support 100% WFH or remote working during Covid-19 like situations. The companies may have proper infrastructure to support remote access from anywhere but general WIFI or phone networks at remote locations are not always up and running to support continuity in work. During situations like this WFH users are also working on their own devices and multiple remote working apps. On top of it they are also not fully secure as users lack the understanding of secure access. The infrastructure on both data and network traffic has to be further strengthened to support users, companies and businesses communicate hassle free. The current situation should give us a lot of learning and investment thoughts to create better data and network infrastructure."

--Ashok Kumar, Founder & MD, RAH Infotech
"India is not geared up for an extended and widespread WFH scenario. We have seen instances where people do not even have a laptop to work from home since they use a workstation at the office, added to this WIFI connectivity is yet another challenge which has a long way to go for a WFH to become the new normal. But what I believe is that this 40-day lockdown would have served as a forced pilot for most organisations to understand which part of their workforce can actually work from home in an effective manner!"

--Prashanth G J, CEO, TechnoBind
On the other hand, there are other IT industry leaders, who feel that India is not prepared for a prolonged WFH situation and they feel the rules must be relaxed and industry should gradually go back to its older modes of working. Some of them cite security as one of the major concerns with a prolonged WFH. it should be kept in mind that many in the IT sector had resisted the WFH to begin with.