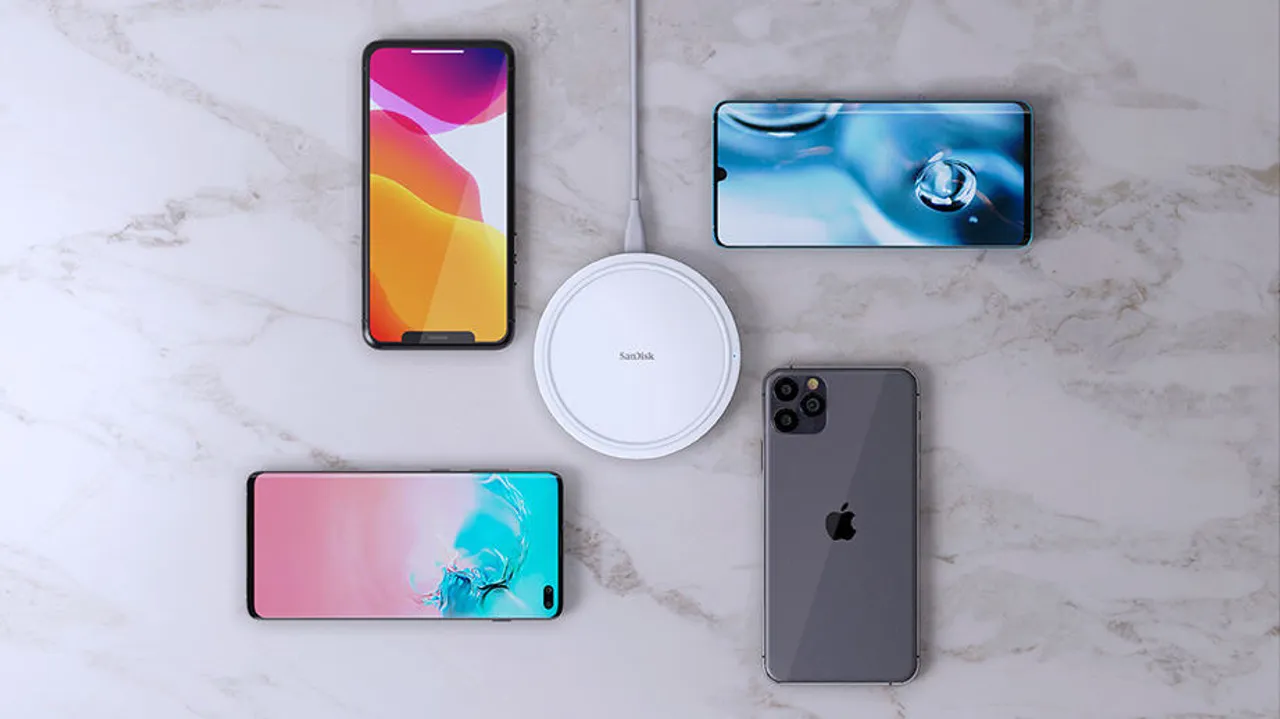 Western Digital has brought out the SanDisk Ixpand Wireless Charger Sync and SanDisk Ixpand Wireless Charger 15W with adapter.
The SanDisk Ixpand Wireless Charger Sync is Western Digital's first wireless charger that comes bundled with the dual functionality of wireless charging and automatic data storage and backup for Qi-Compatible devices. With innovative technology, it re-imagines the capabilities of the traditional charger while opening a world free from the hassles of wired charging and manual back-ups of smartphone data.
Khalid Wani, Sales Director, India, Western Digital, said, "With technological advancements and higher penetration of Qi Compatible smartphones and devices in the market, wireless charging is a fast-growing category and holds strong demand with our consumers. At Western Digital, we understand the changing lifestyles and ever-evolving needs of the consumers and are constantly innovating to bring creative solutions to add convenience to their lives. The all-new SanDisk Ixpand Wireless Charger portfolio is one such cool gadget that allows you to take full control of your life."
Jaganathan Chelliah, Director, Marketing, India, Western Digital, said, "In today's hyper-fast and interconnected world, consumers are generating a huge amount of data daily, which not only exhausts their internal phone storage but also exhausts their phone batteries quickly owing to heavy consumption. When the choice comes between charging your phone or offloading your data to an external storage device, only one emerges triumphant as most phones today have a single port. SanDisk Ixpand Wireless Charger Sync bridges this gap, with an innovative 2-in-1 wireless solution that charges your smartphone wirelessly while taking a backup of your valuable data simultaneously. And SanDisk Wireless Charger 15W with adapter is an ideal companion for your Qi Compatible smartphones that will simplify your life with its ease of use. It's now time to disentangle our lives."
With local storage in capacities up to 256GB, it can be good for fully charged and backed-up smartphones with the SanDisk Ixpand Wireless Charger Sync. This product helps in automatically backing up photos and videos in full resolution and freeing up valuable space on the device to ensure optimal smartphone performance. The charger also supports personal backup profiles for each user to provide ease without worrying about overlapping and confusing data. Consumers looking for a better and hassle-free charging solution can opt for the SanDisk Ixpand Wireless Charger 15W which offers efficient charging.
Key Features
Ixpand Wireless Charger Sync

Automatically back up photos, videos, and contacts right onto the charger by placing your phone on the base
Delivers up to 10W of power with fast charging
Easily free up space on your phone knowing your photos and videos are backed up in full resolution
Includes high-efficiency power plug with 6-foot (1.8m) cable for fast, convenient charging, right out of the box
Supports multiple backup profiles so you can share the charger with others in your family 
Ixpand Wireless Charger 15W

Delivers up to 15W of power with fast charging
Comes with a SanDisk AC Adaptor and 4.5ft (1.5m) USB Type-C™ cable
Soft rubber ring helps protect phones from slipping
Pricing and Availability
The new SanDisk Ixpand wireless chargers are backed by a two-year limited warranty.
The Ixpand Wireless Charger Sync is available now in 256GB* capacity with MSRP of Rs. 9999.
The Ixpand Wireless 15W Fast Charger with QC 3.0 Adapter is priced at MSRP of Rs. 2999.
The Ixpand Wireless Charger 15W MSRP available at MSRP of Rs. 1999.
All the products are available on Amazon.in, Croma, Poorvika and other leading mobile stores in the country.