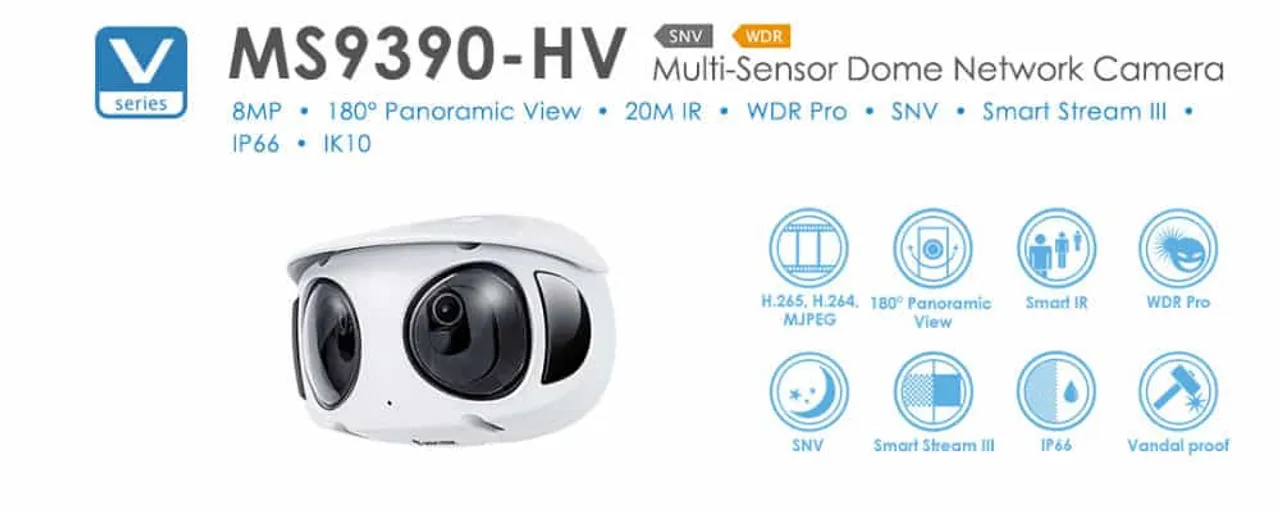 Following the success of  previous  180° panoramic network cameras, VIVOTEK has launched a brand new and even more efficient multi-sensor camera. The MS9390-HV, with its dual 4-megapixel wide-angle lens design, is unlike most traditional multi-sensor panoramic cameras which rely on 4 sensors.
This newly released multi-sensor dome camera is also equipped with SNV (Supreme Night Visibility), WDR Pro technology, 180° IR illuminators effective up to 20 meters and delivers full resolution imagery at 30 fps (frames per second), making it the ideal camera to provide excellent panoramic image quality for both day and night surveillance.
VIVOTEK introduces the brand new MS9390-HV under the strategy of its "See More in Smarter Ways" campaign. With its unique dual-sensor design, the camera is equipped with a video alignment feature, providing users both a detailed and yet seamless 180-degree panoramic view and a higher vertical field of view. This enables greater coverage not only on the horizontal, but also on the vertical plane, capturing an even greater field of view below the point of camera installation.
Moreover, the internal tilt adjustment of the lenses of the MS9390-HV has been upgraded to 20°, allowing users to achieve the precise angle desired. Furthermore, the multi-sensor camera employs H.265 compression and Smart Stream III technology to create the most efficient system, and resulting in remarkable savings in storage and bandwidth consumption while at the same time providing complete video security.
The new MS9390-HV is further armed with a robust IP66 and IK10-rated housing, enabling it to withstand rain and dust, as well as to protect against vandalism or tampering in outdoor surveillance applications. In addition, its wall mounted design ensures simple and quick installation, with an included sunshield to eliminate interference caused by direct sunlight.
The panoramic camera was given an early test at the 2018 Taiwan Lantern Festival, one of the great events in Taiwan, that attracted over 10 million visitors.  The MS9390-HV provided clear and full coverage throughout the day and night to secure the safety of visitors to the festival.