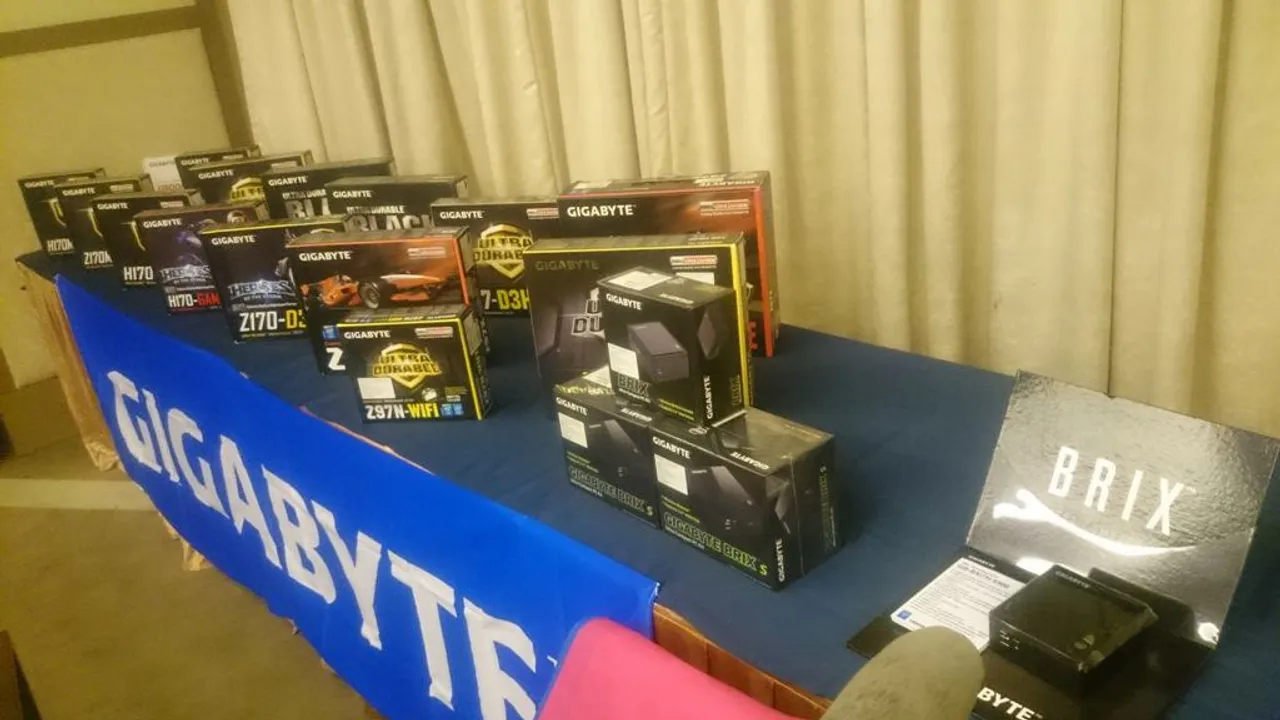 GIGABYTE Technology (India) Pvt. Ltd., a leading manufacturer of motherboards, gave the channel community in Chennai, a formal introduction to its 100 series motherboards based on the Intel®Z170 chipset with support for Intel's new 6th Gen. Core™ processor.
At a recently held event attended by some of the region's most prominent IT channel players, GIGABYTE India's tech specialist, Prathamesh Patil, gave an interactive presentation on the ground-breaking and exclusive features of the GIGABYTE 100 Series motherboards, and how these can boost performance of the PC.
GIGABYTE 100 series motherboards feature the world's First USB 3.1 with Intel® Controller. With twice the bandwidth compared to its previous generation and backwards compatibility with USB 2.0 as well as 3.0, selected GIGABYTE 100 series boards provide dual connectivity via USB Standard-A and the innovative USB Type-C™ making GIGABYTE the best USB 3.1 solution on the market with better compatibility over a wider range of devices.
Patil also gave a demo that focussed on the unique Ambient LED feature that is available in select GIGABYTE 100 Series motherboards.  With the Ambient LED App in the GIGABYTE APP Centre, you can customize the light pattern, with multiple colour options. With LED trace path lighting on motherboards, you can illuminate your system components and case mod.
The GIGABYTE100 Series G1™ Gaming motherboards feature the world's first Audio onboard design (which includes the Creative® Sound Core3D™ Quad-Core Audio Processor and Burr-Brown High End 127 dB DAC); and the Killer DoubleShot-X3™ Pro. Their exclusive AMP-UP™ Audio Technology includes Triple Upgradable OP-AMPs, the highlight of which is an OP-AMP each for the left and right channels on the rear I/O, and another one, for the front audio jack.
Sunil Grewal, Director – GIGABYTE Technology (India) updated the attendees on the newly launched GIGABYTE Exclusive Centre in Chennai. This centre operates with two high-end BGA repair machines, with over 10 specialist services engineers (including those from the GIGABYTE headquarters in Taiwan), who are capable of providing even Level 4 motherboard repairs. It also acts as the post-sales service hub for the entire state of Tamil Nadu.
Grewal also spoke at length of the challenges of the Do it Yourself (DiY) PC maket. One of the most major challenges is the availability of refurbished PC components which usually results in delaying the process of shifting to next generation CPUs. This also makes the quality of components more vulnerable. "To cope with this challenge posed by refurbished components, GIGABYTE has been focussing its sales and marketing initiatives around its wide range of motherboards having innovative features that are supported by the latest technologies. We also ensure that these products are available at the best performance / price ratio," he said.
Speaking about opportunities, Grewal exhorted the attendees to effectively tap the growing popularity of gaming in India. The number of casual gamers, including those who use devices, such as mobile phones and consoles, is growing at a tremendous pace. We have to take proactive initiatives to convert these gamers into serious PC gamers. After all, most of these casual gamers look forward to having a bigger and better gaming experience," added Grewal.
The meet received an encouraging response, with an attendance of over 40 resellers and SI partners.