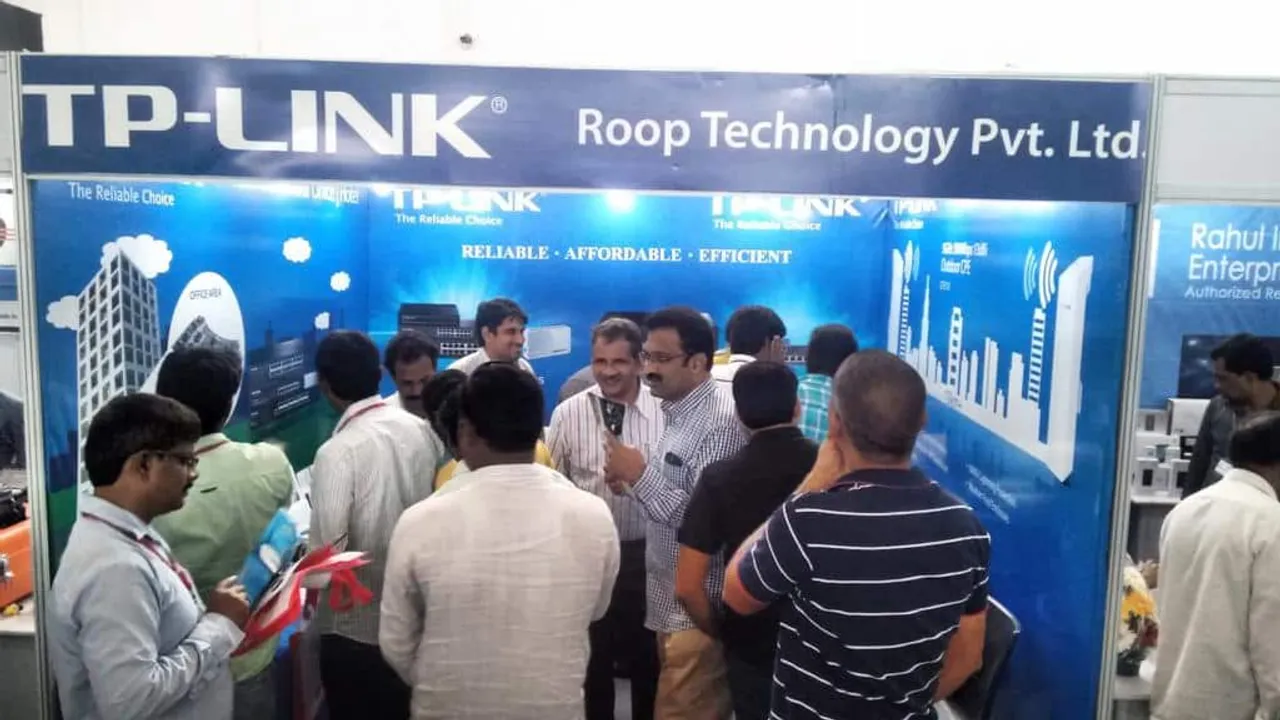 TP-LINK a global provider of networking products, was present at CableNet Expo 2015 show which was held at Hitex City Hyderabad along with TP-LINK's local distributor Roop Technology, this been a three days exhibition.
During these three days TP-LINK India was having a strong presence all over the show, TP-LINK exhibited its range of products which mainly focused on Outdoor and Indoor Access points along with other SMB Products from TP-LINK, along with Wireless Routers, Wireless Adapters, Range Extenders, Power bank, office switches and the all new Archer Series. Even though, all products were surrounded by curiosity from customers and interesting queries on same. CPE 510 and CPE210 were seen getting most of charm in show and TP-LINK's all new EAP110 was seen to be the product receiving much of attention, people wanted to feel, touch and know how it works and its features, how it will help them etc. With curious dealers and ISP surrounding the CPE; it was a glimpse of the product that generated the curiosity. All the visitors gave a very good Feedback about the products and also there were requirements of the product from many visitors. The popularity of show and TP-LINK products was visible by the number of Dealers, ISP, SI and End User gathering in and around TP-LINK's stall.
Flexible Deployment
The EAP's "ceiling lamp" appearance and easy mounting design with chassis make it easy to be integrated seamlessly into any wall or ceiling surface to blend in with most interior decorations. EAP series Access Points support Power over Ethernet (PoE) to make deployment effortless and flexible.
Centralized Management
The inclusion of TP-LINK's intuitive Centralized Management Controller software, means that administrators are able to deliver high end wireless control over their Wi-Fi coverage, with no extra cost.
Additionally, the Centralized Management Software provides administrators with intuitive Wi-Fi management with the use of floor plan images which can be uploaded to the software directly.
The Controller Software can also support hundreds of APs, offering real-time control and statistical information for each individual AP on the network, which allows for features such as Centralized Configuration management and Batch configuration and updates for Firmware deployment.
Captive Portal
Many small and medium business have Internet policies for their users to follow, which is even more the case for 'guest' users who wish to use the wireless network on an irregular basis. The EAP series indoor Wi-Fi Access Points provide a perfect solution for companies with its Captive Portal feature that allows for guests to log into specific pages for Wi-Fi access. These pages are customizable and enables both a professional and secure experience for the user. The Captive Portal also allows distributable passwords that can be linked to an external database for validation, increasing the level of security.