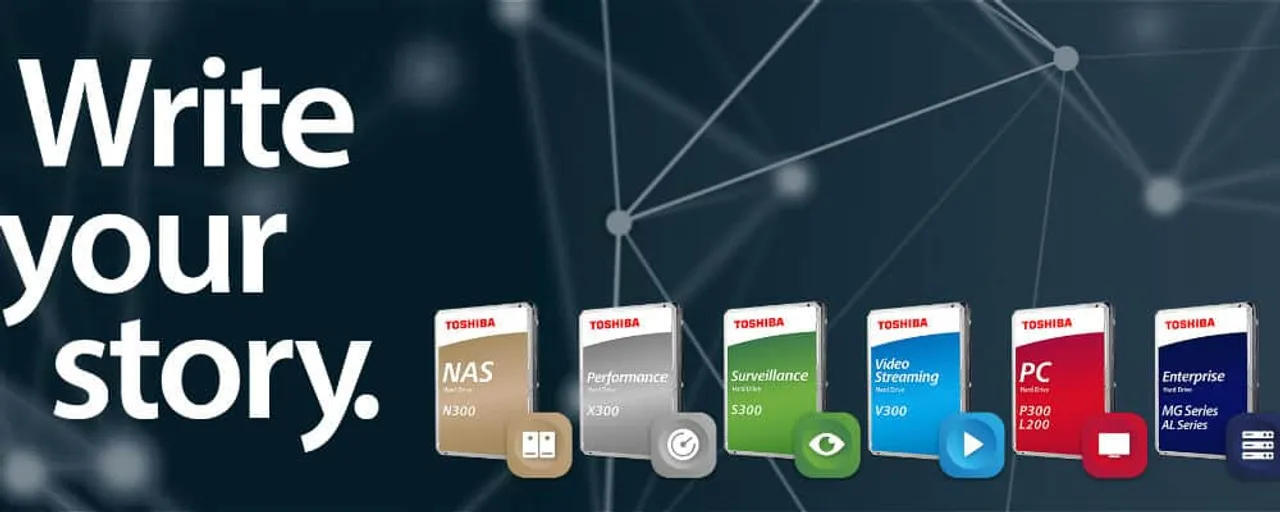 Toshiba Electronic Components Taiwan Corporation ("TET") announced its new 6 series consumer internal Hard Drives, the P300 Desktop PC Hard Drive, L200 Laptop PC Hard Drive, X300 Performance Hard Drive, N300 NAS Hard Drive, S300 Surveillance Hard Drive and V300 Video Streaming Hard Drive.
The P300 Desktop PC Hard Drive series is a high-performance models ideal for home and office users and is available in up to 3TB<1> storage capacity. The model operates at 7,200rpm and built-in shock sensors that detect impact and reduce vibration during reading and write operations, improving tracking accuracy and performance.
The L200 Laptop PC Hard Drive series deliver up to 2TB capacity in a 2.5-inch<2> mobile drive that provides high capacity upgrade is shock and vibration-resistant compare to 3.5-inch hard drive and works with every major brand notebook computer, gaming systems and for external storage use. The L200 lineup has a low power profile compare with 3.5-inch hard drive, to help optimize the device's battery life, as well as built-in shock sensor and ramp loading technology for reliability.
The X300 Performance Hard Drive series offer up to 10TB capacity and features Toshiba - cache technology, optimizing cache allocation during reading/write to provide high-level performance in real time.
Available in a 3.5-inch form factor, the X300 performs at 7,200rpm and an increased cache up to 256MB. The X300 Series delivers extreme performance and robust capacity for creative and professional applications including graphic design, animation, photo and video editing, and PC gaming.
The N300 NAS Hard Drive series, for personal, home office and small business network attached storage application, is available up to 10TB capacity, and features 7,200rpm and a large 256MB data buffer in the 10TB model. With support for up to eight drive bays in a multi-RAID NAS design, the N300 is highly scalable to the users' NAS configurations as their data storage needs evolve.
The N300 NAS Hard Drive line of high-reliability drives have a high workload rating of up to 180TB/year and are optimized for the performance, reliability, endurance and scalability required of NAS environments in which large amounts of data need to be efficiently stored and accessed daily.
The V300 Video Streaming Hard Drive series is designed for reliable video recording and playback and offers built-in silent seek technology, which results in a quiet operation. The V300 energy efficient design reduces energy consumption by up to 25%. Available in up to 3TB capacities, the V300 Hard Drive supports video editing systems, set-top-box (STB), digital video recorders (DVR) and network video recorders (NVR).
The S300 Surveillance Hard Drive series offer 24/7 reliability and high performance with large cache size up to 256MB. The S300 performs at up to 7200rpm with a maximum data transfer speed of 248 MB/s. Additionally, the S300 comes with built-in RV sensors to help suppress vibrations in multi hard drive platforms.
Available in up to 10TB capacities, the new surveillance hard drive can handle high workloads up to 180TB per year<6> and supports surveillance network video recorders (sNVR), surveillance digital video recorders (sDVR), hybrid DVR (analogue and IP) and RAID storage arrays for surveillance.
In addition, Toshiba introduces colour branding for each category in the consumer internal hard drive lineup. The new category colours will be displayed on the drive labels and retail shelf packaging to clearly communicate the Hard Drive category's use case and device application.
The color labeling for each hard drive is as follows: the both P300 and L200 in a red desktop/laptop PC label, the X300 in a silver performance label, the N300 in a gold NAS label, the S300 hard drive series boasts a green surveillance label, and the V300 hard drive series comes in a blue video streaming label. The consumer-friendly, easy-to-identify colour coded drive labels and retail shelf packaging makes it easy for consumers to shop for the drive they need.