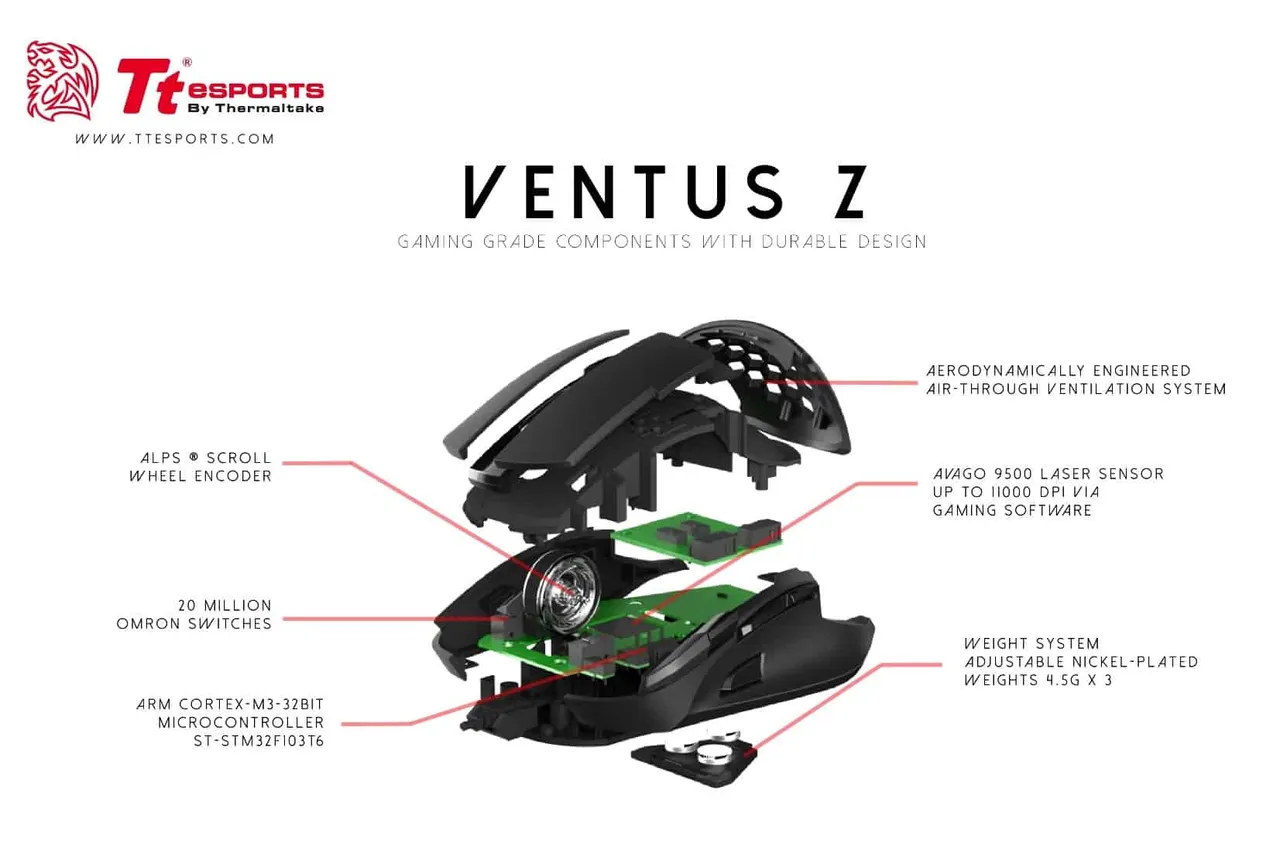 Thermaltake India under its gaming gear brand Tt eSPORTS, revealed the newest member of its VENTUS family, the VENTUS Z Gaming Mouse. The VENTUS Z Gaming Mouse features an AVAGO ADNS 9500 laser sensor with up to 11000 DPI via gaming software, a new coating with a feel that is somewhere in between the feel of plastic and rubber coating; a balance between rigid surfaces and a soft to touch finish. Tt eSPORTS Aerodynamically Engineered from its flagship Level 10 M series of mice is inherited into this iteration of the VENTUS Z Gaming Mouse; keeping gamers' hands cool even when gaming for long durations!
Nil Bhowmik, Country Business Head (India), Thermaltake, said, "Tt eSPORTS newest gaming gear is a sophisticated gaming mouse designed with a ventilated look and feel providing fully customization functionalities. In addition, this hi-tech mouse aimed at performance enthusiasts, will enhance the gaming experience for prolonged duration gamers."
The Thermaltake Tt eSPORTS VENTUS Z Gaming Mouse features enhanced components with ARM based 32bit Controller & 20M OMRON Switches which has a lifetime of 20 million clicks.
While the 11000 DPI AVAGO 9500 laser sensor offers a host customization control options with 10 programmable buttons, 5 profiles that can store up to 50 programmable macro keys. The mouse has also been added with a special Sniper Button on the left side, which can be used to perform a high accuracy mode without affecting the mouse's position. Additionally, selectable DPI options can be adjusted on-the-fly by default (400, 800, 1600 and 3200 DPI) or higher DPI up to 11000 DPI that can be configured via its gaming software. With the powerful DPI laser sensor, it offers a superior tracking across the widest variety of surfaces.