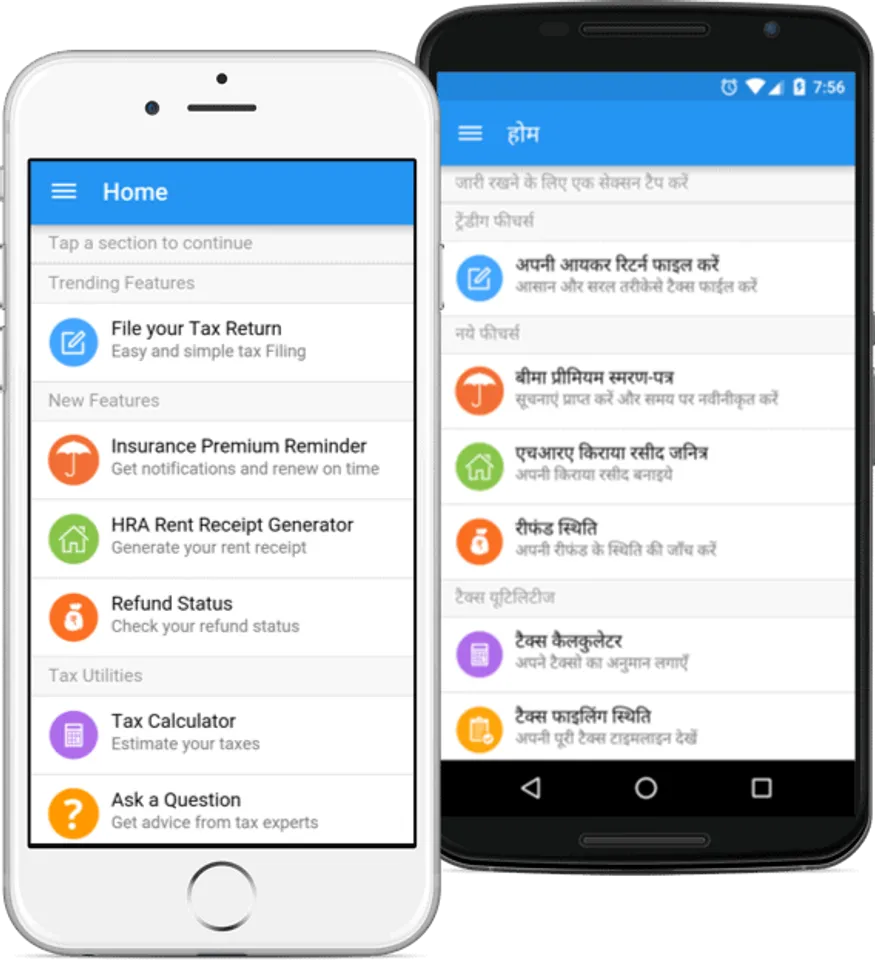 India's first vernacular app – myITreturn - supports widening of tax base - supports English and 10 Indian languages.
Addressing tax officials at the two day Rajasva Gyan Sangam in New Delhi, Hon'ble Prime Minister, Shri Narendra Modi exhorted the importance of growing the tax payer base and gave them a target of 10 crore taxpayers from the current 5.43 crores.
This point underlines a startling statistic about the country. 3% of the Indian population files their tax return in India today. Compare this to the United States, where the taxpaying population is whopping 45% and one can begin to understand what the PM was getting at.
There is no doubt that the tax base will rise. Facilitating the Income-tax filing process is essential for this to happen. Online tax-filing platforms have seen a surge in users, as more and more taxpayers get comfortable with the idea of filing their returns online. And not just online, but also on their mobile phone. This should not come as a surprise. According to estimation by IAMAI report, out of 462 million Internet users in India, 371 million users will access it from a mobile device by 2016. The latest IAMAI report mentioned that while a sizeable chunk is from urban areas, future growth will be driven by mobile Internet users from rural areas. The rural user base has been doubled since 2014 and is expected to continue increasing at an incredible rate in 2016 as well, surpassing all previous figures.
"The number of tax filers also indicate the state of our country's economy", asserts Saakar S Yadav of myITreturn.com - one of India's leading online tax filing platform and an authorised e-Return Intermediary (eRI). He further added, "To widen the tax base, we need to reach to a much larger audience. They may not own a computer, but they will have a mobile phone. They may not speak English, but they will be proficient in Hindi, Marathi, Bengali or Tamil. Providing convenience and simplicity to this tax filer is the ultimate goal."
With over 3 lac app downloads within a year of its release, myITreturn.com is poised to make significant progress of reaching this goal. In a first of its kind functionality, the mobile application supports 10 languages in Android and iOS – . "You do not call your 'Mummy', 'Mother' or your  'Appa', 'Father'. Nor do you call your 'Putar', 'Son'. Neither do you call your 'Thambi', 'Bro' or your 'Dada', 'Elder Brother'. Then why file your Income-tax return only in English?" asks Saakar S Yadav. This is the problem he is keen to solve.
Currently, the website myITreturn.com has over 13 lakh users. It recently launched a new version of its website which is fast and mobile friendly. The process is further minimized and users can file their IT return as quickly as within 10 minutes. It lets you upload your Form-16 (from one or more companies) to quickly capture your income details and file your return. It also allows you tocreate multiple users for your family members, so that all their returns can be filed from the same account.
"If the India story has to happen, the tax filer base should atleast be 20% of the population. With a large working youth population, it is the ultimate economy yardstick" says Saakar S Yadav.