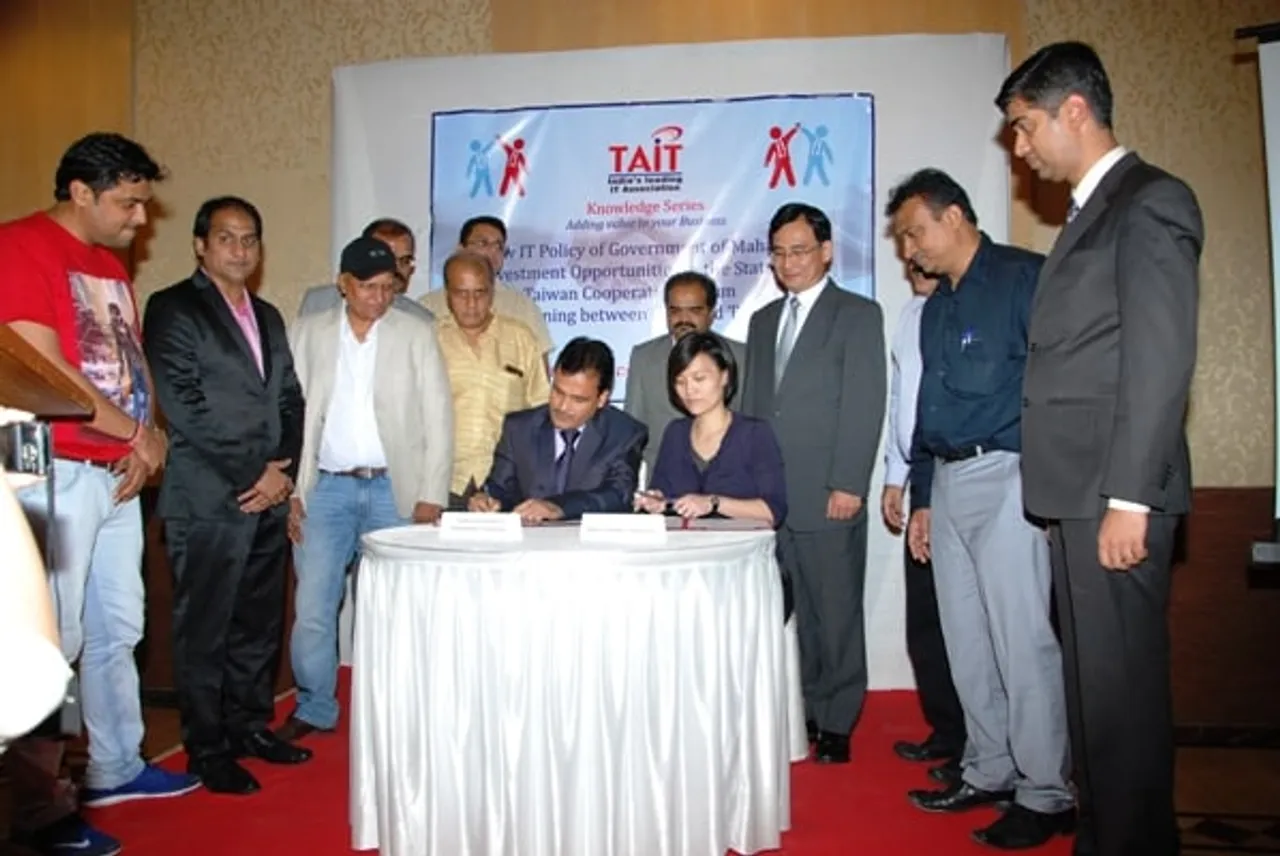 DQ Week Exclusive
Mumbai based Trade Association of Information Technology (TAIT) and Taipei Computer Association (TCA) have signed a Memorandum of Understanding (MoU) on alliance for boosting Taiwan – India trade co operation in the ICT Sector. The MoU was signed between K R Chaube, president of TAIT and Ihuann Lee, Director Office of Taiwan-India Coopertaion , TCA in Mumbai on Wednesday.
The MoU establishes mutual co-operation and partnership between TAIT and TCA. The MoU also intends to articulate the basis and general principles for establishing mutual co-operation and partnership between both the associations towards realization of their mutual interests in promoting Taiwan – India Industry co-operation.
K R Chaube, president of TAIT said, "We are very excited to join hands with TCA for promoting ICT business in Mumbai. TAIT and TCA will work towards ensuring business growth in the ICT market."
Dr. Dennis Hu, Director General Office of International Cooperation, TCA said, "TAIT is one of the prominent IT associations in Maharashtra and this strategic partnership will certainly boost business ties between India and Taiwan."
Talking about the business prospects in Maharashtra, Hu said that government's positive response and several policy initiatives to boost industrial growth has given confidence to Taiwanese investors to invest in the state. He said TCA intended to utilize local talent in India to boost the business growth.
TCA is the leading industrial organization in Taiwan having a representation of 4,000 members engaged in the fields such as software, hardware, semiconductors and components, manufacture, sales, network communication service etc.
As per the terms of the MoU, both parties will mutually facilitate visits and delegations to the other party's country to participate in events and to promote trade and business-to-business activities. Both parties will also facilitate meaningful exchange of information on relevant aspects of their respective activities and other matters of common interest.
As per the agreement, both parties will seek for possibilities in developing and enhancing cooperation between India and Taiwan by creating opportunities in the field of ICT market development, in projects such as development of Smart Cities, Digital India, etc. and in providing skill enablement for increased job opportunities in the ICT segment.
In the event, Anand Rayate, Joint CEO (IT) MIDC and his team has briefed the members on IT Policy of Government of Maharashtra and Business Opportunity in the ICT Sector in the State. Rayate also answered queries about the new IT policy. He assured assistance on part of MIDC to entrepreneurs and industries. MIDC officials showed keen interest to work closely with TAIT for the mutual benefits of the industry.
TAIT has also executed MoU with TAITRA – Taiwan External Trade Development Council, Taiwan representing body to promote business trade of the aspiring IT entrepreneurs. Chaube said Indian talent and Taiwanese cutting edge technologies will further speed up the growth in ICT industry in India.