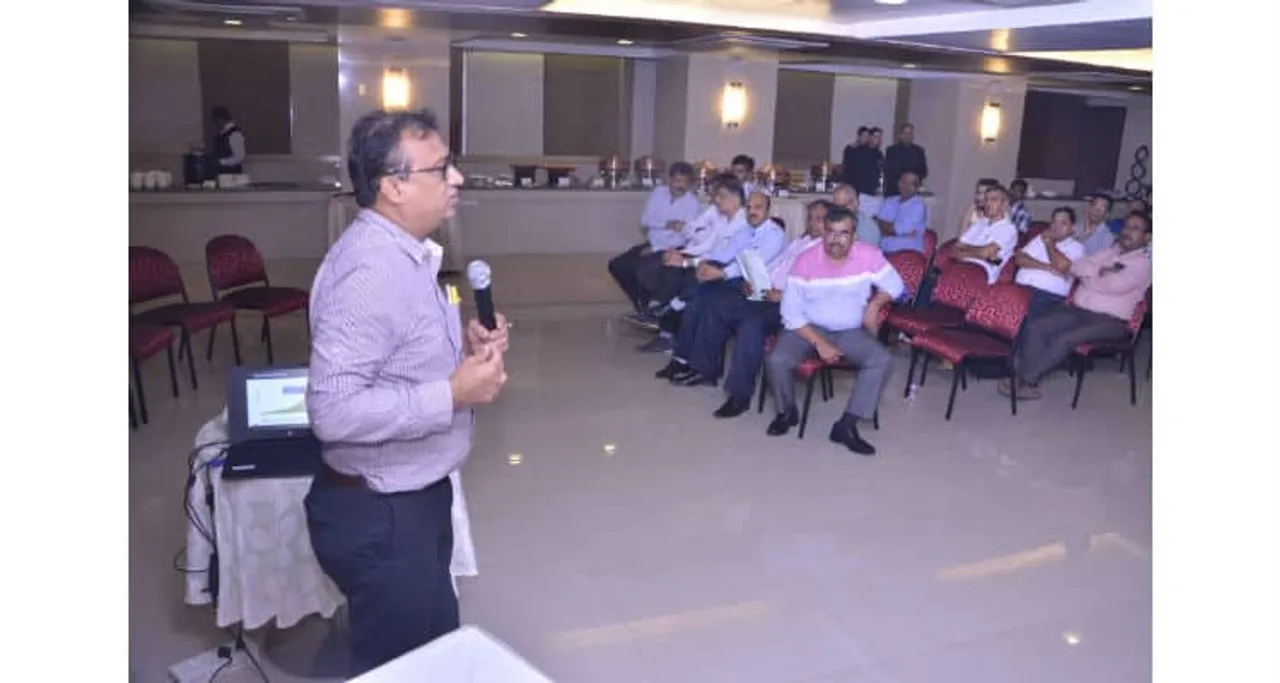 The Trade Association of Information Technology (TAIT) on Monday, held an open forum discussion to address some key problems plaguing traders and System Integrators. The event was held at the Krishna Palace Hotel, Nana Chowk, Mumbai, and saw enthusiastic participation from members. The evening was dedicated to solving crucial issues faced by IT traders and System Integrators community, causing business concerns among members.
The event started with the Board of Directors introducing the agenda and then opening the house for a free-wheeling discussion where every member could share their experience and offer possible solutions. The first topic to be discussed was that delayed payments and extended credit periods. Several members voiced their concerns over losing crucial deadlines or even completely losing out on payments.
While the directors shared their views, the members too came up with suggestions on how to effectively tackle the situation. The focus was to find a universal solution that can be implemented by all members of the community while uniting everyone with the benefit of collective growth and goodwill. Some key take away from this which were agreed upon includes:
Creating a micro-site where members can share details of defaulters with a valid proof of a bounced cheque or failed payment. This will help other members to be cautious when dealing with the defaulter
A compulsory 30 days credit period with a Post Dated Cheque, as a standard procedure, to be followed by all embers, when dealing in the market as well as among each other
As a process, any customer/ client/ fellow member who has delayed payments beyond 38 days, will be blacklisted and all will be informed to not do any further business with the entity/ client/ member, unless the previous dues are cleared, and lastly,
An arbitration clause to be added to all invoices, both hard copy and soft copy, as well to add this in the email signatures and PO's etc.
The TAIT Open Forum also discussed & decided to gather 25-30 top industry veterans to form a screening committee to create a mechanism to control unfair business practices & payment defaulters. The committee also reviewed a few names there & then as volunteers, thanks to the overwhelming response. The participation is set to further strengthen TAIT's efforts in the cause.
The second key topic of discussion was the lack of an effective vendor policy which can safeguard the interest of the traders and System Integrators. Members pointed out the wary state of duplicity in the market introduced by vendors to boost sales.
As a body governing the interests of the traders and System Integrators, TAIT board of directors encouraged discussion on this subject. The focus area of this conversation revolved around promoting best and fair practices of doing business and the need for a strong unification of the members of the association so as to make their concerns heard. The key take away from this discussion was:
Creation of a universal vendor policy that will be beneficial to all members of TAIT
A sincere effort to create transparency and proactively share vendor information/ observations with fellow members so duplicity or any manipulation by vendors can be brought to everyone's notice
A strong sense of unity among members is required so that TAIT can communicate in one voice when demanding fair practises and transparency for members
A stronger stance required to be taken when dealing with the dumping of products and setting up unrealistic sales targets
After a well-energised discussion on the key challenges, the stage was opened for inputs and words of advice from Champakraj – a well-respected member and the debut president of the Nation IT association of India – FAITA. Champakraj has been a strong voice to reckon with in the industry, be it vendors, members, SI's or larger multinational retailers and manufacturers.
When addressing the audience, Champakraj thrust upon the significance of co-operative and unified efforts, citing examples of crisis he had managed to handle only due to the unification of all members involved. The encouraging words by Champakraj let the audience inspired to put into action all that was discussed and to make these ideas work.
Speaking on the occasion, Krupashankar Chaube, President, TAIT, said, "With the rapidly changing business and market dynamics, the controls that the business owners had over their business is undergoing a massive change. The credit issue is a crucial challenge that largely impacts these smaller businessmen. This session is one of the first events where we have brought all members to together under one roof to acknowledge the problem and to openly discuss best ways to tackle the same. As TAIT, we realised it was the need of the hour to have such session where the issue that is core to the business of the members is discussed and possible solutions are arrived at, so despite the flux in the market, our members can tide over the challenges just fine."
The interactive session was then followed by a LaunchPad Pro session by N Computing, who showcased cost-effective and intelligent products for home and enterprises. These included 3 and 5 user devices for educational institutes and small offices. Apart from being cost-effective and compact, these devices are also designed to consume up to 90% less electricity.  Some other products included the RX300 and MX 100s.
The evening ended on a relaxed note with members exchanging their experiences and suggestions over cocktails and dinner.