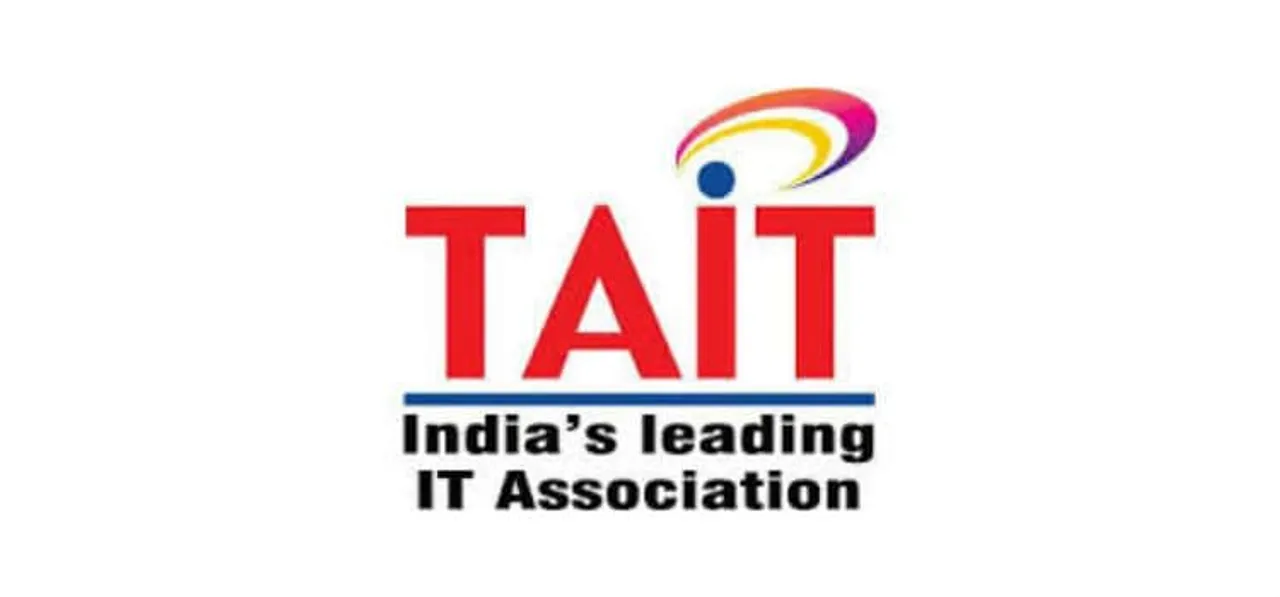 The Trade Association of Information Technology (TAIT) recently hosted an insightful panel discussion as part of their 'Market Adda' initiative. The event brought together industry veterans from across the IT Ecosystem, to discuss and share insights on how IT retailers and traders can survive the competitive online marketplace and evolve their business. Held at the Avion Hotel, Vile Parle, Mumbai, the event was a major success, with members passionately participating in Q&A's and engaging with speakers post the event.
With leading e-commerce marketplaces like Amazon and Flipkart announcing mega sale ahead of the festive season, the panel discussion was hosted by TAIT at a strategic time. With the competitive online marketplaces offering huge discounts, fear of losing out business and most of all, becoming eventually irrelevant, were some of the genuine questions that the 'Market Adda' addressed through the panel discussion.
The panel discussion began with the introduction of the stellar set of speakers, namely Rakesh Shah, Director, Best IT World, India (Director, i-Ball), Dushyant Mehta, Mediaman Infotech Pvt. Ltd. (A prominent Personality in the IT Channel industry), Gurbir Singh Bhatia, Prime A B G B Pvt. Ltd., Shrenik Shah, Options Computers, and Devendra Sayani, D. C. Infotech.
The discussion moderated by Devang Thakore, touched upon multiple facets of online Vs traditional business models, including weather online, really is a threat or an opportunity?; How can a traditional business survive in this environment?; Do we need a transition?; What skillsets/ tools training is required to equip oneself for the virtual marketplace?; and lastly, is e-commerce/ M-commerce the way forward? Discussing these questions, the panelists gave elaborate and insightful observations and guided the members as to how they can proceed to survive and thrive in the current scenario. Key takeaways from the session were:
1. Seek Opportunity: E-commerce and the virtual marketplace is here to stay and members need to learn to see the opportunity in the platform, instead of viewing it as a threat
2. Add Value: It is important for traditional businesses to add value to their customers who have remained loyal to them. Hence, traditional business in the era of online marketplaces needs to adopt a service-oriented approach that offers the customers a superior understanding and positive interaction opportunities apart from the prompt response and several other value additions
3. Focus on a Niche: While conducting business in the traditional format, it will be beneficial for SI's and traders to identify niche products and service that are NOT available online and create a strong positioning in that area. While e-commerce is growing stronger day by day, it currently only accounts for about 20% total IT sale, translating into a huge opportunity to create a strong offline presence with niche products
4. Have an online identity: Lastly, with online transactions practically taking over every aspect of our lives and the next generation literally growing up with a 'digital' aptitude, e-marketplaces are bound to grow and flourish. For traditional businesses, it thus important to remain relevant by creating a basic online identity to ensure the presentation is recorded. A more adventurous set of traders many even try creating a standalone e-commerce platform for selling their own niche products and services, thus leveraging the 'digital' as a gen-next opportunity
Highlighting the need for discussions on topics that directly impact the business of member partners, Sameer Parekh, President, TAIT said, "This was yet another event organised with the objective of assisting the growth of the member organisations, and I am happy to have received a good response from all members. The tips shared by IT Trade leaders, who are known and followed for their wisdom on the subject, are immensely helpful and I am sure all members would benefit from these."
Sharing his view on the topic, moderator Thakore said, "Today's consumer is increasingly busy than ever before, so their convenience of having access to products online is definitely an important parameter in deal closure. Yet the traditional preference of see-feel-touch and on-ground experience is yet not dead."
Further, each panelist shared a distinct message for members on the one thing they need to focus on, above all else, to remain relevant and successful in their business. Summarising their message,
Rakesh Shah, Director, Best IT World, (Director, i-Ball) India added, "Members/ partners need to realize they are much more than just box sellers. They need to evolve and create their own identity in order to survive."
Dushyant Mehta, Mediaman further added, "The partners need to focus on the customer and understand his needs and requirements and scan for possible opportunities to grow and succeed. As a basic rule for any successful enterprise, customer centricity is the key to a profitable business."
Gurbir Singh Bhatia, Managing Director, Prime A B G B Pvt. Ltd. pointed out, "My message to the members would be to 'evolve' and to 'innovate'– two basic things they need to consistently do in order to survive in their business." Adding to this,  Sherink Shah, Partner, Options, said, "The channel partners need not worry about the online threat. Though it is here to stay, the traditional, offline business is also bound to stay and it not a threat to their online business." Lastly, summing up the entire discussion, Devendra Sayani, Partner, DC Infotech, pointed out, "Every business has their own USP and strength. It may be service, credit period, niche products, anything. It is important for members to identify their USP, focus on it, and nurture it so they can survive the competition."
The insightful discussion ended on a high note and was followed by an equally engaging LaunchPad Pro Session by  Nikesh Jain, Director, NeoSoft – a premier trading enterprise for computer peripherals and accessories. Highlighting his 17 years long association with the IT trade industry, Nikesh shared his heartfelt gratitude to all members and went ahead to showcase the latest range of Cabinets, mouse, keyboards and other peripherals and Computer speakers. His aesthetic and reasonably priced products were well received and appreciated.
This was followed by a brief informative session by TAIT Board Members, where future events, including the TAIT IT Cricket Tournament and TAIT Annual Networking Meet, held during the winter months, were announced. Over a hearty dinner, the Market Adda event wrapped up as a largely engaging and successful evening.