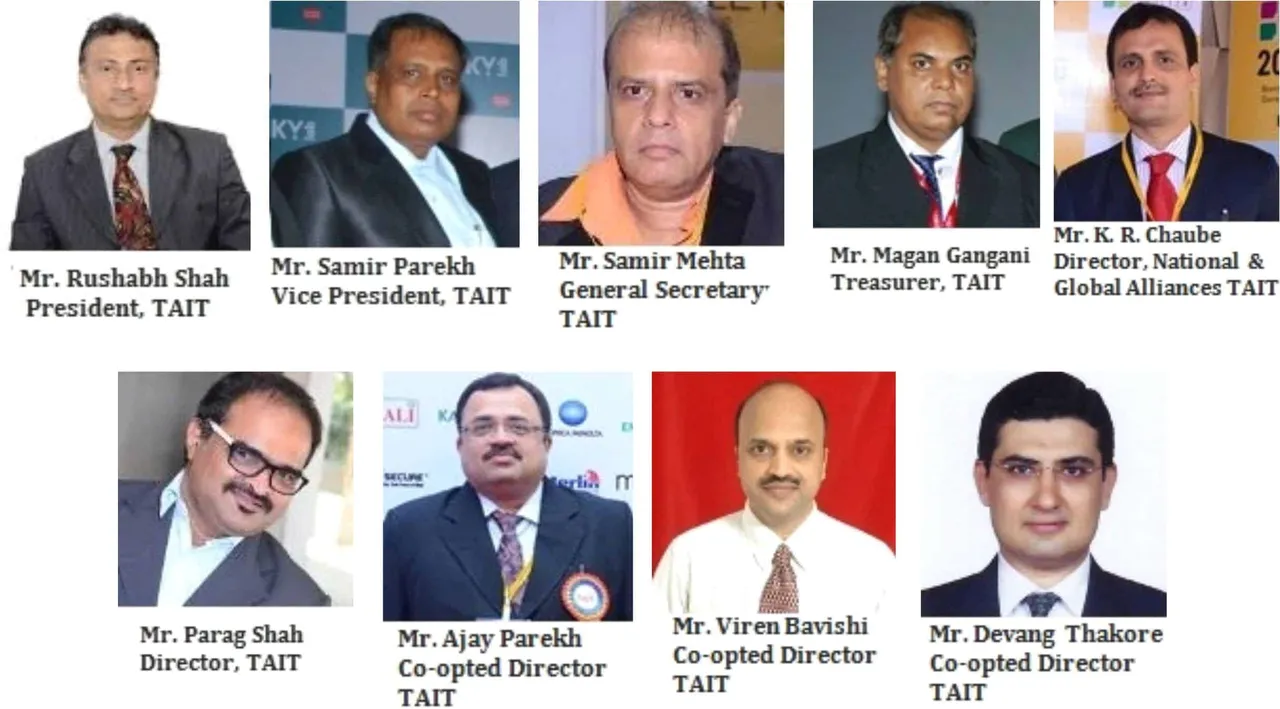 Aims to re-energise business growth by aligning with multi-stakeholder ICT infrastructure programmes such as 'Digital India' and new economic legislation like GST
Mumbai-based Trade Association of Information Technology (TAIT) has recently announced changes to its board of directors for the year 2017. Rushabh Shah of Graham Information Systems Pvt. Ltd. has been elected President for the second consecutive year.
Other new appointees include - Samir Parekh of Brainpoint Computer Consultancy as the new Vice-President. He was a member of TAIT and served as one of the Co-opted Directors last year.
Samir Mehta of Computer Corner as General Secretary; Magan Gangani of Newtrack Computers Pvt. Ltd. as Treasurer, K. R. Chaube of Techlink Infoware Pvt. Ltd. and Parag Shah of Futech Computers as Directors of TAIT, and Ajay Parekh of Shree Maat Computers, Viren Bavishi of Sapphire Micro Computersand Devang Thakore of Hallmark Systems as the new Co-opted Directors.
K.R. Chaube has been tasked with looking after and growing National and Global Alliances.
"All of our new board members embody the spirit of community and bring talent, expertise and energy to the table. We are very fortunate to have them by our side as we continue to explore emerging opportunities arising out of national-level multi-stakeholder ICT infrastructure programmes such as 'Digital India', 'Startup India', 'Skill India' and 'Make in India'. We also look to understand the impact of new economic legislation such as GST and help our members strengthen their business processes and emerge successfully through fluid market conditions," said Rushabh Shah, President, TAIT.
Samir Parekh, Vice-President, TAIT said, "The core team at TAIT will ensure a continuous flow of interactions and expert interventions to serve the community's best interests. We believe the new team will provide valuable insights and leadership to move forward on the growth vision of the association."
"Joining the board of directors is a great opportunity for me to develop new programmes for peer-to-peer sharing of business insights, experiences and expertise that will be beneficial for our members," said Samir Mehta, General Secretary, TAIT.
Magan Gangani, Treasurer, TAIT said, "The TAIT board stands out for always advancing fresh thoughts and ideas for our members to strengthen their businesses and exploit new market opportunities. This helps to mitigate members' business risks, reduce operational headaches and build on past successes to take the association to new heights."