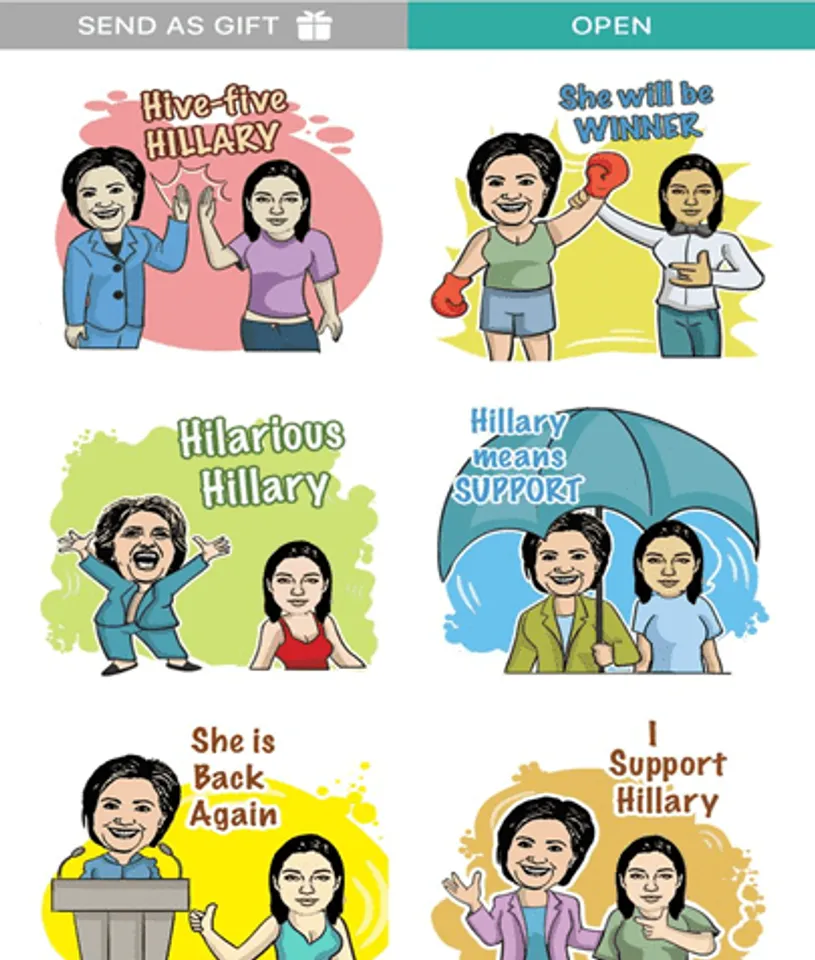 Bobble, a keyboard app from India that enables highly personal self-expression, has released sticker packs based on the candidates from the two major parties contesting the US Presidential Election 2016.
Users from over 150 countries will now be able to enjoy real-time personalization of content with their own faces and relevant text, replete with popular one liners used by both Hillary Clinton and Donald Trump. The Hillary and Trump stickers are usable across iMessage, FB, Twitter, FB Messenger, WhatsApp, Kik and every app on iOS and Android that allows image sharing. These sticker packs, like all other content on Bobble, are free of cost. The Clinton and Trump campaigns are not officially involved in the sticker packs.
Speaking on the release of the Clinton and Trump sticker packs, Mohd Wassem, cofounder of Bobble, said,
"I have spent several months in the US in the course of my work at Bobble. During my interpersonal interactions with Americans from all walks of life, my respect for their belief in diversity and self-expression has increased immensely.. Visual communication on mobile has seen an exponential rise in popularity and our technology is unique in its ability to facilitate real-time personalization of content. No other product in the world offers this technology. Like millions across the globe, we too have been following the US Presidential election with great fascination. This election has been particularly colorful, and at times, even strident. We're confident of adding value to self-expression by voters and non-voters alike.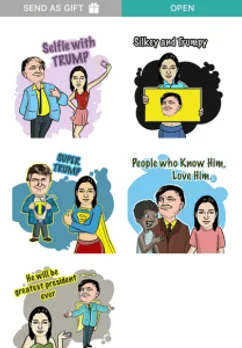 These stickers are our way of connecting with our users in the US, and paying respect to the democratic process globally."The release of Clinton and Trump sticker packs is an illustration of Bobble's design and execution abilities. Bobble use-cases are universal in nature and its tech can be distributed widely. Bobble is working with numerous celebrities and media houses to release thematic content.
Elaborating on the plans ahead, Mohd Wassem added, "Over the past several weeks, we have worked ceaselessly to improve our product. We understand that our users prefer nothing short of the best, and to this end, we have incorporated several functionalities like- swipe to type, live sticker suggestion while typing, emojis in the main keyboard layout, emoji suggestions, word suggestions, and voice to text support. Last month, owing to our popularity and novelty, we became the only app from India to partner with Apple and were featured on the iMessage App Store in dozens of Asian and European countries.
 Within the next month, we will roll out more features for our target audience of 13-29 years of age. Our near-term product roadmap includes personalized GIFs and personalized emojis with the user's face. In a tightened fundraising environment, we are poised to scale independently. Our aspiration is to build a truly global, consumer-focused internet-product from India, and challenge the existing paradigm for mobile conversations."
Super Trump stickers on Bobble App: Download Link
Hilarious Hillary stickers on Bobble App: Download Link