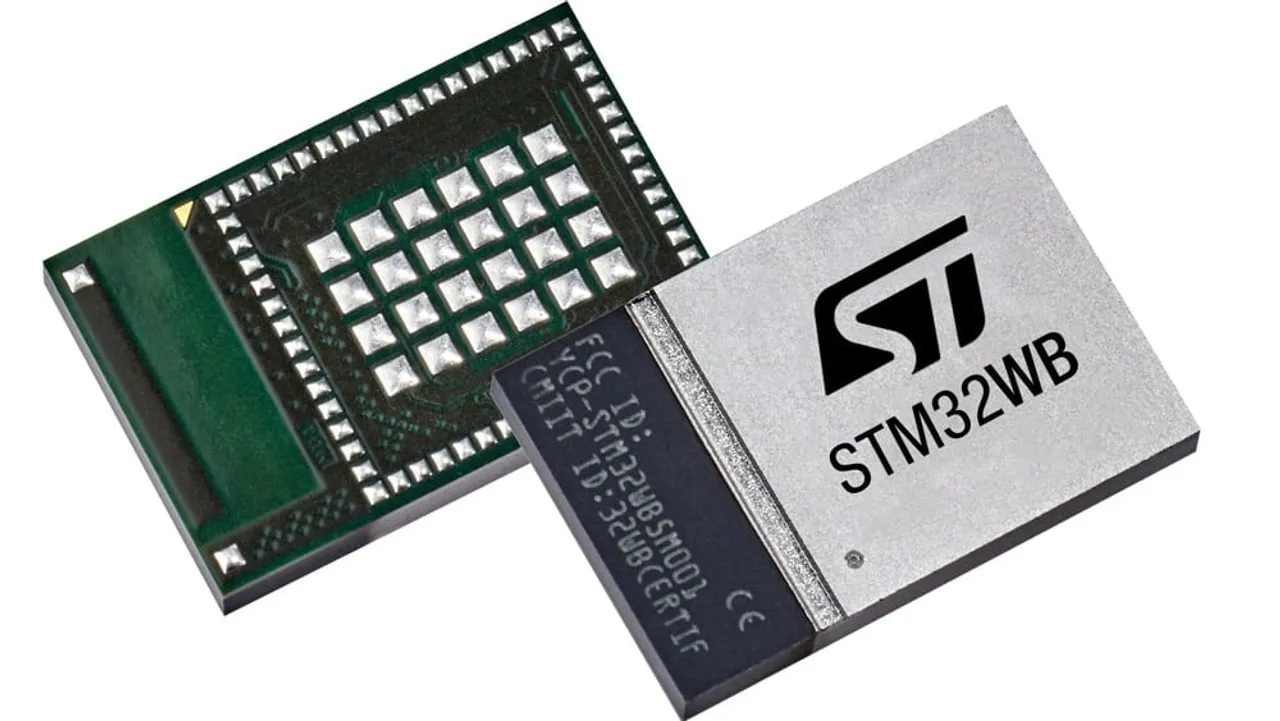 STMicroelectronics STM32WB5MMG 2.4GHz Wireless MCU is an ultra-low-power Module - Dual core Arm Cortex-M4 MCU 64 MHz, Cortex-M0+ 32MHz with 1 Mbyte of Flash memory, Bluetooth LE 5.2, 802.15.4, Zigbee, Thread, USB, LCD, AES-256.
The STM32WB5MMG is an ultra-low-power and small form factor certified 2.4GHz wireless MCU. It supports Bluetooth Low Energy 5.0, Zigbee 3.0, OpenThread, dynamic and static concurrent modes, and 802.15.4 proprietary protocols. Based on STMicroelectronics STM32WB55VGY wireless microcontroller, the STM32WB5MMG provides best-in-class RF performance thanks to its good receiver sensitivity and a high output power signal. Its low-power features enable extended battery life time, small coin-cell batteries or energy harvesting. The STM32WB5MMG requires no RF expertise and is the best way to speed-up any development and to reduce associated costs. The module is completely protocol stack royalty-free.
The wireless MCU module is an SiP-LGA86 package (system in package land grid array) that integrates the proven STM32WB55VGY MCU with several external components.
Features
Integrated chip antenna
Bluetooth Low Energy 5.0, Zigbee 3.0, OpenThread certified
Dynamic and static concurrent wirless MCU modes
IEEE 802.15.4-2011 MAC PHY
Supports 2 Mbits/s
TX output power up to +6 dBm
RX sensitivity: -96 dBm (Bluetooth® Low Energy at 1 Mbps), -100 dBm (802.15.4)
Range: up to 75 meters
Dedicated Arm® Cortex®-M0+ for radio and security tasks
Dedicated Arm® Cortex®-M4 CPU with FPU and ART (adaptative real-time accelerator) up to 64 MHz speed
1-Mbyte Flash memory, 256-Kbyte SRAM
Fully integrated BOM, including 32 MHz radio and 32 KHz RTC crystals
Integrated SMPS
Ultra-low-power modes for battery longevity
68 GPIOs
SWD, JTAG
Integrated IPD for best-in-class and reliable antenna matching
1.8 V to 3.6 V VDD range
-40 °C to 85 °C temperature range
Built-in security features such as: secure firmware installation (SFI) for radio stack, customer key storage/key management services, PKA, AES 256-bit, TRNG, PCROP, CRC, 96-bit UID, possibility to derive 802.15.4 and Bluetooth® Low Energy 48-bit UEI
Certifications: CE, FCC, IC, JRF, SRRC, RoHS, REACH, GOST, KC, NCC
Two layers PCB compatible (using external raw pins only)
A variety of STM32WB evaluation boards from Nucleos to Discovery boards, together with STM32Cube Ecosystem, form a consistent set of hardware and software development tools to quickly and easily start developing your application across the whole STM32WB portfolio.