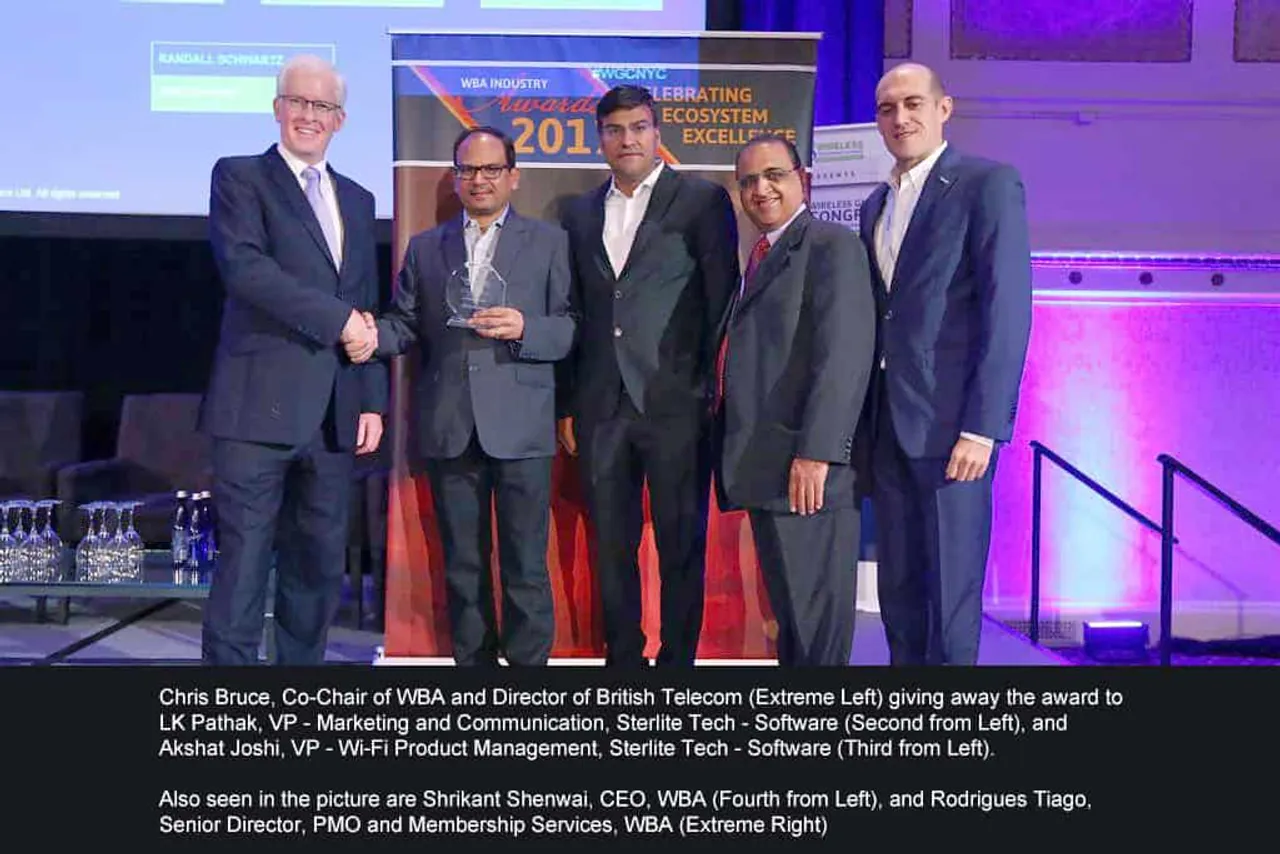 Sterlite Tech has won the Wireless Broadband Alliance (WBA) Industry Award 2017 for the successful deployment of India's First Live Smart Services City in Gandhinagar, Gujarat.
Establishing the city as the Wi-Fi Capital City of India, Sterlite Tech led the design, development and management of Gandhinagar Smart City project with its innovative citizen-centric services.
The award was presented during the recent Wireless Global Congress held in New York.The WBA Industry Awards recognises excellence in the global wireless industry while promoting successful practices and strategies from the industry's leading players.
Since going live in December 2016, Gandhinagar Smart City Services project has brought transformative changes in the everyday lives of its citizens. This has been achieved through city-wide Wi-Fi, public security with IP surveillance, reduction in electricity cost with smart street lighting, digital signage updating on weather and air pollution through environment sensors, speed and face detection system, automatic number plate recognition system, public announcement system, and much more.
These smarter technologies are controlled and monitored through one of the country's most advanced Command and Control Centres, enabling the Municipal Corporation to deliver digital services to its citizens and encouraging transparency for better governance.
Acclaiming the project, Shrikant Shenwai, CEO, WBA, said, "Huge congratulations to Sterlite Tech for winning the 'Best Connected City Deployment'award. This accolade is a testament to Sterlite Tech's passion, dedication and commitment to driving excellence and best practices within the Wi-Fi industry. The team should be extremely proud of its work."
Shri Dinesh Chandra Modi, Commissioner, Gandhinagar Municipal Corporation, said, "Gandhinagar is one of the few modern planned cities in India. Connecting over two lakhs citizens through city-wide Wi-Fi internet access was the key to encourage citizens' participation in growth and city governance. All these smart components are centrally managed through the integrated command centre. These innovations are making the life of a common citizen digitally smart."
Humbled with the global honour, Dr Anand Agarwal, CEO, Sterlite Tech, said, "This global honour by WBA is an acknowledgement of our expertise in designing, building and managing web-scale networks and services in Smart Cities.With this, Gandhinagar Smart City project has set a global benchmark for future-proof smarter digital infrastructure for Smart City development."