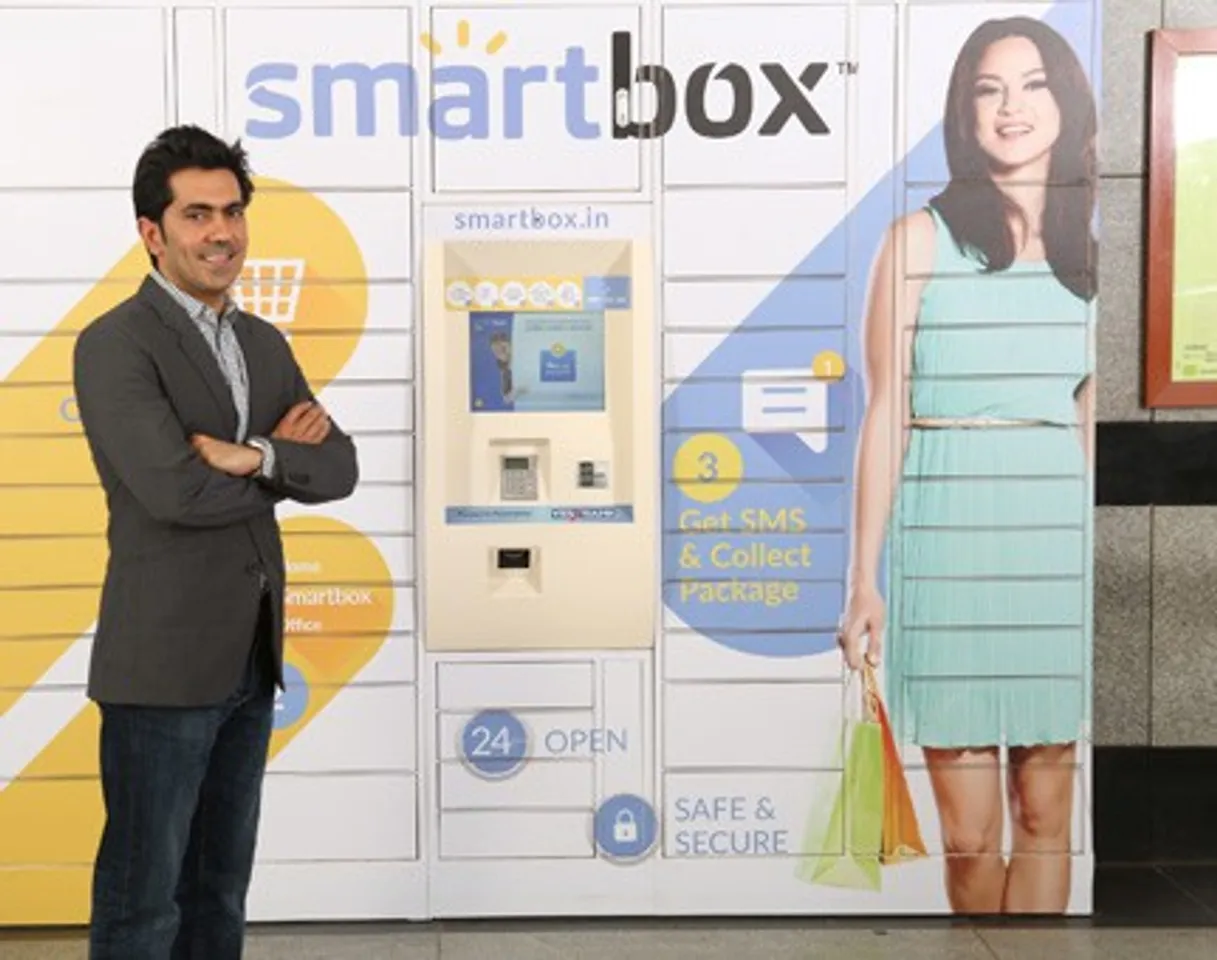 With online shopping becoming one of the most convenient mode of shopping for most consumers today, one of the biggest challenges most e-commerce portals face is the co-ordination of the delivery. Customers have to either take multiple calls or get their parcels delivered at their workplaces. There are instances when one misses deliveries due to being occupied as well. Smartbox.in is a one stop solution for all these problems.
Their Automated delivery terminals enable consumers with a highly secure, private, and convenient way to collect their online orders. These terminals are present at 120 centers in Delhi NCR including metro stations, shopping centers, central locations etc. They are using cutting-edge technology and smart physical infrastructure to store, notify and track orders. Customers receive an OTP when the parcel is delivered at the terminal which that can be used to pick-up the order at a convenient time. The robust cloud-based system easily integrates with the e-commerce portals.
Smartbox has been established with an objective of streamlining the delivery process of e-commerce businesses in India and also improve online shopping experience for consumers. They are already associated with Shopclues, Oriflame and Voonik and exploring other e-commerce giants as well.
Smartbox has established 50 terminals at prominent and frequented locations in Delhi NCR, like metro stations, each with a capacity of 52 parcels. Smartbox.in, a network of automated parcel delivery terminals, commences its operations in India with Oriflame becoming the company to offer the superior customer experience associated with receiving orders via automated delivery terminals to its customers.
Additionally, Smartbox has partnered with YES BANK to power their terminals with unattended payment solution. Besides being the only available 24/7 parcel delivery service, Smartbox also offers the option of cashless COD making it the most safe, secure and private among the available delivery options.
Oriflame, the international beauty products company, has entered into a strategic alliance with Smartbox to offer the most flexible and convenient alternative to receiving parcel delivery from couriers at home or office. The partnership brings in extended capabilities to deliver orders 24 hours a day through 'Smartbox' automated parcel delivery terminals installed at strategic locations in Delhi NCR.
Current delivery methods of most e-commerce companies often result in repeated / missed delivery attempts, or returned orders due to last mile delivery challenges that increases cost per delivery and loss of order respectively.
Automated delivery terminals from Smartbox will be solving such challenges of ecommerce companies while at the same time, empowers consumers with a highly secure, private, and convenient way to collect their orders.
Our agile platform is a world class solution that solves multiple challenges for E-commerce businesses in India- says Amit Sawhney – CEO, Smartbox Ecommerce Solutions Pvt. Ltd.
YES BANK has ensured that best-in-class security systems are implemented for ease and safety of transaction for consumersat various locations across Delhi NCR to give today's busy consumers the flexibility to take deliveries at the place & time that fits their schedule – instead of courier person's schedule.
With the recent government emphasis on digitization and its push towards making India a cashless economy, Smartbox with its inherent cashless COD option will also help its clients as well as their customers in making this transition as smooth as possible.