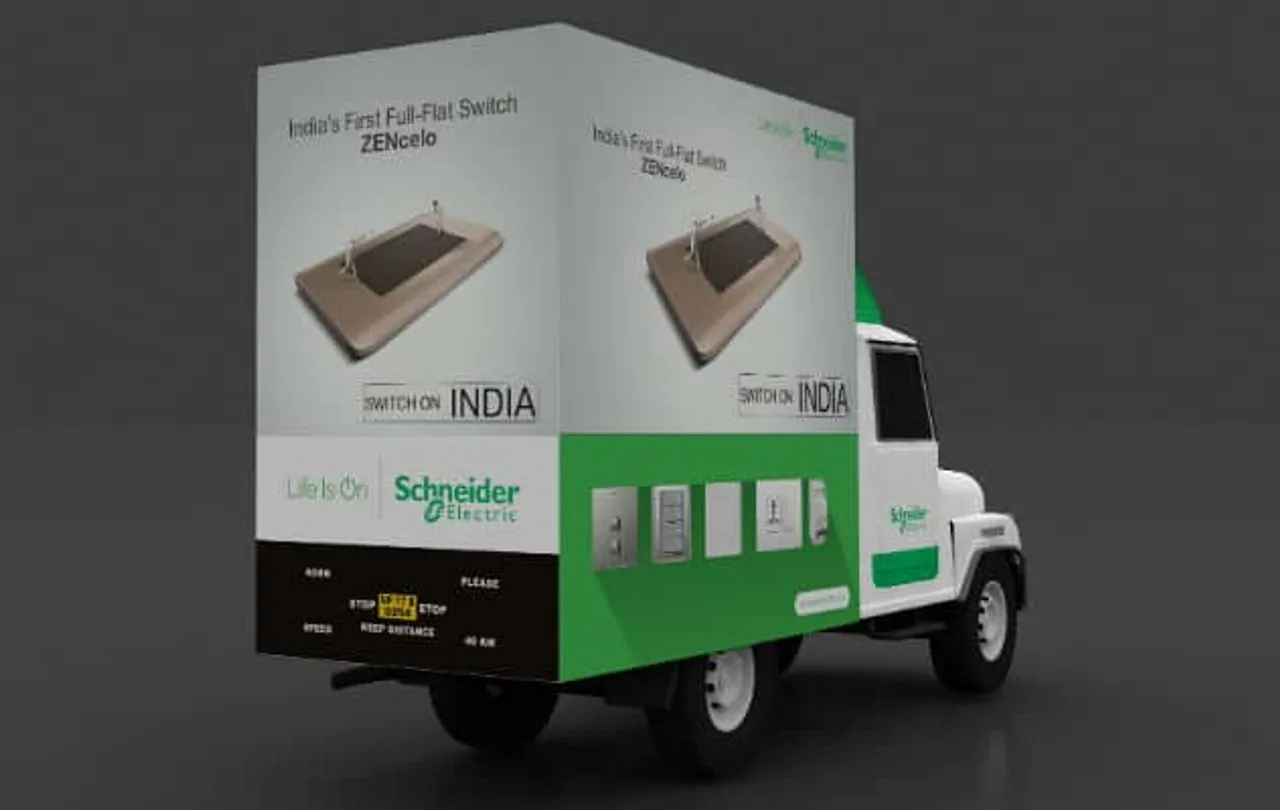 In an effort to provide easier access to its products through its retail business and to expand its market outreach across the country, Schneider Electric announced the flagging of its Van Campaign 'Switch On India', across the country. As a part of the campaign, 8 vans with Schneider Electric Final Distribution (FD) and Wiring Devices (WD) products on display will travel across different electrical markets in the country, covering close to 100 cities in the month of June and July 2017.
The presence of these vans across the cities will facilitate a deeper engagement with the electrician base and the retail network. The campaign will also generate awareness around safety and energy efficiency amongst Schneider Electric's channel partners. The vans will travel across the states of Kerala, Tamil Nadu, Andhra Pradesh, Telangana, Karnataka, Maharashtra, Gujarat, Madhya Pradesh, Chhattisgarh, Odisha, West Bengal and states of North East.
Flagging off the campaign, Srinivas Shanbhogue, VP – Retail, Schneider Electric India said, "The trends of urbanisation, industrialisation and digitisation are creating opportunities for growth. They also present significant challenges in terms of security, efficiency, and sustainability. Through this campaign, we are committed to making available safe and sustainable solutions for end users. Retailers and electricians constitute an important part of the value chain of the electrical retail market and we aim to engage with them through this campaign which will help us add more value to the lives of our end consumers."
Strengthening its presence in the retail segment, especially for low voltage electrical products such as MCBs, RCCBs, Distribution Boards, Switches & Sockets that are pegged at a market of more than Rs. 5,000 crores in India, Schneider Electric is set to acquire a bigger market share with products that define luxury, safety, connectivity, and efficiency. As part of the campaign, the company plans to reach out to end customers by showcasing its range of green products, solutions, and technologies to retailers and electricians in key markets. Buildings, both residential and commercial - are currently responsible for more than 40% of global energy and one-third of global greenhouse gas emissions. Through its green range of products, the company seeks to reduce the carbon footprint of buildings which can play a key role in mitigating climate change in India.
Schneider Electric is already executing an Electrician Training program under which it has trained more than 50,000 electricians across India. The company plans to open training centers in 500 districts across the country and help set up a Centre of Excellence focused on power, solar and automation sectors. It has partnered with the Ministry of Skill Development & Entrepreneurship to cooperate in reducing the huge skilled manpower gap in India's power sector. Under this initiative, the company will also support 100 basic electrician labs under the Pradhan Mantri Kaushal Vikas Yojana (PMKVY).