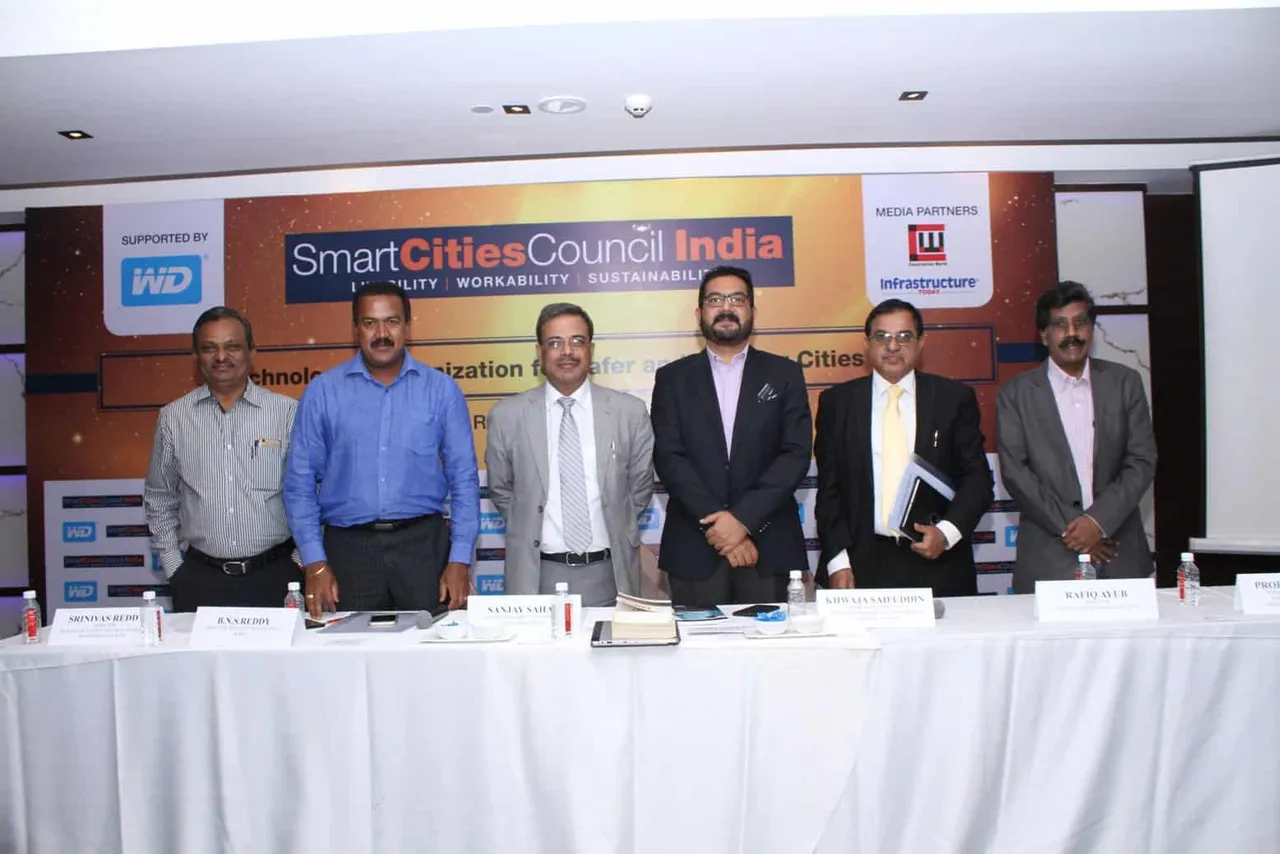 Emplacing the manifesto for cooperation between authorities, civil bodies and technology providers, the Smart Cities Council India (SCC) and Western Digital recently held a round table conference session on " Role of Video Surveillance Systems in making cities safer " which brought alive the current state of surveillance security in India, the challenges and sustainable solutions to help urban planners understand the framework of a smart city and take steps to improve infrastructure. This initiative is in unison with the vision of 'Smart Cities' for which the role of data and IT, especially video surveillance in enhancing security will play a pivotal role.
Speaking at the event, Khwaja Saifuddin, Senior Sales Director - South Asia, Middle East and Africa, Western Digital,said,"With smarter cities, comes smarter responsibilities and video surveillance is one of them. The process of video surveillance involves a lot of data generation which needs to be stored for future analysis and monitoring. Therefore, it is imperative to set the video surveillance standards in place to ensure high quality and sustainability.The surveillance ecosystem players need to work together to achieve a common goal of enabling smarter and safer cities at a faster pace."
The discussion centred on the need of smart surveillance shaping smart cities and how to transform surveillance video from cost burden to value-added asset. Additionally, the need of city administrations to focus on installing and upgrading defined specification of cameras, storage systems and allied technologies and incentive to help propel the formation of sustainable smart cities.
On the occasion, Gaurav Gupta, Principal Secretary, IT, BT and ST, Government of Karnataka said,"Bangalore being the Silicon Valley of India, should always lead in prospective of technology modernization. Hence, such initiatives will boost Indian Government's Smart Cities Mission and make Bangalore an ideal example in the league. Effective surveillance, secure infrastructure is important to ensure a safer environment. Hence, technology enablers and government should work jointly to achieve smart cities vision.
Sharing his viewpoint, Pratap Padode, Executive Director & Founder, Smart Cities Council India, said,"Public surveillance cameras can play a pivotal role in city's security if CCTV Systems are implemented and employed responsibly.  There need to be an emphasis on instating right surveillance standards and industry best practices for effective surveillance that ensures safety and peace of mind for citizens. As Bengaluru authorities have already in the process of stepping up surveillance through installation of around 5,000 new CCTV cameras across the city, it has to be more than just an exercise. The technology capital of the state should lead by example and set up best standards for video surveillance using latest technology by installing and upgrading defined specification of cameras, storage systems and allied technologies."