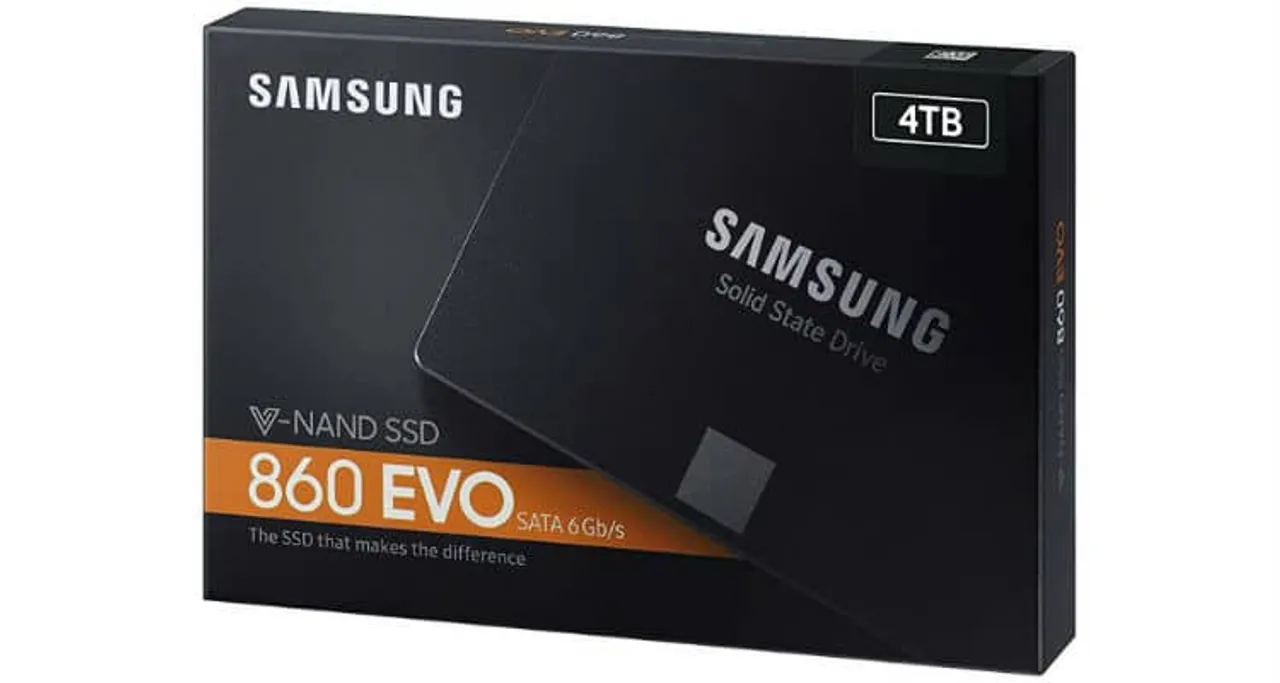 Samsung India announced the launch of 860 PRO and 860 EVO solid state drives (SSDs), the most up-to-date additions to the company's SATA interface lineup.
860 PRO and 860 EVO are aimed at consumers who require fast, reliable performance across various applications, from everyday computing to heavy workloads and graphic-intensive operations.
Building on the successful launch of the 850 PRO and 850 EVO – the industry's first consumer SSDs with Vertical-NAND technology – the 860 PRO and 860 EVO achieve industry-leading performance for SATA SSDs, offering enhancements in speed, reliability, compatibility and capacity.
"The products offer unmatched solid state flash storage experience for both consumers and business professionals alike. The fast, enduring performance of the 860 PRO is designed for creators, IT professionals, and gamers using workstations, NAS, or high-end computing.
The 860 EVO boosts everyday computing with speed, endurance, and worry-free reliability ideal for mainstream PCs and laptops. These latest SSD offerings further reinforce our commitment towards bringing in meaningful innovations in the SSD space and drive the growth of the overall memory industry for years to come," said Sukesh Jain, Vice President, IT & Mobile Enterprise Business, Samsung India.
As file sizes continue to increase with high-resolution photos and 4K videos, the need for faster data transfers and sustainable high performance over a longer period of time has become paramount for users.
To address this need, Samsung's 860 PRO and 860 EVO support up to 560 MB/s read and 530 MB/s write speeds and offer unmatched reliability with an upgraded five-year limited warranty, or up to 4,800 terabytes written (TBW) for the 860 PRO and up to 2,400 TBW for the 860 EVO.
The new MJX controller also enables faster communication with the host system. The controller is powerful enough to handle workstation storage while improving Linux operating system compatibility.
The 860 PRO is available in 256GB, 512GB, 1TB, 2TB and 4TB capacities, with the 4TB memory storage holding up to 114 hours and 30 minutes of 4K Ultra HD video. The 860 PRO is available in a widely compatible 2.5-inch form factor, which is ideal for PCs, laptops, workstations and NAS.
The 860 EVO comes in 250GB, 500GB, 1TB, 2TB and 4TB capacities, in a 2.5-inch for PCs and laptops, as well as mSATA and M.2 form factors for ultra-slim computing applications.
The 860 EVO has up to six times longer sustained performance than its predecessor due to enhanced Intelligent TurboWrite technology, with reading and write speeds of up to 550 MB/s and 520 MB/s, respectively.
The 860 PRO and 860 EVO SSDs are available from this month with manufacturer's suggested retail prices starting at INR 12,200 and INR 8,750, respectively.