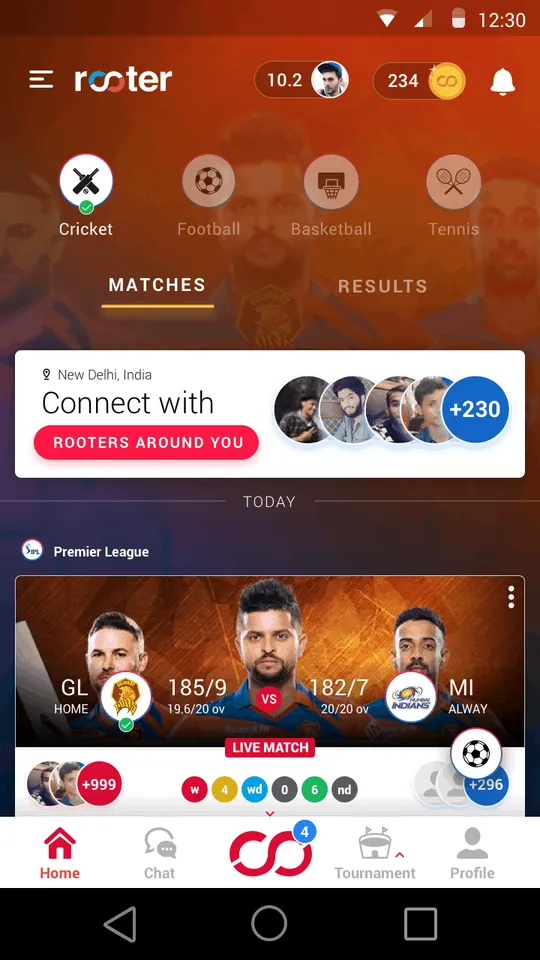 The tenth season of the phenomenon that has taken Indian cricket by storm, also known as the IPL, has started and fans have geared up for the almost 2 month-long juggernaut in style. Contributing to the preparations of Gujarat Lions fans is Rooter, the world's first digital platform that connects, engages and helps sports audiences interact with each other on a real-time basis during sports events. This year, Rooter has partnered with the Rajkot-based team and has created a slew of features on its app which will enhance the experience of every Gujarat Lion fan using Rooter.
Gujarat Lions' fans, while using the Rooter app, will enjoy customized homepages, chat forums and even profile pages showing off their love for the team. Rooter's homepage has gone through a massive revamp prior to this year's IPL, with a much-improved and exciting UI that features cricket right on the screen for fans to quickly connect to their favourite team during matches.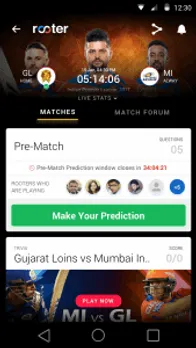 The app interface also has a 'connect with' tab that allows Gujarat Lions fans to interact with each other during the match in a one-of-a-kind team forum set-up that will add each individual fan's cheer to the collective frenzy! So whether you feel elated at that six over long-on or angry at an unnecessary reverse sweep during tense moments, your Gujarat Lions fans team forum will be the first to know!
Commenting on the latest offerings, Piyush Kumar, CEO and Founder, Rooter said, "Gujarat Lions has been a revelation in the IPL last year and fans are eagerly awaiting the return of probably one of the strongest teams on paper. With hard hitters such as Brandon McCullum and Dwayne Smith coupled with the all-round cricketing genius of the likes of Dwayne Bravo and Suresh Raina, fireworks are expected out of the team this year. Rooter wanted to play its part in adding to the fervor of its fans by providing them with a unique space on the app, so that they can proudly show-off their love for the team and celebrate the 'Jalsa Jeet Ka' in a proud way."
Furthermore, Gujarat Lion's fans will have a dedicated profile page that will be exclusively decorated with imagery and information about the team. From profile pictures in Gujarat lion's jersey to proclaiming the love for their team through customized wallpapers and themes, the fans for Gujarat Lions will stand apart on Rooter!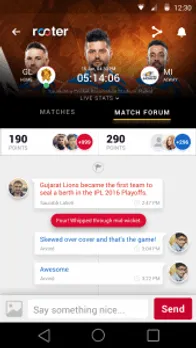 The features that Rooter has rolled out for Gujarat Lions are a first in a series of innovations it plans to implement this sports season.. Rooter recently received an undisclosed amount of funding from Intex Technologies, a mobile handset and consumer electronics major, post which its user Interface and tech structure has received a tremendous overhaul. The sports social engagement platform plans to continue interface-based engagement with fans of other teams in different sports as well, apart from a host of various activities lined up, including merchandizing, organizing sports events and screenings in social destinations etc.
Commenting on this announcement, Keshav Bansal, Director, Intex Technologies and Owner, Gujarat Lions said, "As sports is an extremely emotion-driven phenomenon and the sports fan engagement platform is a completely unexplored territory, Rooter has boundless possibility for progress. With this unique concept, all the GL fans will be able to interact with each other during the match. We feel this partnership will be a perfect synergistic match and will enable GL fans to enjoy their favorite team playing like never before."
Gujarat Lions, which began its journey in last year's IPL and finished third, has been hailed as a team with boundless potential and charisma. With probably the highest number of all-rounders in its ranks including names such as Dwayne bravo, Dwayne Smith, Ravindra Jadeja and Suresh Raina, its captain, Gujarat Lions also enjoys an overwhelmingly huge fan base. In fact, it was the #1 team in terms of digital engagement with fans during last year's IPL.
Rooter was started in Sept 2016 by two sports enthusiasts, Piyush, Founder and CEO, and Soham Sinha, Co-founder and CPO, who decided to bridge the gap in sports fan engagement market through a unique tech product. Akshat Goel, Co-founder and CTO, joined next to head the Technology team at Rooter.