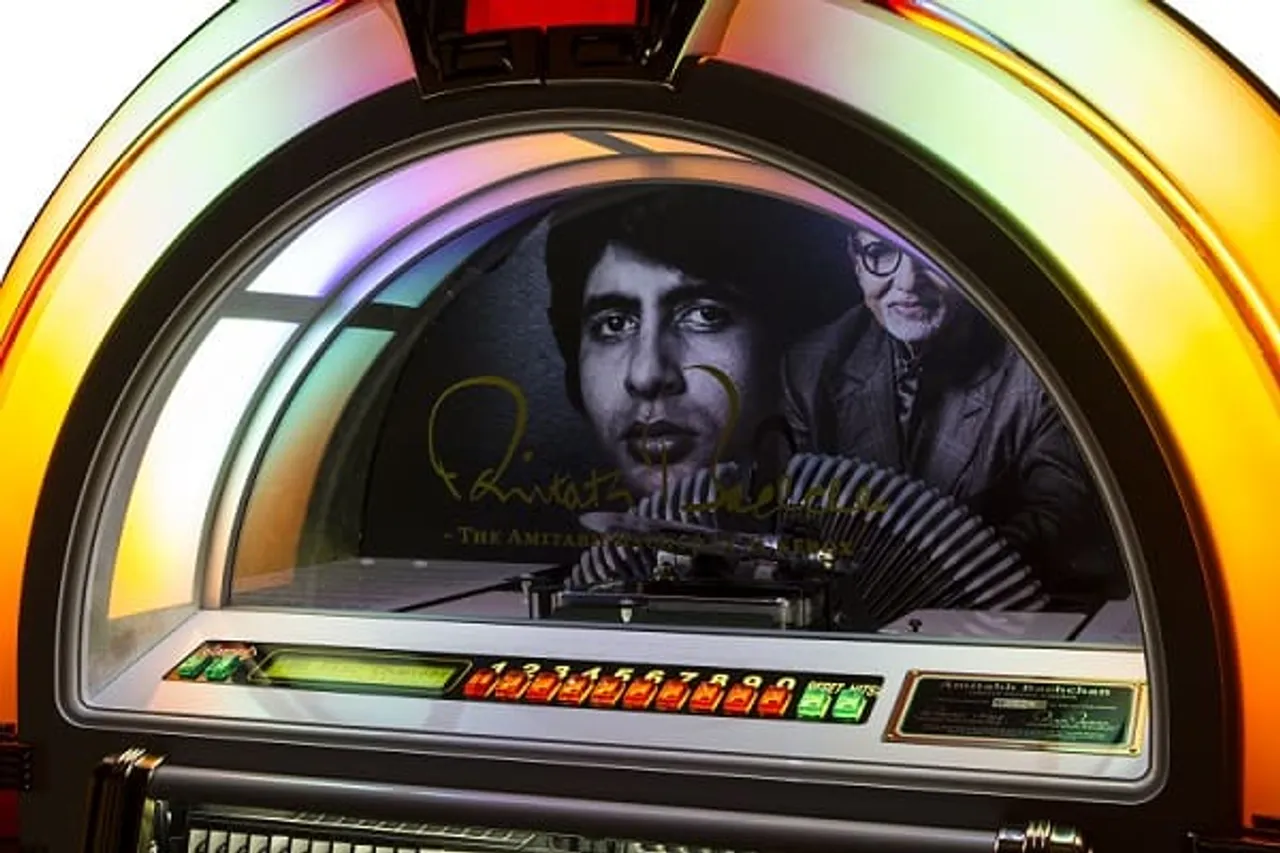 A limited edition Amitabh Bachchan themed Signature Jukebox for an ultimate heartfelt experience to savour and re-live his evergreen songs that would take everyone down the memory lane. These jukeboxes belong to a limited edition and there are only 100 jukeboxes being made worldwide per finish. This unique jukebox will be available in black & gold and white & gold finish. This luxury jukebox is one of its kinds with several special features. Each jukebox developed by Ricatech has its own unique number.
Special features The Amitabh Bachchan Jukebox
Luxury piano white or black wooden cabinet finish.
Gold coloured metal trims, grill and base.
Special AB designed back mural.
Remote controlled night light feature.
Custom made BigB shaped CD magnet holder.
Exclusively created text on the inner wooden plates that includes an exclusive poem of Bachchan's father Harivansh Rai Bachchan.
 Amitabh Bachchan signature in the mechanism window glass.
Special signed metal brass plate with stamped unique Limited Edition number.
Custom title cards with BigB logo.
An exclusively created slogan on program glass.
Luxury grill cloth of special fabric and golden stitched BigB logo.
Specially created grill disk with the art of Amitabh Bachchan.
Personalized solid bronze medallion handmade Amitabh Bachchan portrait.
Limited Edition, only 100 jukeboxes built per finish only. Number #W74 is in Bachchan's private collection.
 Specifications The Amitabh Bachchan Jukebox
100 CD capacity carousel.
Philips compact disk player.
Self-adjusting laser.
New Slimline Amplifier 450 watt per channel.
5 built-in speakers, a dual 3-way system for "Live" performance reproduction.
External speaker connection.
Dual volume controls for internal and external speakers.
8 built-in original nostalgic bubble tubes.
4 motor driven colour cylinders.
Durable and energy efficient LED lighting
Built in original coin operated mechanism for commercial use in bar or restaurant.
Built-in computer for installing features like a playlist, free or pay play, and much more.
Aux input to connect mobile devices.
Built-in Bluetooth for wireless music streaming.
19 pcs of triple plated dye cast gold coloured metal trims, grill and base.
Power: 90 ~ 250 volts (50 ~ 60 Hz).
Dimension: 160H x 85B x 70D cm.
Net weight: 160Kg.
Approved CE, Rohs and FCC certifications.
Handmade in America.
Price: Rs. 15,00,000 approximately
Available only on special order