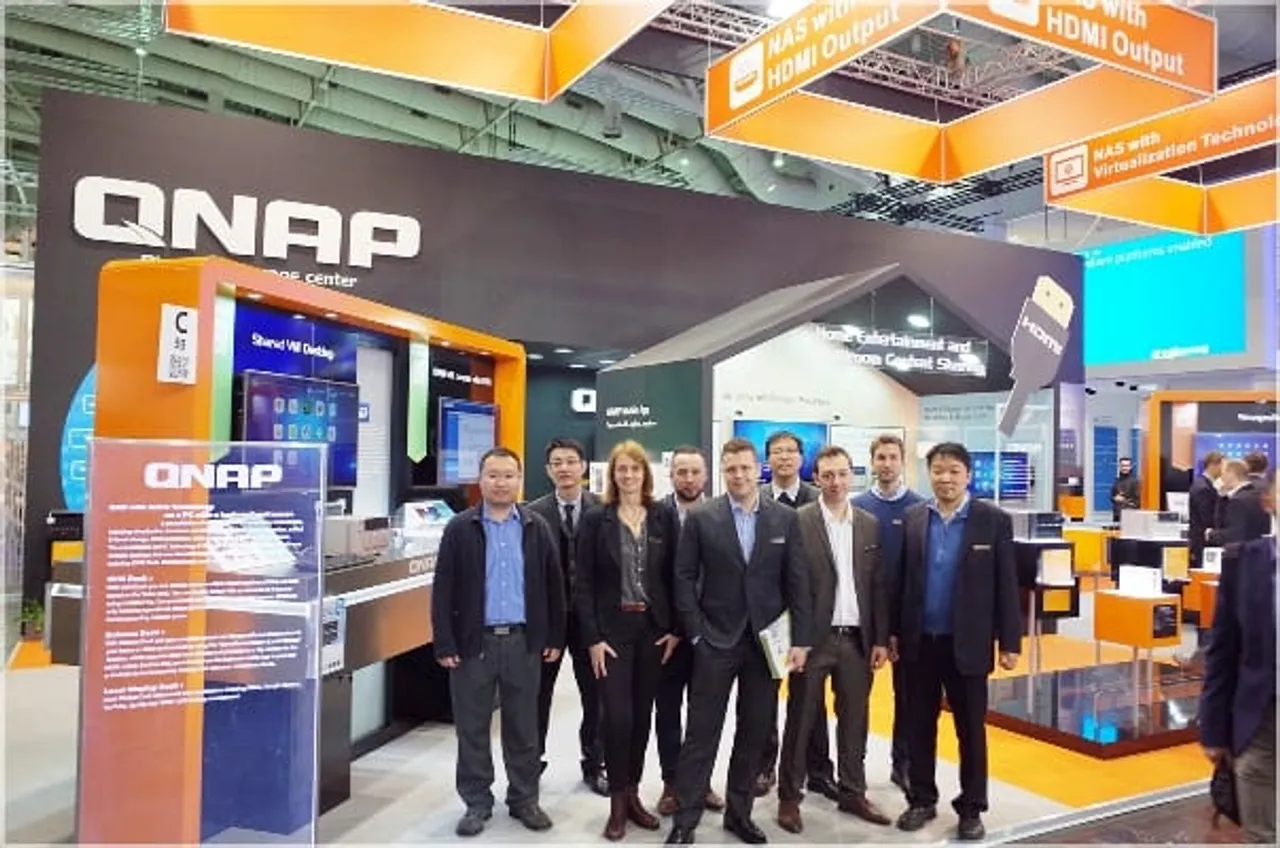 At the opening of CeBIT 2015, QNAP Systems demonstrated a series of innovative new NAS models, its exclusive QvPC Technology, HDMI applications, virtualization technology, and QTS 4.2 operating system. QNAP also cooperated with OCZ®, Samsung®, Seagate® and WD® at CeBIT 2015 to showcase joint solutions of QNAP NAS with a wide range of HDDs and SSDs.
The powerful quad-core TS-453mini NAS sports a vertical form factor that suits cramped office and home environments. It features a stylish glossy look, a quiet exhaust for heat dissipation, smart LED indicators with adjustable & schedulable brightness controls, easy hard drive installation without tools, simple RAM upgrade design, and is packed full of cutting-edge features and apps for file storage, backup, sharing and entertainment needs.
The new compact TS-251C provides the power of an Intel® Celeron® dual-core CPU at a surprisingly low price tag. It is the ideal choice for budget-conscious users to create a personal cloud & media center without compromising its performance in real-time/offline 1080p video transcoding; video streaming via DLNA, AirPlay, Chromecast and Plex Media Server; and HDMI-out with Kodi media player.
Visitors can learn more about the AMD®-powered TVS-x63 Golden Cloud Turbo vNAS, the 4K ultra-high-definition ready TVS-x71 Turbo vNAS, the ARM® Cortex-A15 based TS-x31+ series, and more QNAP NAS models at CeBIT.
"In addition to the new NAS models, we are excited about having our booth designed with different themes such as QvPC and HDMI that enable us to give visitors an in-depth introduction to these technologies and their potential applications," said Meiji Chang, general manager of QNAP.
QNAP's exclusive QvPC Technology incorporates numerous high-end technologies including virtual machine (VM) integration, multimedia transcoding, HDMI output, cloud integration and NAS connection technologies. By simply connecting a keyboard, mouse and HDMI display, the QNAP NAS can immediately be used as a cost-effective PC substitute for users to directly access stored data, run multiple applications on Windows®/Linux/UNIX/Android-based VMs, surf the web, enjoy 4K or 1080p videos with up to 7.1 audio with Kodi, monitor surveillance live feeds from IP cameras, and much more.
HDMI output for effortless installation and an unparalleled multimedia experience. Users can easily install their NAS over HDMI - a pioneering function in the NAS industry that allows for a NAS to be installed without a network connection, and free from complicated procedures and network expertise.
With HD Station (HybridDesk Station), users can connect a QNAP NAS to an HDMI display, and directly enjoy the multimedia stored on their QNAP NAS, surf the web, and even control the entire experience from their mobile devices. HD Station integrates feature-rich applications including Kodi, HD Player, YouTube, Spotify, Google Chrome, Mozilla Firefox, DeaDBeeF, Skype, LibreOffice, Plex Home Theater, and more.
QTS 4.2 incorporates a new interface design for its desktop, Storage Manager and multiple applications for an improved user experience while adding new features including volume snapshot, snapshot replication, VM backup & restore, JBOD enclosure roaming, backup versioning, encrypting shared folders, and enhances network security.
QTS 4.2 further empowers the QNAP NAS to be a multi-zone multimedia system which allows users to centrally control media streaming to different corners on a single device. Protocols & services including DLNA, Airplay, Chromecast, Bluetooth and USB devices are supported for media streaming, and members in different zones at home can enjoy the convenience and simplicity for home theater and multimedia storage.
QNAP CloudBackup Station, consolidating several apps in the QTS App Center, provides a secure-yet-flexible hybrid cloud backup solution that allows users to leverage private and public clouds to create a cost-efficient IT environment and to build a comprehensive plan for disaster recovery. By using S3 Plus & Glacier, Azure Storage, Google Cloud Storage, OpenStack Swift and WebDAV apps, users can easily back up files from QNAP NAS to cloud storage for data recovery whenever in need.
Q'center app allows users to manage multiple QNAP NAS units with the NAS that has this app installed. It's convenient for IT administrators to centrally monitor system logs, update firmware, maintain and troubleshoot systems as Q'center provides immediate and complete information to assist in making crucial decisions.