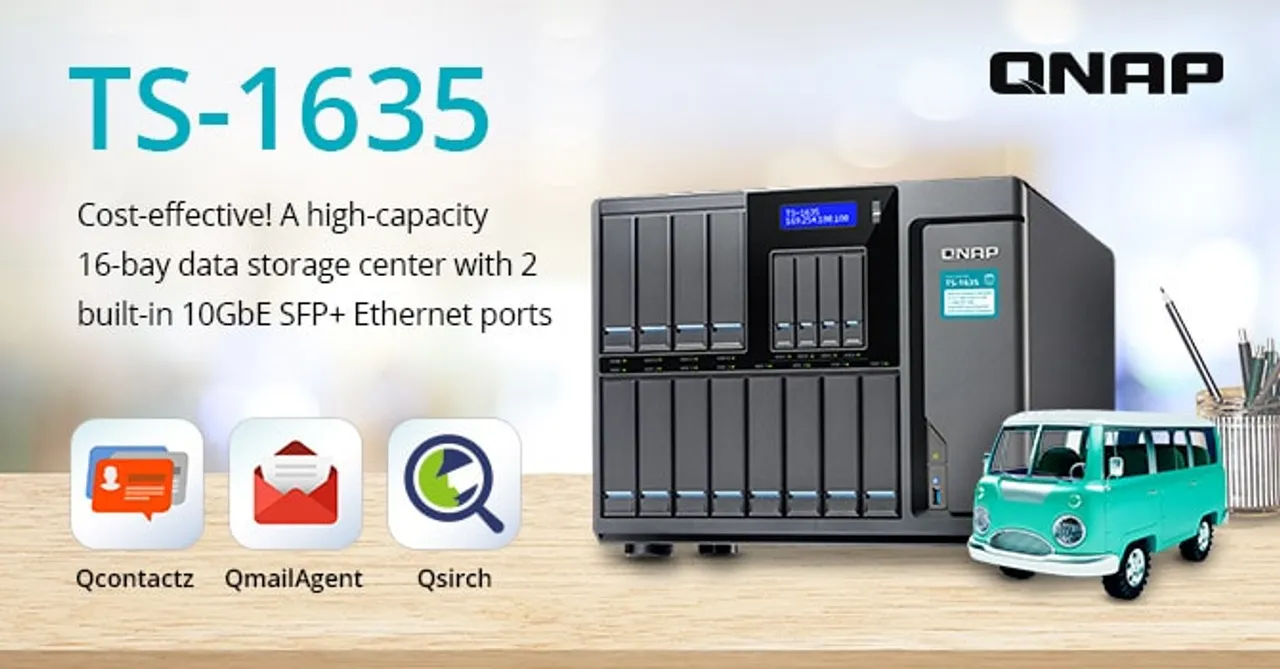 QNAP Systems released the 16-bay TS-1635 business NAS that supports twelve 3.5" HDDs and four 2.5" SSDs to accommodate massive data storage. The cost-effective quad-core TS-1635 comes with dual 10Gbe ports and dual Gigabit ports, meeting the demands for next-generation networks, high-speed file transfer, and helping small/medium businesses to reduce the cost in implementing 10GbE solutions.
Equipped with an AnnapurnaLabs, an Amazon company Alpine AL-514 quad-core 1.7 GHz ARM® Cortex®-A15 processor by Amazon®, the TS-1635 supports 4GB/8GB DDR3 RAM (upgradable to 16GB) and provides hardware-accelerated encryption that can deliver up to 700 MB/s throughput. With dedicated 2.5" bays for SSD caching and two integrated 10GbE SFP+ ports, the TS-1635 delivers up to 1228 MB/s read and 874 MB/s write speeds, making it the ideal choice for users looking for high-speed data transfer.
"Compared with similar products, the TS-1635 provides the most budget-friendly, high-capacity NAS solution for small/medium businesses. It supports up to 16 hard drives, creating epic storage potential with high-capacity HDDs and high-performance SSDs," said Jason Hsu, Product Manager of QNAP, adding "with two integrated 10GbE ports, the TS-1635 also provides an affordable entryway for 10GbE adoption by small/medium businesses."
The high-capacity TS-1635 provides multiple storage applications. With VJBOD (Virtual JBOD) support, users can leverage the high-capacity TS-1635 to expand the storage space of other QNAP NAS and create virtual storage pools and volumes on virtual disks for operating NAS services. To maximize the storage space of the TS-1635, users can connect up to two QNAP expansion enclosures (UX-800P / UX-500P). With this massive capacity potential, the TS-1635 is especially ideal for storing surveillance videos. Utilizing its 8 free IP camera channels (expandable to 40 channels by purchasing additional licenses), users can deploy a professional network surveillance Video Management System (VMS) center with Surveillance Station on the TS-1635.
The TS-1635 is ideal for SMBs to build a secure private cloud. It supports cross-platform file sharing for Windows®, Mac®, and Linux/UNIX, serving as a useful centralized storage. Windows AD, LDAP directory services and Windows ACL are supported to improve the efficiency of permission settings. Backup, restoration and synchronization functions (via RTRR, Rsync, FTP or CIFS/SMB) are also integrated into the Hybrid Backup Sync app, allowing users to efficiently synchronize their backup tasks to other QNAP NAS, remote servers and cloud storage.
The TS-1635 provides excellent software features to boost productivity. Container Station brings advanced virtualization technologies and provides QIoT Containers to transform the TS-1635 into a private IoT cloud platform for rapid IoT stack development. QNAP's proprietary full-text search engine, Qsirch, allows files to be quickly found and supports searching through .eml files stored on the NAS. QmailAgent allows users to centrally manage multiple email accounts from popular email services and IMAP servers. Qcontactz allows for the centralization of contact information, providing greater organization of business networking resources.