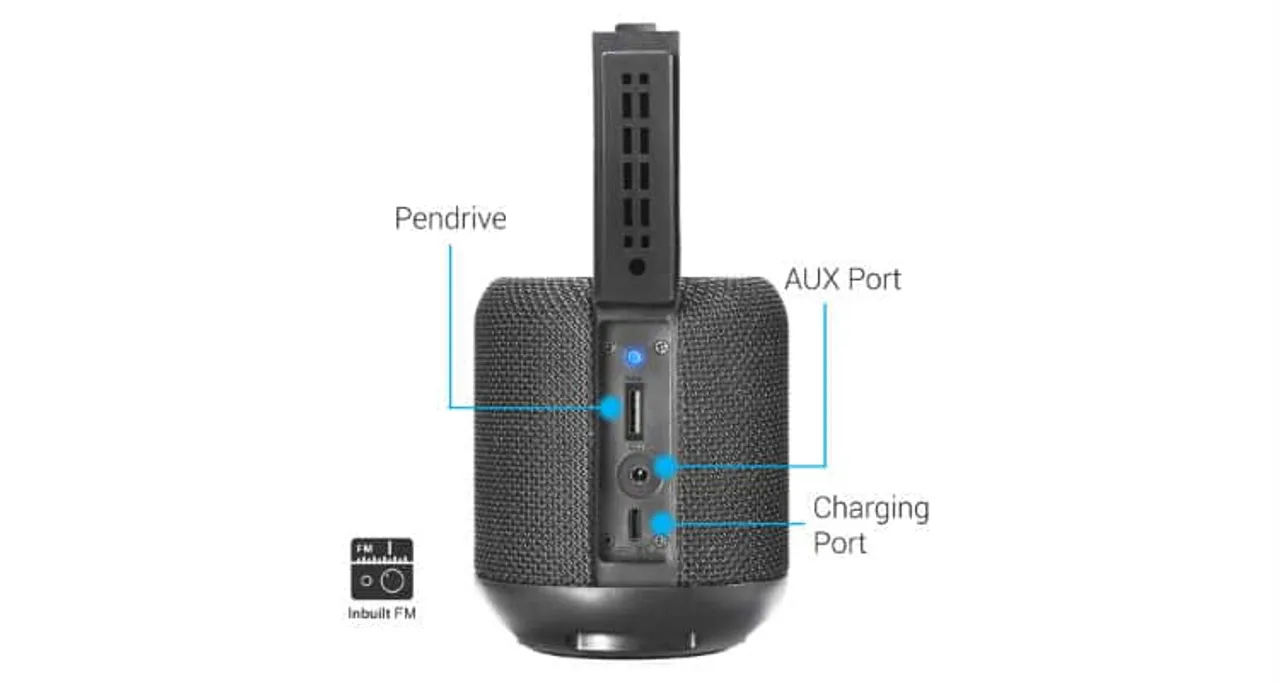 Portronics brings in "SoundDrum" - a Bluetooth 4.2 Multi-function Stereo Speaker with FM and other multiple connectivity options. Bluetooth 4.2 BLE offers 250 % faster speed and much more security over Bluetooth 4.1.
Sound Quality:
SoundDrum has two powerful 5W in-built speakers with great amplifiers to offer unbelievable sound output – with great bass and stunning mid-range, the best in its category. FM stations also offer loud and clear output too. Due to its modest weight and rubber feet at the base, the SoundDrum is very stable even at the highest volume.
Multiple Music Playing Options: 
Get the best music treat of your favourite numbers or enjoy a thriller on your smartphone, tab, laptop or computer, with Portronics SoundDrum using Bluetooth 4.2 or Aux cable.
One need not bother, even if your favourite music is in a Non-Bluetooth device like the mp3 player or PC, simply connect the device using 3.5 mm Aux port or a pen drive.
Listen to your FM radio programs, be it early morning dose of your spiritual songs or late night romantic numbers while using its powerful FM tuner with an inbuilt antenna.
Portronics SoundDrum also gives you great convenience of hands-free phone calls. With in-built mic and speakerphone facility so you can take/reject/end calls coming to your smartphone. You can end or deny calls very easily and continue with your favourite songs without missing a note.
Long Playtime:
The powerful industry-leading size of 1800mAh lithium-Ion battery can play music for more than 7 hours on a single recharge. The battery can be recharged in just around 1-2 hours.
Cool & Compact looks with Solid & Stable Built:
Solid and stable drum shape in black colour goes well with stylish grille, gives SoundDrum a very classy appeal. SoundDrum packs a great punch at solid 330 grams. It has International Protection rating IPx6 which means water resistant and dust tight body which allows you to enjoy music both wire-less and worry-less, even in dusty conditions and moist conditions. It is protected against splashing and light rain but not when immersed in water. The compact size allows you to carry it easily with you wherever you go.
Pricing and Availability:
The new Portronics SoundDrum is available at a very striking price-point of INR 2499/- on leading online and from offline stores.