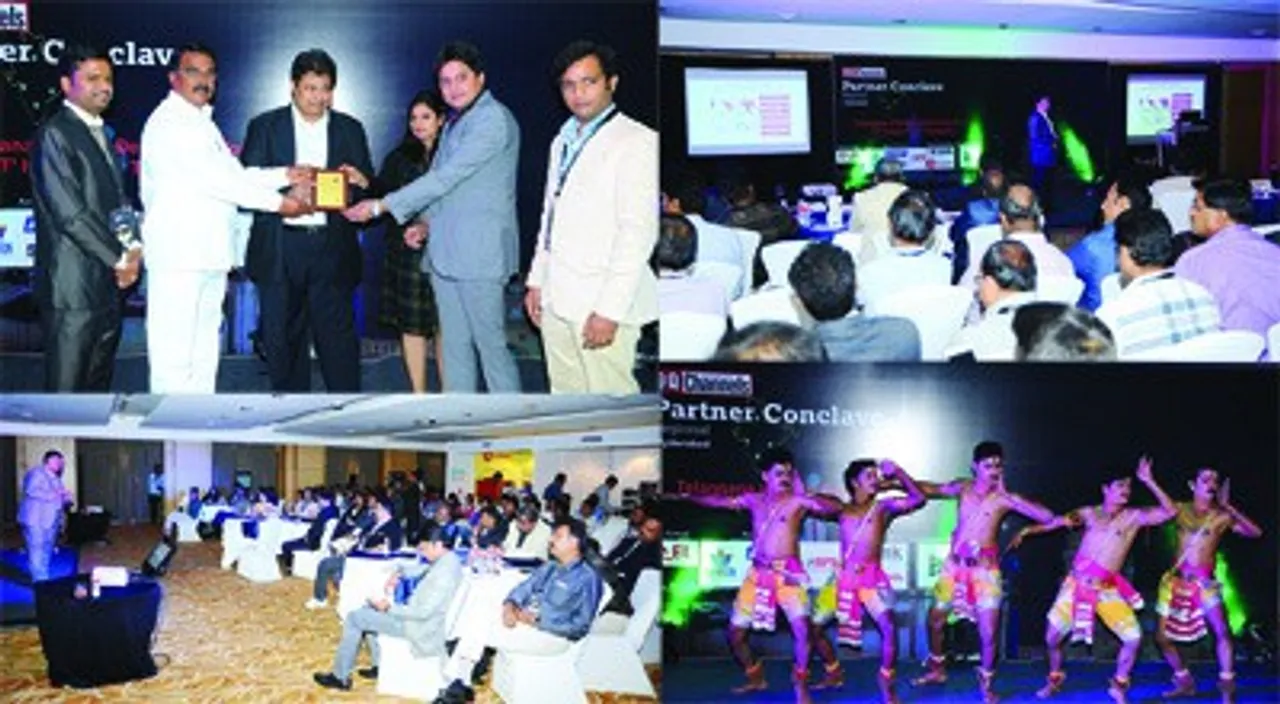 CyberMedia one day mega event held in December – Regional Partner Conclave- took off to a grand start at the Novotel Hotel, Hyderabad in association with Telangana IT Association (TITA). Huge crowd comprising Channel Partners, software companies, start-up entrepreneurs were present for the event. The participants got groomed in technological platform, got insightful learning about sponsored companies during the event.
Regional Partner Conclave is a remarkable platform where India's leading Solution Providers, System Integrators, Network Integrators, Application Providers and Value Added Resellers stand together to discuss the new strategies and technologies for growth and future of IT. Partners Conclave is majorly focused on latest technologies.
RPC was inaugurated by Chief Guest Honorable Shri Singireddy Niranjan Reddy, Vice Chairman, Telangana State Planning Board. He congratulate DQ Channels for such an event which encourages IT community infusion on one platform. In his speech he said, "Telangana will continue to encourage all existing IT /ITES already located in the state, and also motivates new companies to establish. Hyderabad will be continue to remain centre of product, development and research activities".
The event was kick started with welcome speech by Rajneesh De, Group Editor, CyberMedia. Event also witnessed remarkable performance of Perini Nrithyum by dance troop from Telangana Department of culture & Language. The industry experts who were present at the event such as the K. V. Jagannathan, MD, Choice Solutions, opined that why Digital India is important in country and explained 3 modules in which Digital India could be achieved.
Sundeep Makthala, President, Telangana IT Association gave an overview of achievements of Digital literacy initiative DIGITHON programme hosted by the association. An award of appreciation was awarded by CyberMedia for the successful incorporation of digital literacy in more than 46 villages. Also during the event TITA members were awarded for their work.
Sponsors of the event Supertron, Seqrite, Digisol, BPE gave powerful presentations and highlighted their latest technologies and presented their future business plans. Anil Dhanda represents leading distributor Supertron and Noman Arshi Khan represents Seqrite, they both talked about new products and technologies the companies are offering respectively.
All channel partners and DQ Channels Team gathered proudly and made this event a huge success. The sponsors who made this event successful were, Supertron, BPE, Digisol, D-link and Seqrite. TITA was association partner for this event.
Even the closing gala dinner hosted too took the participants through the food heritage of Hyderabad.