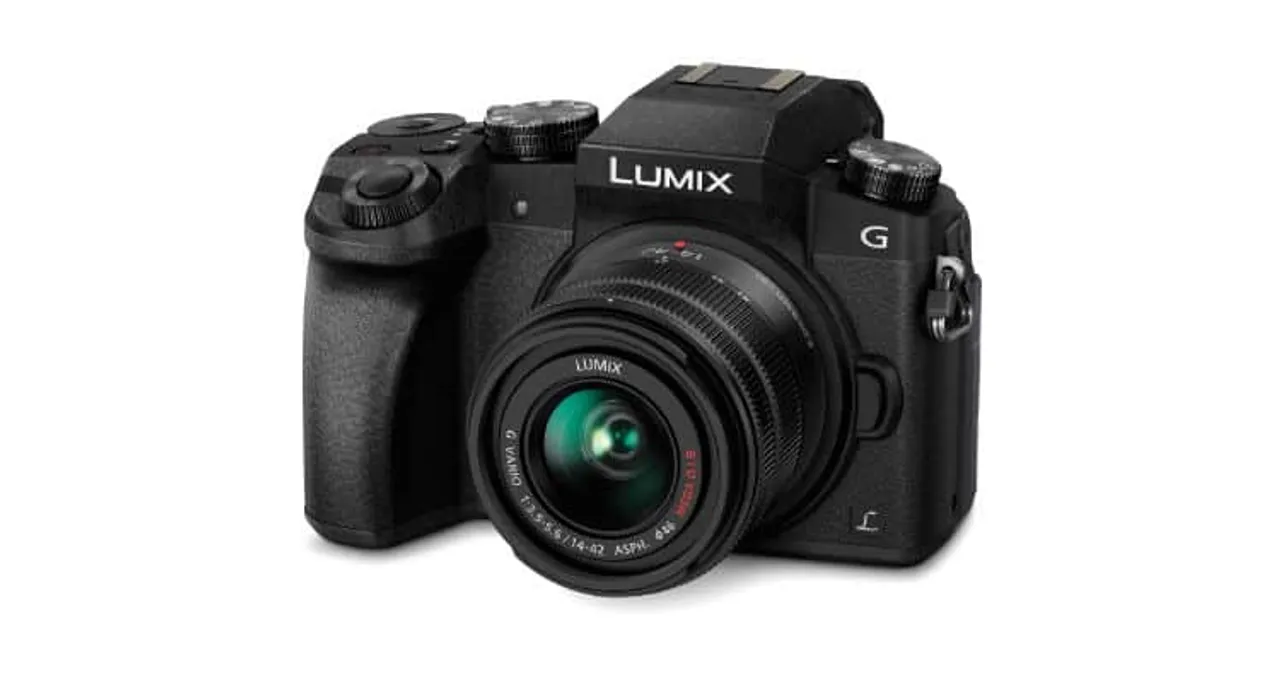 Paving a new path towards 4K revolution, Panasonic India launched the new Lumix G7 and G85 in the Digital Single Lens Mirrorless (DSLM) category. They have been designed to address the need for quality videos for filming, YouTube and still photography. These lightweight cameras come equipped with 4K video recording & editing capabilities.
The Lumix G85 features a rugged design ensuring splash and dustproof. Lumix G85 comes with Dual-Image Stabilization and Focus Stacking capacity that enables a user to adjust the depth of field after shooting by combining multiple images shot with the Post Focus function in the camera. It has been prudently developed to accomplish your film-making and photography goals at 4Kquality; weighing just 435gms (only body) it is handy to carry during travel, trekking, wildlife and adventure purposes.
Meanwhile, the Lumix-G7, weighing 360gms(only body) has been designed to ensure a seamless editing for the YouTubers, upcoming filmmakers and videographers. This model is capable of recording smooth high-resolution video despite its high mobility.
The camera models will be available at all Panasonic stores across the country.The Lumix G85will be available at a price ofINR 72,990andtheLumix G7 will be available at INR 53,990.The Lumix G7 also comes with the dual kit option of 1442 mm + 45150 mm atINR 58,990.
Gaurav Ghavri, Product Head- Digital Imaging, Panasonic India, said, ''The new LUMIX G7 and G85 targets the new-age videographers and photographers, who are upwardly mobile and are willing to join the 4K revolution. Designed for all DSLM professionals, these cameras are an answer to a professional,4K photography and videography that ensures memories for life The compact form, packed with innovative technology with Dual-Image Stabilisation and Focus Stacking function that enables users to adjust the depth of field after shooting by combining multiple images shot with the Post Focus distinguishes them from the pack. Set to transform the DSLM segment, we see a huge potential for Lumix G series in India."
Lumix DMC- G85KGW-K
Panasonic's Lumix G85, a new rugged-design DSLM (Digital Single Lens Mirrorless) camera with a front structure composed of a magnesium alloy full diecast front frame. As the latest member of the LUMIX G Series, the model has splash / dustproof construction and is sealed from every joint, dial and button. It integrates an OLED LVF (Live View Finder) with 2360K-dot high resolution in approx. 1.48x / 0.74x (35mm camera equivalent) magnification capability. The free-angle 3.0-inch large, approx. 1040K-dot touch-control monitor with approx.100% field of view makes shooting in high and low angles easier.
The 16.0-megapixel Digital Live MOS Sensor without Low Pass filter and the new Venus Engine combine to achieve crisp, high-resolution images in detail with high contrast, impressive colour reproduction and max. ISO 25600 high sensitivity.
The LUMIX G85 is capable to record smooth, high-resolution 4K video in 3840x2160 at 30p / 25p (50Hz Area) 30p (60Hz Area) or 24p in MP4. The LUMIX G85 is also capable of the real-time image output to the external monitor/recorder via HDMI simultaneously while recording video.
The LUMIX G85 incorporates the new 5-axis Dual I.S.(Image Stabilizer) 1* which has advanced to boast even more powerful and effective blurring suppression.A maximum of 150 frames in five seconds following a designated frame can be saved.
In addition, the camera incorporates Light Composition function as a new option of 4K PHOTO mode besides synthesizing the images by choosing and saving brighter pixels. This makes it possible to produce more luxurious, dramatic images of situations such as fireworks or night scenes inside the camera with ease.
A newly integrated Focus Stacking function enables users to adjust the depth of field after shooting by combining multiple images shot with the Post Focus function in the camera. The camera also enables 4K live cropping in the video recording that realizes stable panning or zooming in video recording. In panning shots, the user can simply set the viewing angle to start and end with to get smooth panning without using any special equipment like a slider. The camera besides being crisper and providing high-resolution images, contains other features like RAW data development in Camera, Multiple Exposure, Time Lapse Shot / Stop Motion Animation.
Lumix DMC-G7KGW-K
The Lumix G7 is capable of recording smooth, high-resolution QFHD 4K video in 3840x2160 at 25p (50Hz) or 24p in MP4. Taking advantage of 4K video recording performance, users can capture the fleeting photo opportunities at 30 fps in 8-megapixel equivalent resolution. The DMC-G7 integrates a 16.00-megapixel Digital Live MOS Sensor that achieves both higher resolution and higher sensitivity image recording with minimum noise.
The image processor Venus Engine with quad-core CPU that lets high-speed signal processing resulting in 8 fps(AFS) / 6 fps(AFC) to capture fast moving subject just in-focus. Integrating superior noise reduction systems, DMC-G7 enables shooting at max.ISO25600. Adopting a static-type touch control system, the 3-inch free-angle rear monitor with 1040K-dot high resolution features approx.100% field of view.
To further enhance the controllability, the Lumix G7 newly comes with a drive mode dial in addition to the front/rear dials for the first time among all LUMIX G cameras. The drive mode dial enables activating 4K photo mode quickly.
The camera also possesses other features like easy wireless connectivity via Wi-Fi with smartphones, 3.5mm Microphone Socket, Focus Peaking, Creative Control with 22 Filters, Time Lapse Shot / Stop Motion Animation.
With these immense capabilities complemented by, the models Lumix G7 and Lumix G85 are the exceptionally imperative tool for amateurs and professionals who demand 4k camera in affordable range.