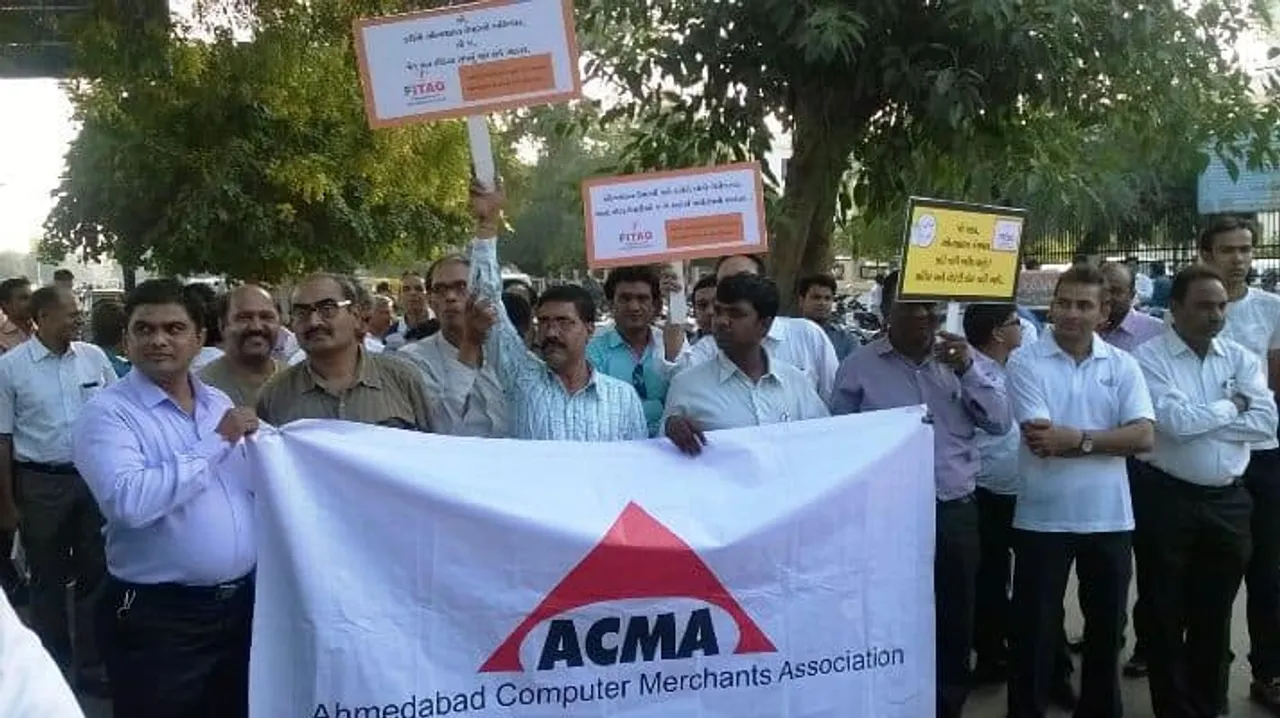 FITAG's call for Gujarat bandh against E Commerce received overwhelming response from IT retailers on Wednesday. Majority of shops remained closed except service centers and corporate offices. The federation said the bandh was successful across the state.
Intensifying fight against online giants, Federation of Information Technology Associations (FITAG), an umbrella body of all IT associations across Gujarat had called for statewide bandh yesterday.
Gaurang Vyas, president of FITAG said that the aim of the shutdown was to show strength of retailers in Gujarat to vendors and the government. He claimed that the shut down received 100 per cent response from IT retailers.
"All resellers kept their shops closed on Wednesday. All 25 associations also extended their support to the bandh. Yesterday's bandh was a clear message to vendors who are not taking steps to control predatory pricing by E commerce companies ", he said.
Mr. Vyas said that the federation has given an ultimatum to vendors to clear their policies for online and offline retailers.
"We have given a deadline to all the vendors till 17th November to disclose their pricing policies for offline and online vendors. If they fell to response, we will go on strikes from 18th November", he said.
"Our biggest protest is against unethical business practices of online companies. They are selling goods below MOP. It is hampering businesses of small retailers. Vendors should frame proper pricing policies", he said.
He demanded that the government should probe the suspicious business activities of online giants.
FITAG committee led by Kishor Nagecha, president of Ahmadabad Computer Merchants Association (ACMA) met Mr. S. J. Haider, Additional Chief Secretary –Department of Science and Technology and presented him a memorandum regarding online commerce.
"He (Mr. S. J. Haider) promised FITAG that he would forward the issue to the concern department and assured to look into the matter on a priority basis", Mr. Nagecha said.
Praful Desai, president of Rajkot Computer Traders Association (RCTA) said, "We fully supported FITAG's call for Gujarat bandh. IT market in Rajkot remained closed. We will continue to support fight against online menace."
Unnat Mehta, president of SITA-Surat said, "Gujarat bandh was the first step against unethical online business. However, without the support of parent companies, online portals could not enjoy exclusivity in products, huge discounts and special schemes. Companies are not supporting traditional channel at the same time it is not taking steps to control pricing."
"We have decided to oppose vendors by not purchasing from 12th November. We have decided many other actions against unethical business practices by vendors which will be implemented step by step," he said.
FITAG is an Umbrella body of all 25 IT associations across Gujarat. FITAG thus represents nearly 2500+ IT partners. The federation is going to represent its concerns to the IT department, Finance department and to Competitive Commission of India (CCI).