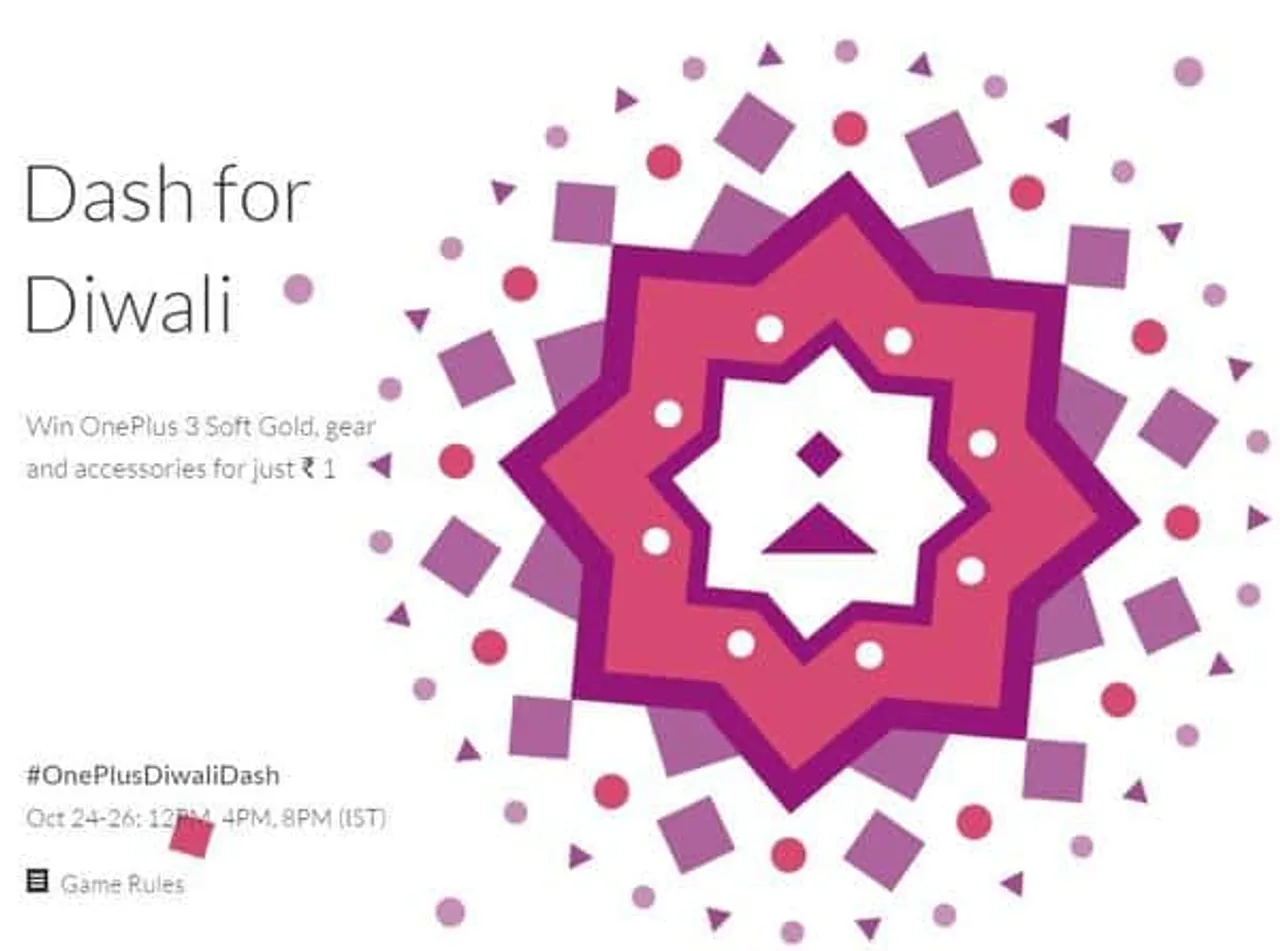 Diwali has never been bigger for OnePlus and in continuation to the "OnePlus Diwali Dash Festival" announcement recently declared last week, we have some extra special news to share with our fans.
We reveal our grand prize today! An all-expense paid week-long trip to London where the winner will hang out with the OnePlus UK team for something truly memorable.  And of course, a slew of OnePlus goodies, accessories and smartphones that will be available to fans at a jaw-dropping price of ₹ 1.
All fans participating in the Diwali Dash contest in any or all of the three days will be eligible and drafted into the grand prize pool as long as they complete the entry challenge. The winner, chosen at the sole discretion of OnePlus, will be announced by October 31, 2016 on our social media platforms and Forum.
The Diwali Dash Sale will be held between October 24 to 26, 2016 , each day at 12 PM, 4 PM and 8 PM (IST) .
Background information - About OnePlus Diwali Dash Festival  Last week OnePlus announced the Diwali Dash Sale on its exclusive Ecommerce store in India - http://oneplusstore.in .
The procedure to participate at the #OnePlusDiwaliDash is very simple -
A participation must complete the four steps of registration (namely account registration, mobile number verification, shipment address and share the event on at least one of his social media platforms) in order to win an 'entrance ticket'. The entrance ticket makes a participant eligible to purchase a mystery product for just ₹1.
At the beginning of each session, a batch of ₹1 Mystery Boxes will be released through a lucky draw. The session ends when all Mystery Boxes are exhausted. A participant may keep drawing until she/he draws a Box, or until all Boxes are taken. There is a brief cool-down period after each draw. Each OnePlus Account is eligible to receive a maximum of one Box only. Contents of the Box are revealed once he/she completes the payment of ₹1. Unpaid-for Boxes expire after three hours.
OnePlus users need to register themselves using their OnePlus phone's IMEI number on the Diwali Dash page - https://oneplusstore.in/diwali/dash - and will win an assured coupon worth ₹250. The contest is where OnePlus displays a picture of any product and asks users to go to the OnePlus Ecommerce portal to find the same and share the screenshot through their social media platforms. Lucky winners stand a chance to walk away with a goodie bag.
The excitement doesn't stop at that! Participants can further level up their chances by accomplishing few additional tasks namely -
Verify their OnePlus device;
Purchase accessories from the OnePlus Store;
Share the event on more than one social media platform;
Invite friends to the event;
The higher level you are, the higher chance for you to win the most sought after prizes.