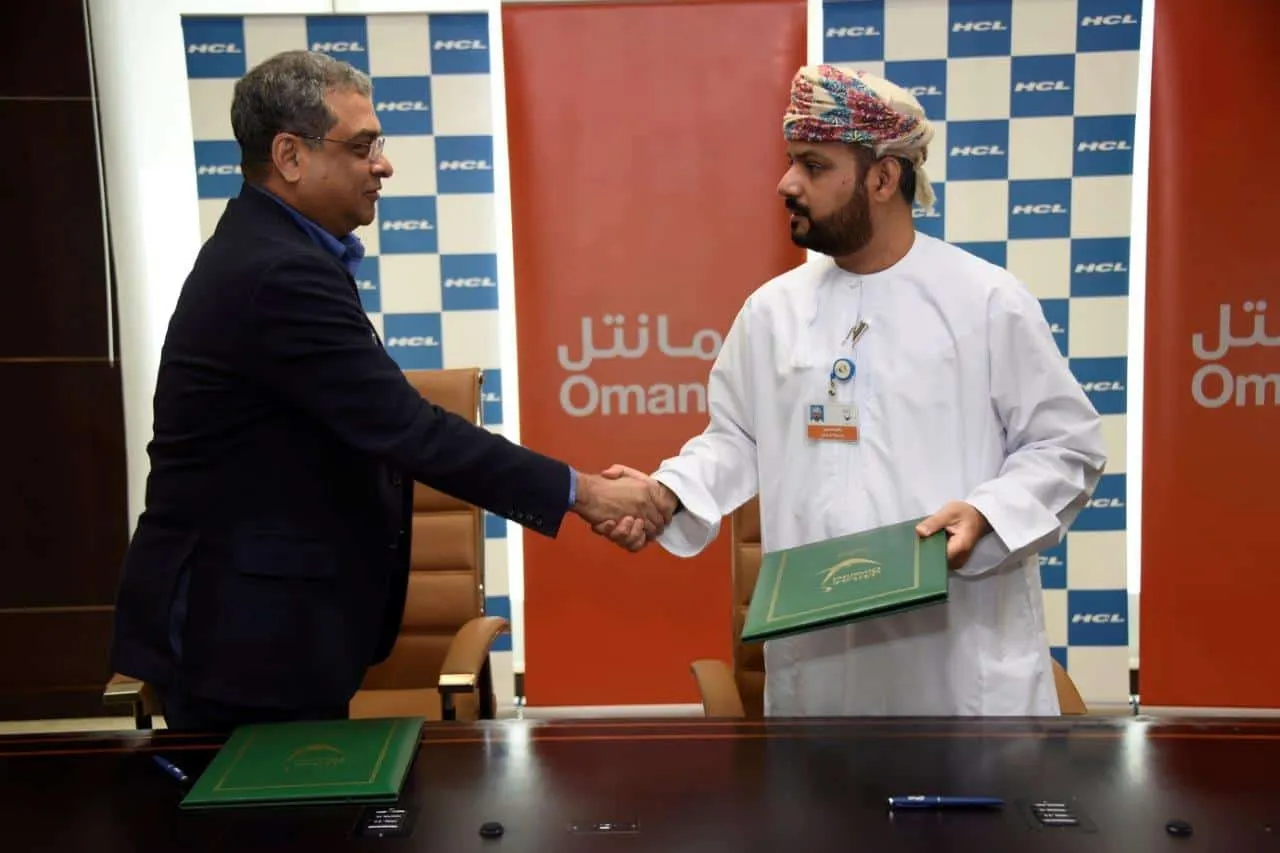 Omantel, the first telecom operator in the Sultanate has signed a Memorandum of Understanding (MoU) with HCL Infosystems, India's premier ICT Services and Solutions company to deliver Internet of Things (IOT), Machine to Machine (M2M) services, enhance automation, accelerate efforts to optimise network capabilities and roll-out large-scale ICT services and solutions across Oman.
This MoU is part of Omantel's strategy to increase business agility and deliver innovative offerings and e-Government solutions to support growth in the increasingly connected and knowledge-based economy in Oman.
Commenting on the agreement, Talal Said Al-Mamari, CEO of Omantel said, "At Omantel, we continue to be innovators and pioneers of new technology in the Sultanate. Therefore, it is vital that we create new synergies with industry leaders to deliver the next generation of services and innovations for the continued evolution of Omantel's 3.0 transformation strategy. The agreement with HCL Infosystems demonstrates our objective to spearhead the digital transformation in Oman; raising awareness on smart homes, innovative business and e-Government services. HCL Infosystems will work closely with Omantel's newly formed ICT unit to achieve the objectives set out in the agreement."
With this MoU, HCL Infosystems a part of HCL Enterprise, a US $ 7 billion company has expanded its global presence to enter the Oman market.
Highlighting the significance of the agreement, Talal Al-Mamari added, "Partnering with a globally renowned company like HCL allows us to provide our government, corporate and consumer clients across Oman innovative and integrated solutions, ones that help deliver enhanced operations and improved IT productivity. The signing of this MoU signifies our accelerated approach towards the effective implementation of our growth strategy in 2016 and beyond."
Premkumar Seshadri, Executive Vice-Chairman and Managing Director, HCL Infosystems Ltd., commenting on the partnership said, "With a four decade legacy of pioneering technology innovations, HCL is proud to now enable digital transformation in Oman. We are pleased to partner with Omantel, a leader in telecommunications services in the region, to provide innovative digital offerings and e-government solutions in Oman. HCL Infosystems' capabilities in building IoT and M2M systems and experience in successfully executing several large-scale e-governance initiatives, enables us to deliver custom-made solutions to enterprises across the globe, thereby accelerating their digital transformation."
Under the terms of the MoU, Omantel and HCL Infosystems will collaborate to facilitate IT transformation involving a range of services including enhancing Internet of Things (IoT) and Machine to Machine (M2M) infrastructure, delivering e-services, portal content management, and enhanced levels of network optimization and security. In addition, HCL Infosystems will also become Omantel's strategic partner to execute the Company's IoT business objectives and will assist in skills training for Omani nationals.