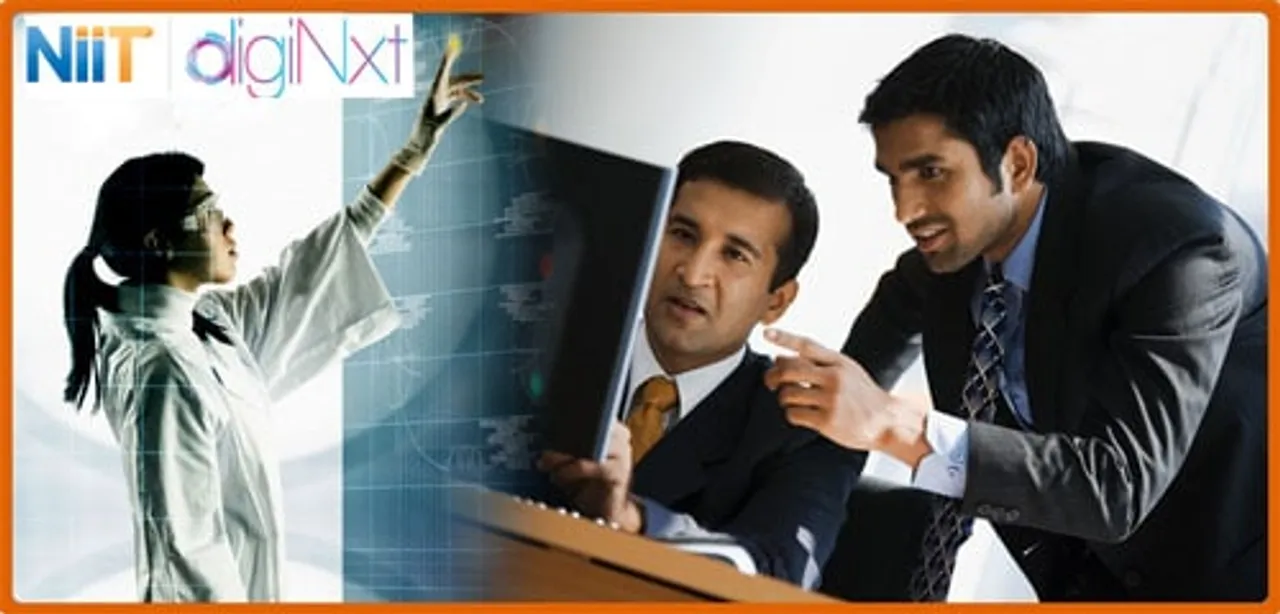 NIIT once again revolutionizes the IT training and education landscape by introducing pioneering programs in Digital Transformation. The company will now offer futuristic programs like MEAN Stack, Big Data & Data Sciences Stack, Design Thinking, Cloud Stack, Internet of Things (IoT) Stack, Artificial Intelligence and Machine Learning, Robotics and Virtual Reality, Cyber-Security, under the DigiNxt Series brand umbrella.
Through this significant move NIIT aims to totally re-align the Skills and Career Group to the changing future-skill-sets requirement of the industry to help create job-ready talent pool for the fast evolving global economy.
According to a survey, India is home to a digitally ready talent pool of 500,000 engineers suitable to execute digital transformation projects. This is expected to increase to over a million engineers trained in digital transformation technologies by 2020. Owing to this massive growth in demand, already today any entry-level and experienced professional with Digital Transformation Skills attracts 50% to 60% higher salaries than those with traditional IT skills.
According to industry experts, digitally transformed organizations are 26% more profitable than their industry competitors. Global Spending on digital transformation technologies is expected to cross $2.1 Billion by 2019. By 2018, 35% of IT resources will be spent to support the creation of new digital revenue streams, and by 2020 almost 50% of IT budgets will be tied to digital transformation initiatives. All of these indicate that Digital transformation is going to drive the next phase of growth in the IT Industry. The process has already begun and is rapidly accelerating, with both IT companies as well as IT departments of large corporations scrambling to address the acute shortage of skills.
Rahul Patwardhan, CEO, NIIT said, "We pioneered the category of IT Training in India way back in 1981. Having trained over 35 Mn people in IT over the last 34 years, we expanded our expertise to other sectors as well and have been instrumental in creating trained workforce as per evolving industry needs. With our keen understanding of the changing skills requirement of the industry we are now focusing on the Digital Transformation needs. This move indicates our commitment to create a talent pool armed with futuristic skill-sets aligned to the industry, working closely with our key clients in the technology sector around the world as well as with the software industry association."
NIIT will now offer retail training programs in Digital Transformation Technologies under the DigiNxt portfolio, to young aspirants wishing to enter the digital services industry, as well as to young IT professionals wishing to reskill themselves for the new digital world.
Prakash Menon, President, Global Skills & Careers Group, NIIT Ltd said, "While working on StackRouteTM we understood the significant talent requirement of the IT companies who are looking for professionals who can help them drive digital transformation strategies. Therefore, we have introduced pioneering programs in Digital Transformation tailor made and endorsed by the industry, to address the massive skill-gaps faced by the IT sector."
According to MIT Centre for Digital Business, 77% of organizations consider missing digital skills as the key hurdle to their transformation strategy. Therefore, Indian & Global IT Companies are investing heavily in building digital transformation skills to enable their clients transform digitally. As organizations are building talent pool, the most-sought after skill sets include: Product Engineering, Business Analytics, Cloud Technology and Architecture, Mobile Apps, Internet of Things and Machine Learning & Artificial Intelligence.
To cater to this need, NIIT is introducing career programs in Java Enterprise Engineering with DevOps, Big Data & Data Sciences, Web Technologies, Databases Systems, Cloud Computing, Mobile, Infrastructure Management Services (IMS), Cyber-Security, Enterprise Application, Telecom & Embedded Systems, Project Management, Internet of Things (IOT), Visual Design, Game Development, Design Thinking, Robotics, Artificial Intelligence and Machine Learning, and Virtual Reality. Graduates and graduating students in Science, Technology, Engineering and Mathematics will be eligible to apply for these programs.