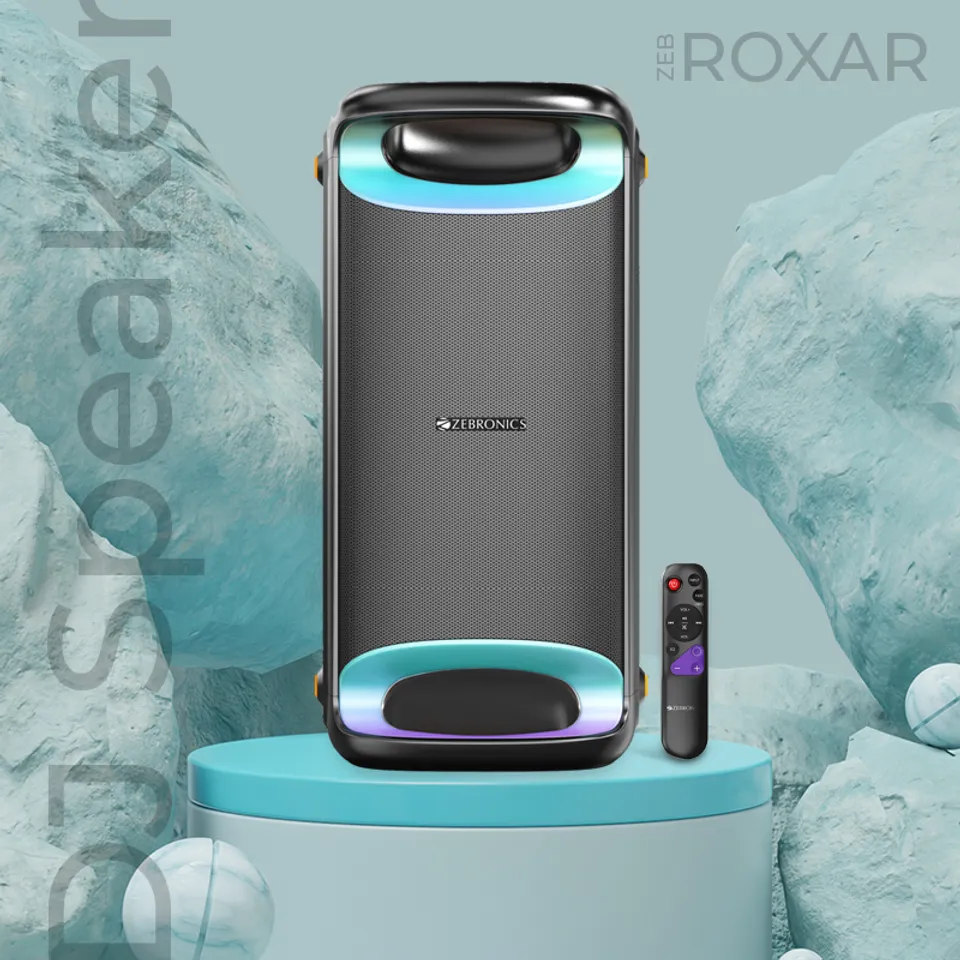 Zebronics - an Indian brand, renowned for its innovative Audio products, IT Peripherals, Gaming & Lifestyle accessories, has unveiled its latest sensational DJ Speaker titled Zeb-Roxor. This DJ-speaker with Dolby Audio technology will boost-up your partying experience to a whole new level.  
Zeb-Roxor is a marvel in its true sense housing a remarkable setup along with dual sets of drivers: 2 mid-range and 2 tweeters that deliver a bombastic 100W output. Along with Dolby audio, this speaker ensures every beat and note resonates with clarity and a bass that thumps magnificently which appeals to all music and party enthusiasts.
The Zeb-Roxor is an ultimate party companion that is an amalgamation of captivating sound deliverance along with RGB lights that grooves in various modes converting any space to a pulsating dance floor, which makes it an Audio-Visual spectacle. There are 5 LED modes (and 1 off mode) that just make it all the more awesome and these LEDs are indicators of various functions for ease of use. Connect the speaker with the Ultra-High Frequency MIC (UHF-Mic) and with the Karaoke feature and a guitar input, unleash your inner rockstar.There is a provision for a holder in which users can keep their phone/tablet and use the remote control for effortless navigation and controlling the audio experience from any corner of the room.
The new DJ-speaker from Zebronics, Zeb-Roxor offers multiple connectivity options including BT 5.0, Aux (in/out), Optical, USB, TWS as well as HDMI (ARC) that can be used for a range of devices including TVs.It can be used in both wired and wireless mode and has a built-in rechargeable battery which is designed to deliver upto 5 hours* playback (LED off, 50% volume) whereas the 220V, AC power cable ensures uninterrupted entertainment and parties that rally from dusk to dawn. The battery charges quickly within 1.5 hours to keep the energy high.
Commenting on the launch, Pradeep Doshi, Co-Founder & Director, Zebronics, said: "We are elated to be the first Indian brand to fuse the goodness of Dolby Audio with ourDJ-Speaker portfolio. It was a long-awaited combination and has emerged phenomenally, to be a must-have party accessory. Last year we were the maiden Indian brand to have Dolby Atmos powered wireless satellites in the Soundbar category as well as Dolby in the Tower Speakers. More products in the Audio category are being planned that will cater to our diverse audience including but not limited to, music lovers, entertainment enthusiasts and audiophiles. This flourished endeavor to transform the landscape of Premium Entertainment from being reserved for the elite few, to the hands of the masses is just getting started & will keep Zebronics 'Always Ahead' 
Zeb-Roxor will be available on both Amazon and Flipkart at an introductory price of Rs 16,999.