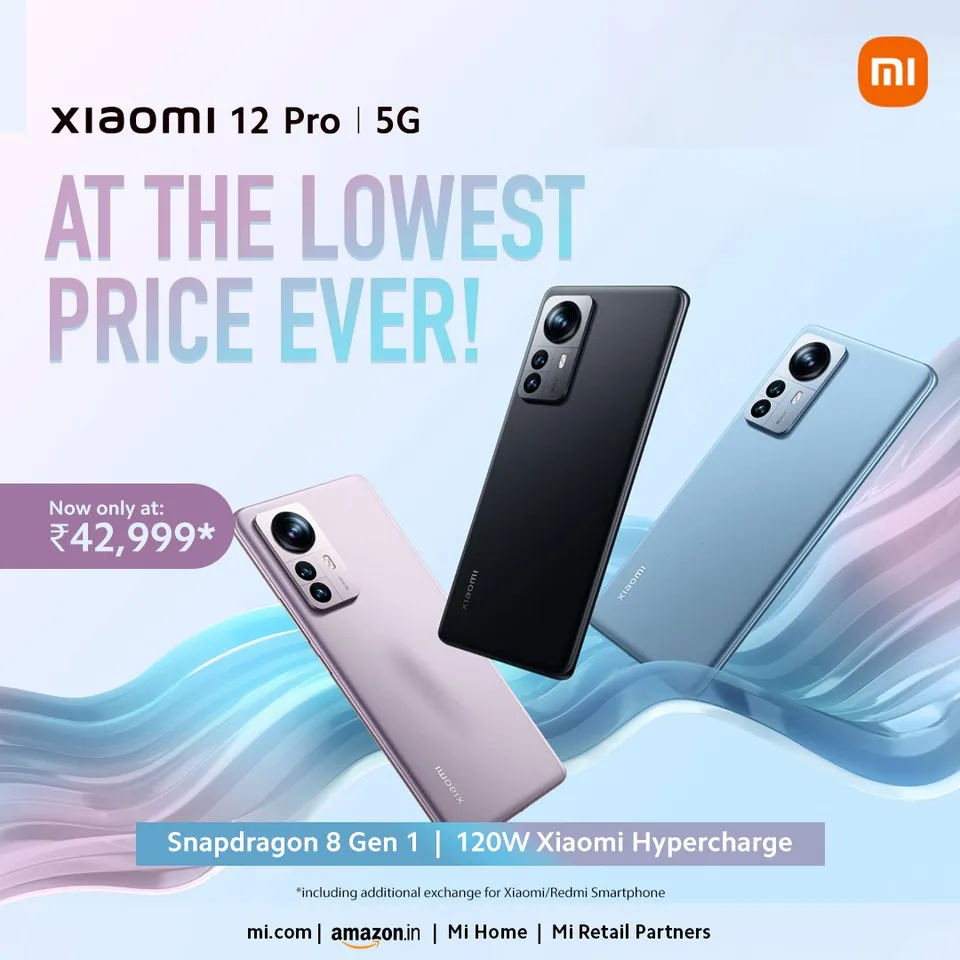 Xiaomi 12 Pro and Redmi K50i 5G are available under dicsounts on Amazon. Xiaomi is a Chinese technology company that manufactures a wide range of consumer electronics, including smartphones. Xiaomi smartphones are known for their high-quality features and affordable prices. Xiaomi's smartphone lineup includes several popular models such as the Xiaomi Mi series, Redmi series, and Poco series.
The Mi series is Xiaomi's flagship smartphone lineup, which features premium features and specifications. The Redmi series is more budget-friendly and offers excellent value for money. The Poco series is Xiaomi's gaming-oriented lineup, which features powerful hardware and gaming-focused features. 
Xiaomi smartphones run on the Android operating system with Xiaomi's custom MIUI user interface on top. MIUI offers a range of customization options and features, including gesture controls, system-wide dark mode, and a built-in app drawer.
Xiaomi 12 Pro
Xiaomi 12 pro comes with the best-in-class features, pushing the boundaries of tech innovation in the segment. With the Snapdragon 8 Gen 1 processor, the Xiaomi 12 Pro delivers lightning-fast performance that can handle even the most demanding tasks with ease. The Xiaomi 12 Pro has a stunning AMOLED display that delivers vibrant colors and deep blacks, making it perfect for streaming videos, playing games or editing photos.  It's India's first smartphone with a 50MP 50MP 50MP front-facing triple camera that enables you to take the ideal picture each and every time, regardless of whether you are an expert or an amateur. With 120W Xiaomi HyperCharge, the Xiaomi 12 Pro can charge from 0 to 100% in just 15 minutes, making it one of the fastest charging smartphones on the market today. The Xiaomi 12 Pro is a top-of-the-line smartphone that offers a variety of features that are sure to impress even the most demanding users. With a powerful processor, stunning display, immersive audio and advanced camera setup, the smartphone is a must-have for anyone who wants to take their mobile experience to the next level. The smartphone is available on Amamzon at Rs 42,999.
Redmi K50i 5G
Featuring robust elements, the Redmi K50i 5G is a powerful smartphone that offers exceptional speed and performance. It is equipped with a Dimensity 8100 processor, it features a large 6.6-inch display with a 144Hz refresh rate, providing  a smooth and seamless viewing experience.In addition, it has premium ergonomics that offer a comfortable grip and a sleek, stylish design. It also has a good battery life, so you can use the phone for longer without worrying about the battery running out. It is important to note that while 5G technology is becoming increasingly available in India, it is not yet available everywhere. Therefore,  it is recommended to check the availability of 5G networks in your area before buying a 5G smartphone. Overall, the Redmi K50i 5G is a great option for consumers looking for a high-performance smartphone with advanced features and great value for money. The smartphone is available on Amazon at Rs 19,499.