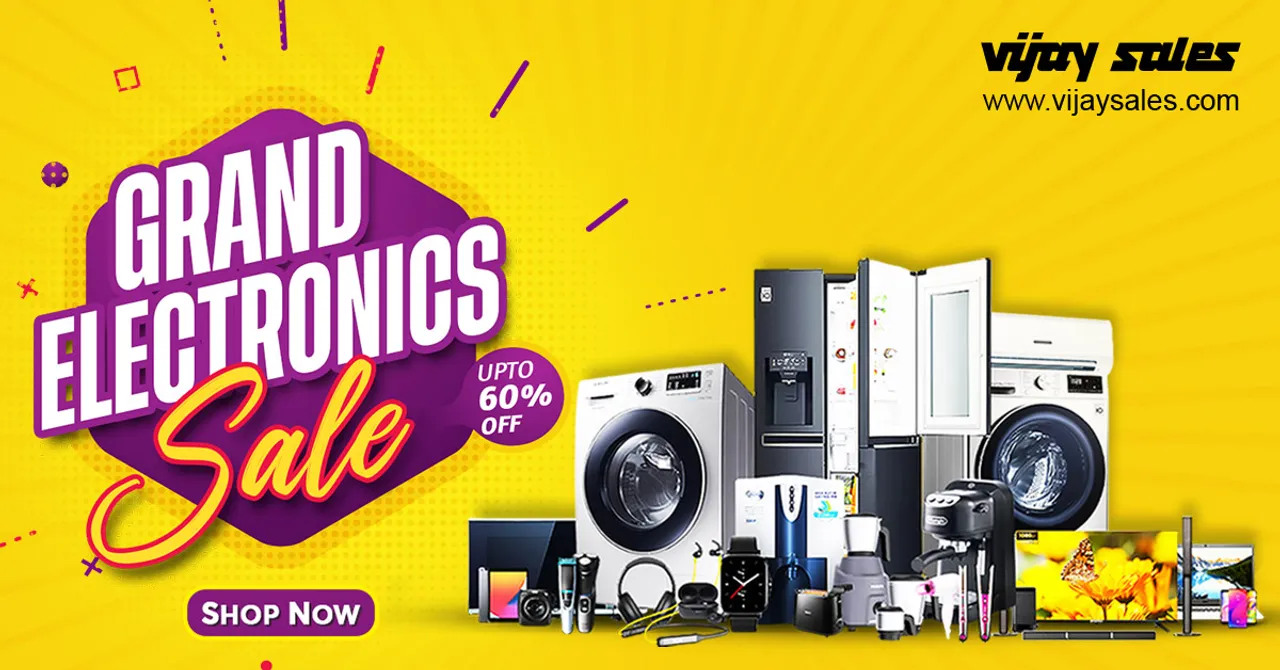 Vijay Sales has gone live with its Grand Electronics Sale on its website. Consumers can avail of discounts on a range of electronic products including Mobile Phones, Home Appliances, Television and Entertainment Gadgets, Kitchen Essentials and more from their favourite brands. With the Grand Electronics Sale offers, Apple Gadget lovers can rejoice as iPhones available on Vijay Sales website are at a starting price of Rs 59,490, MacBooks starting at Rs 75,900, iPads starting at Rs 29,500, Apple Watches starting at Rs 26,700. All prices are inclusive of Instant discount offers on HDFC debit and credit cards.
The Grand Electronics Sale lays out a series of offers on products including Smart Phones, Laptops, Smart Watches, Televisions, Wearable Audio Devices, Washing Machines, Refrigerators, Kitchen Appliances and much more. Consumers can bring home some key monsoon essentials at jaw-dropping deals. They can choose Geysers and Water Heaters up at 45% discount, Washing Machines and Dryers at prices starting from Rs. 12990, Water Purifiers starting at Rs. 6,250, and Iron and Garment Steamers at up to 48% off. Monsoons are the best time to indulge and to make the indulgence healthier this season, Coffee Makers are available at a discount of up to 48% whereas Air Fryers and Sandwich Toasters are available at a discount of up to 50%.  
Bid adieu to bad and frizzy hair days this season with the best grooming range for men starting from Rs. 499, and women styling range starting from Rs 54 Tech Enthusiasts will be delighted to explore the incredible price drops on their favorite tech devices with laptops starting at Rs 23,900, Smart Phones starting at just Rs 6,299, Truly Wireless Earbuds starting at Rs 799 and Smart Watches starting at Rs 1,199. To amplify your Home Entertainment system, the sale features Televisions starting at Rs 7,990 and Soundbars and Home Audio systems starting at Rs 1,999. 
Consumers wanting to visit stores will not miss out on offers as they can take advantage of the ongoing Open Box Clearance Sale. The once in a year sale offers incredible discounts on a wide range of Electronics, Home Appliances and much more at the Vijay Sale's retail stores. Get iPhone 14 at a starting price of just Rs 70,990 & the iPhone 13 at a starting price of just Rs 61,500. Major deals include a 336 Litres Samsung Frost Free Refrigerator & a 9Kg LG Top Load Washing Machine, both at 42% discount.
On the announcement, Nilesh Gupta, Director at Vijay Sales, said: "We're thrilled to present the Grand Electronics Sale, an exciting opportunity where savings meet technology in an extraordinary way. At Vijay Sales, we constantly strive to bring the best products at an unmatched value. With the Grand Electronics Sale, we aim to exceed our customer's expectations by offering massive discounts on a vast range of electronics, appliances and gadgets.
Yet another advantage of shopping with Vijay Sales is the MyVS loyalty program, which rewards buyers with 0.75% loyalty points on shopping at their stores and eCommerce website. Every point earned is worth a rupee at the time of redemption at stores.
In addition to the discounts, Vijay Sales is pleased to offer attractive cashback offers to its valued customers on Vijay Sales. Take advantage of the 7.5% Instant Discount up to Rs 3,000 on HDFC Bank Debit & Credit Card EMI transactions on Fridays, Saturdays & Sundays only with a minimum purchase amount of Rs. 15,000. HSBC Credit card holders can enjoy a 7.5% Instant Discount up to Rs. 7,500, on EMI transactions of Rs. 20,000 & above. YES Bank Credit Card holders can avail 5% Instant Discount up to Rs. 2,000 on Credit Card EMI transactions for cart value above Rs. 15,000. AU Small Finance Bank Debit and Credit Card holders can enjoy a 5% Instant Discount up to Rs. 1,000 on their Non-EMI transactions above Rs. 10,000 on Sundays only. These exclusive cashback offers further enhance the savings for our valued customers.