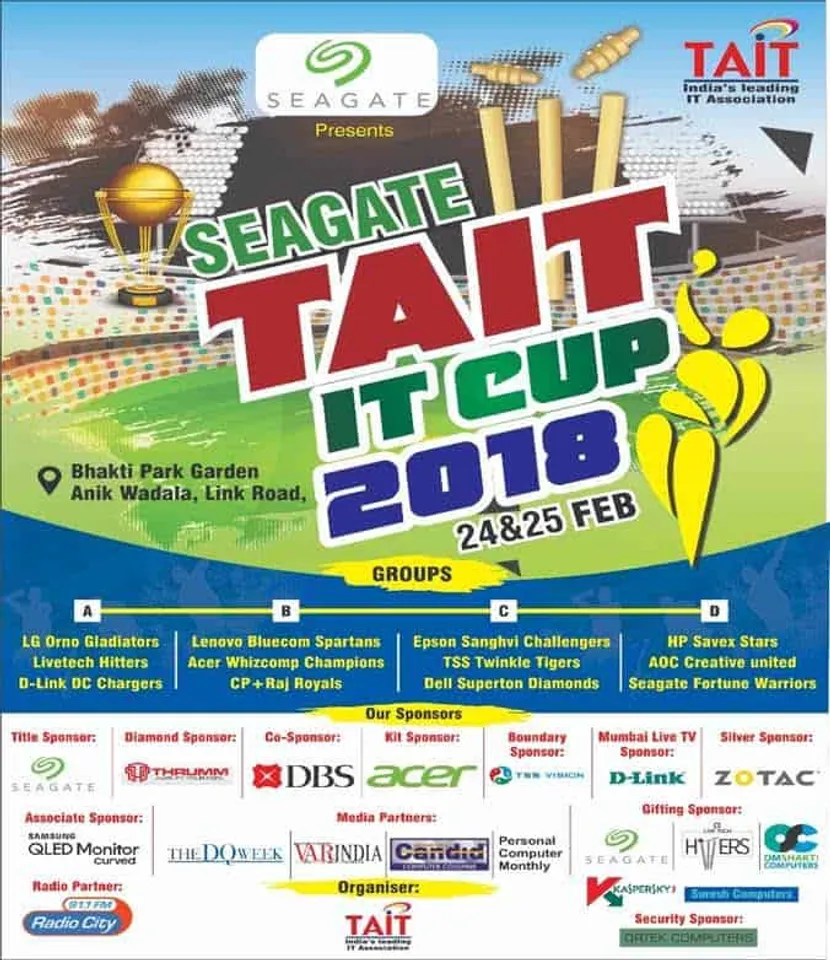 Trade Association of Information Technology (TAIT) is organizing Seagate TAIT IT Cup 2018. This year annually organized event is going to be held at Bhakti Park, Wadala, Mumbai on 24th and 25th February 2018. The tournament is sponsored by Seagate and supported with player's kit by Acer.
This year 12 teams are going to participate in the TAIT IT Cup, which are divided into 4 groups which further comprises of 3 teams each. They are as follows:
Group A

LG Orno Gladiators

Livetech Hitters

D-Link DC Chargers

Group B

Lenovo Bluecom Spartans

Acer Whizcomp Champions

CP+ Raj Royals

Group C

Epson Sanghvi Challengers

TSS Twinkle Tigers

Dell Superton Diamonds

Group D

HP Savex Stars

AOC Creative United

Seagate Fortune Warriors
All teams are set to play and on 23rd February practice tournaments will take place. Tournament inauguration is on 24th February which will be followed by 1st round of Maha sangram & Friendly matches between TAIT Committee & Media/Sponsors. Semi Final and Final matches will be played on 25th February whereas closing ceremony will be at 6PM.