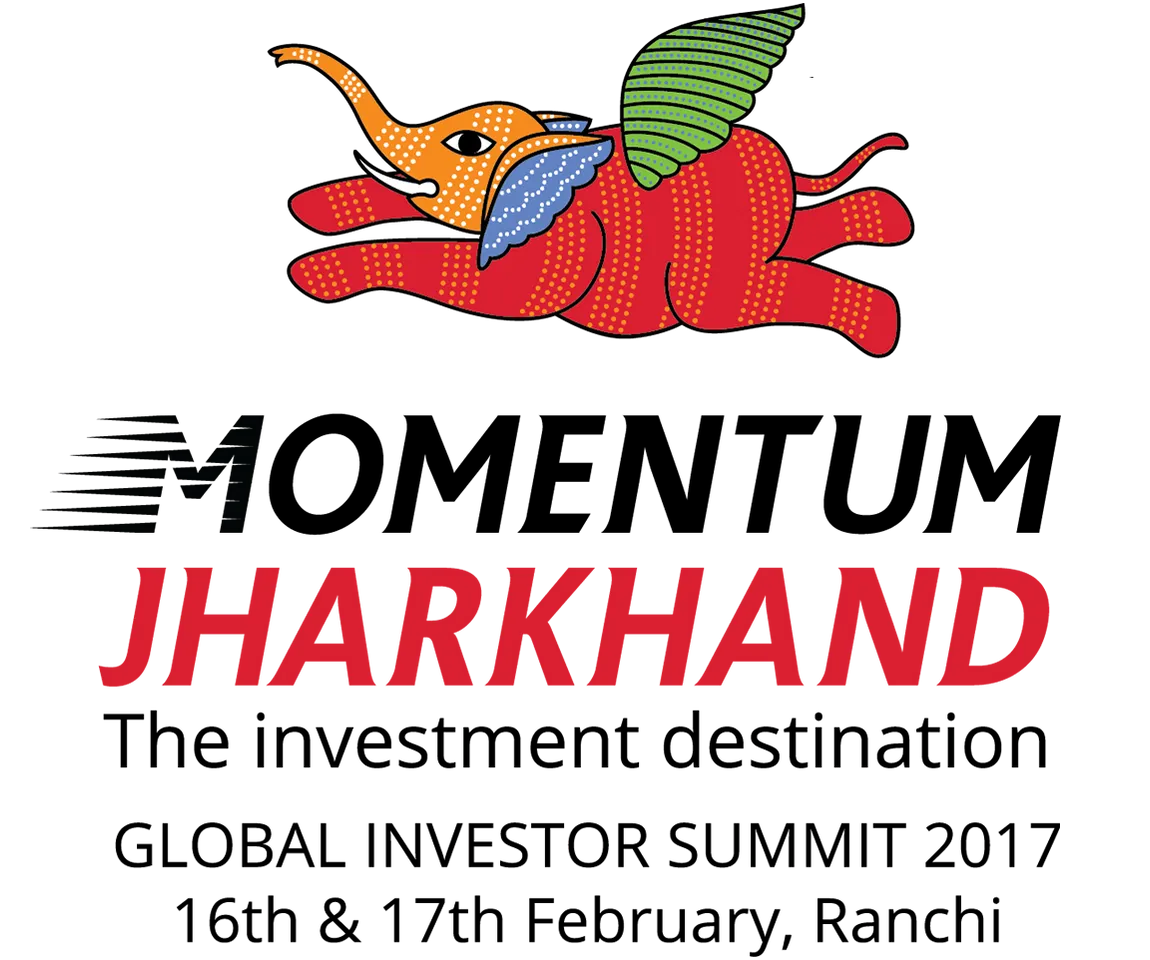 The Government of Jharkhand launched its maiden investment promotion campaign branded 'Momentum Jharkhand'. Meant to promote a 'Digital Jharkhand', the event opened with the unveiling of the brand logo and launch of the campaign website momentumjharkhand.com.
Addressing delegates, the Hon'ble Chief Minister of Jharkhand Raghubar Das said in his opening remarks, "Jharkhand is the most investment-ready state with crystal-clear vision and a robust roadmap. We rank among the best in terms of business reforms and have instituted best practices to fast-forward investments, based on DIPP (Department of Industrial Policy & Promotion) guidelines. It is my privilege to work in tandem with our Hon'ble Prime Minister Narendra Modi on the Central Government's vision of Sabka Saath, Sabka Vikaas." CM Das also holds charge of the industry ministry in Jharkhand.
The Government of Jharkhand signed memoranda of understanding with cement major ACC Limited and technology multinational Hewlett Packard Enterprise (HP).
The MoU with ACC enables the capacity expansion of its Sindri Plant from 1.35 MMTPA to 2.5 MMTPA. Two MoUs were signed with the Hewlett Packard Enterprise. One is in the area of step down primary healthcare, which focuses on healthcare delivery and education through the cloud based e-HC system. This is being evolved to respond to the issues of last mile healthcare delivery and education to underserved areas. The other MoU is intended to provide virtual classrooms to enhance the reach of education efforts through ICT augmented technologies.
The Chief Minister congratulated the Prime Minister and the Government of India for their success at realizing the Goods and Services Tax reform. "'One country, one' tax will now be a reality. PM Modi has become India's global brand ambassador. We aspire that India be a global economic super power. Jharkhand will play a decisive role in accomplishing this aspiration."
"With 40% of India's mineral reserves, Jharkhand will fuel the 'Make in India' mission. Nonetheless, several developmental challenges remain. But these offer tremendous opportunities for investors, who can be pivotal partners in progress. Aiming to become a developed state by 2020, we will strive to skill two million youth within this timeframe," Chief Minister Das said.
Stressing his Government's firm commitment towards industrial harmony, Das continued: "Through highly-responsive governance mechanisms, we ensure near-perfect industrial harmony. The DIPP assessments on Business Reforms prove our unparalleled progress on labour reforms – ample testimony to the stable culture of the State's people and their outlook towards organized systems of livelihood."
Director General, Confederation of Indian Industry, Chandrajit Bannerji offered the welcome address. "Jharkhand is scripting a turnaround of sorts, its promise to fuel the Make In India mission gets more exciting by the day – not just through the vast resources at its disposal, but also through its emergent skilled manpower. But the credit for synergizing these energies goes to the visionary leadership of Hon'ble Chief Minister Raghubar Das. His hands on approach and decisiveness are testimony to the critical role played by state governments in making India more competitive and more business friendly. CII's study on state competitiveness too ranks Jharkhand very highly. The environment of policy making too is highly participative. The openness and sincerity of this government in listening to issues from industry, and its responsiveness is very commendable."
Chief Secretary, Rajbala Verma said, "We have forward looking policies - simple, dynamic and responsive. They lay the ground for continuous reform towards better systems for business. We're developing a multimodal logistics hub which will revolutionise connectivity with Northeast India. We are working seamlessly with Govt of India to open up railways infra and build five more airstrips." Speaking on the imperative of land banks, she said, "The Jharkhand Industrial Area Development Authority is the nodal agency streamlining land asset development. The total estimated land bank availability is 2.1 mn acres."
Industries Secretary, S.K. Barnwal made a detailed presentation on the agenda of the mission. "In a real sense 'Make In India' began on the land that is now Jharkhand in 1907 by Tata Steel. Even the first post independence engineering PSU, Heavy Engineering Corporation was established here. We have India's first coal mine - Jharia in Dhanbad", he said. "We have deeply studied and compared policy details of several states and strived to bring out the most balanced and optimal policies", he added. Regarding the land allotment process, Barnwal said that an updated process is being instituted that will be hassle free and may not take more than a few weeks.
Regarding logistics development, Barnwal said, "Jharkhand is covered under the Dedicated Freight Corridor of Eastern India. The Amritsar Kolkata corridor covers five cities of Jharkhand. Chief Minister has decided to connect Jharkhand's four major industrial cities through a modern expressway."
TV Narendran, Managing Director of Tata Steel, who is also a member of the newly constituted Jharkhand Investment Promotion Board lauded the Government of Jharkhand for its intent and urge to listen to investors and industry. Stating that Jharkhand has a very strong MSME / ancillary ecosystem that facilitates diversification, Shri. Narendran informed that Tata Steel had invested more than Rs 20,000 crore in the last five years in the state while steadily diversifying its investments both upstream and downstream.
Shri. Raman Roy of NASSCOM argued that higher end BPO was being propelled greatly by from metro areas. "This is where Jharkhand holds a special promise. The next generation favours a distributed delivery model - taking the work to where the people are. The BPO industry hence has special hopes pinned on Jharkhand. Women's empowerment can be greatly boosted through this model", he added.
R.S. Sharma, Chairman of the Telecom Regulatory Authority of India (TRAI) said, "Jharkhand is the most underrated state in the competitive and developmental scenario. Visionary political leadership and policy clarity are very essential to sustain a mission. The Chief Minister has amazing clarity of vision, honesty, sincerity and understanding of purpose. Jharkhand has done some amazing work in e-governance, online clearance, MIS and automation." He informed the audience that TRAI is piloting a common shared digital infrastructure business model in Jharkhand which can be a benchmark setter.
"India is looking and acting east. East is the new west. Jharkhand is strategically pivotal to this region. Ranchi can be the gateway to the east. The new link from Ranchi to Sahibganj which will result in Northeast India to National Highway 2, will be a watershed in Northeast India's development."
To convey the centrality of people's wellbeing to this campaign, Sanjay Kumar said, "Jharkhand is taking long strides in healthcare achievements. Within a month or two we will eliminate the Kala Azar problem. Our focus is on investments for institutional capacity building." Stating that the agriculture sector will be developed synchronously with industry, he added, "We are setting up 100 single window systems for farmers and agriculture, one for each block. This is representative of the Chief Minister's philosophy of participative and inclusive development."
The Chief Minister was slated to conduct one-to-one meetings with 12 investors with a focus on investments for the next two years. The Government will meet more investors tomorrow, before meeting foreign diplomats. The interaction will be graced by Union Minister of State for External Affairs, MJ Akbar.