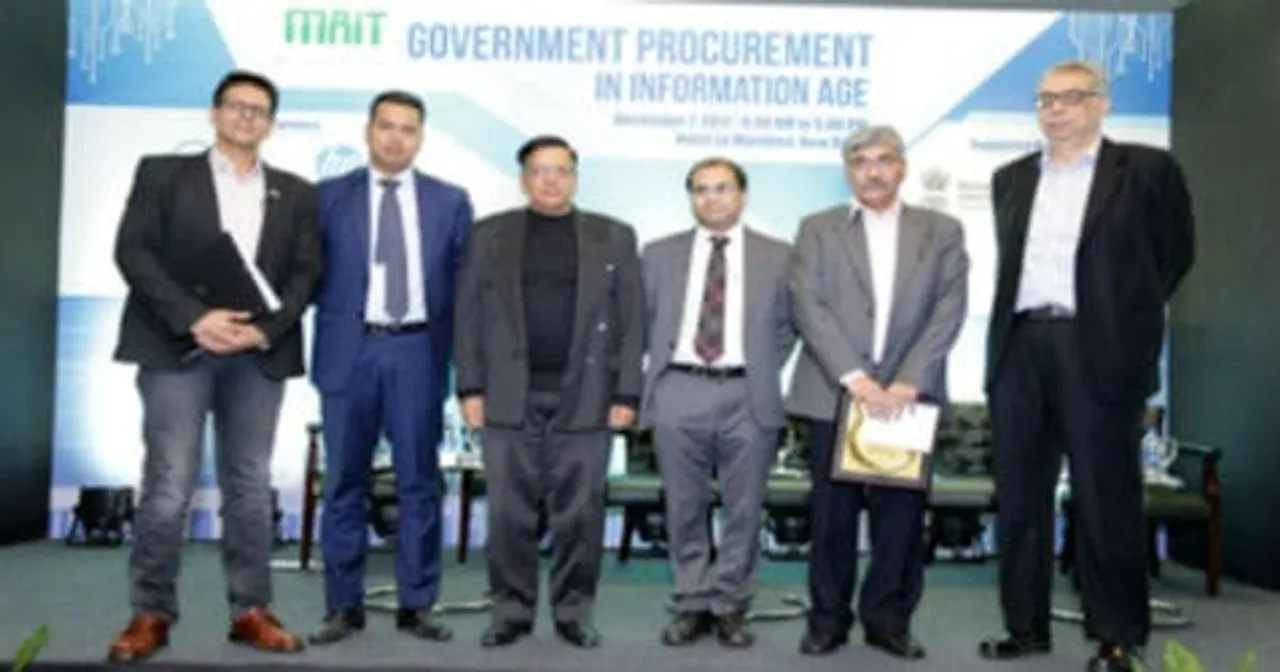 MAIT organized 'National Conference on Government Procurement in Information Age' in New Delhi. The conference highlighted the importance of IT procurement practices, Model RFPs 2.0, e-Marketplace for government and semi-government organizations.
The sessions addressed the needs of Public Sector Heads, Government Relation Heads and CFOs of companies working in Government IT Business. It provided attendees an opportunity to be on the same platform as key Government decision-makers in procurement practices in the country.
The event was inaugurated by Ajay Prakash Sawhney, Secretary, MeitY. Neeta Verma, Director General, NIC and S Radha Chauhan, CEO, GeM were the guest of honor. The event saw a number of panel discussions on a wide variety of issues pertaining to IT Procurement & Innovation in Procurement. The speakers emphasized on the need to overhaul legacy ICT procurement practices, identify susceptibilities and review processes to make them more impactful and efficient.
Welcoming the delegates Harish Krishnan Vice President MAIT said, "Government procurement accounts for 10 to 15% of GDP of most countries and this is specifically true for India. MAIT has been working on IT procurement since 2012 and we have been involved with over 14 state governments. MAIT and its members have contributed in preparation of both Model RFP 1.0 and Model RFP 2.0." Complementing the government on GeM he added, "The GeMwill bring efficiency in procurement and most importantly transparency and predictability to Government IT procurement."
Ajay Prakash Sawhney, Secretary, MeitY said, "RFP 2.0 is a great initiative and this is just a beginning. As we move forward the terms of engagement will become clearer. We are in the listening mode and are open to suggestions. The idea is to be able to get the best of goods and services at competitive rates." Neeta Verma, Director General, NIC said, "Lot of Government program and schemes depend on the efficiency and effectiveness of this procurement process. Information Technology in the public procurement is not something new as we have seen that AP Government started the e-procurement in 2000 and in 2007, under the guidance of Ministry of Finance Dept. of Expenditure, we built central public procurement platform. It provides the comprehensive domain for procurement."
Radha Chauhan, Additional Secretary, DGS&D and CEO, GeMsaid, "The transparency, openness, fairness, equity – all are those of the spirit which was embedded at the point in time when the technology did not enable us by what we understand as a tender system. But today we find the same tender system in government's e-marketplaces with technology embedded with the same spirit and we no more need not go through the tender processes in files and saves our time." Sanjay Aggarwal, Director, Department of Expenditure, Ministry of Finance said, "In the procurement system, capacity building is the main issue that includes documentation and training of the officials. I still do not feel adequate procurement training is happing for the government officials as well as the private officials and that initiative should come from both government side as well as industry players."
Sanjay Jaju, Director of Finance and Administration, National Highways & Infrastructure Development Corporation Limited said, "Along with the other various sectors, Information Technology also plays an important role in the development of the infrastructure sector. Information Technology helps tremendously in ease of doing infrastructure and business by removing various roadblocks that we found in the traditional way of doing businesses."
A panel discussion deep-dived into the contours of the important procurement initiatives where industry and government came together to share ideas to make the ongoing transition in government IT procurement truly transformational – weeding out delays, inefficiencies, and making available the best technology solutions to the government departments and agencies at the most competitive price.