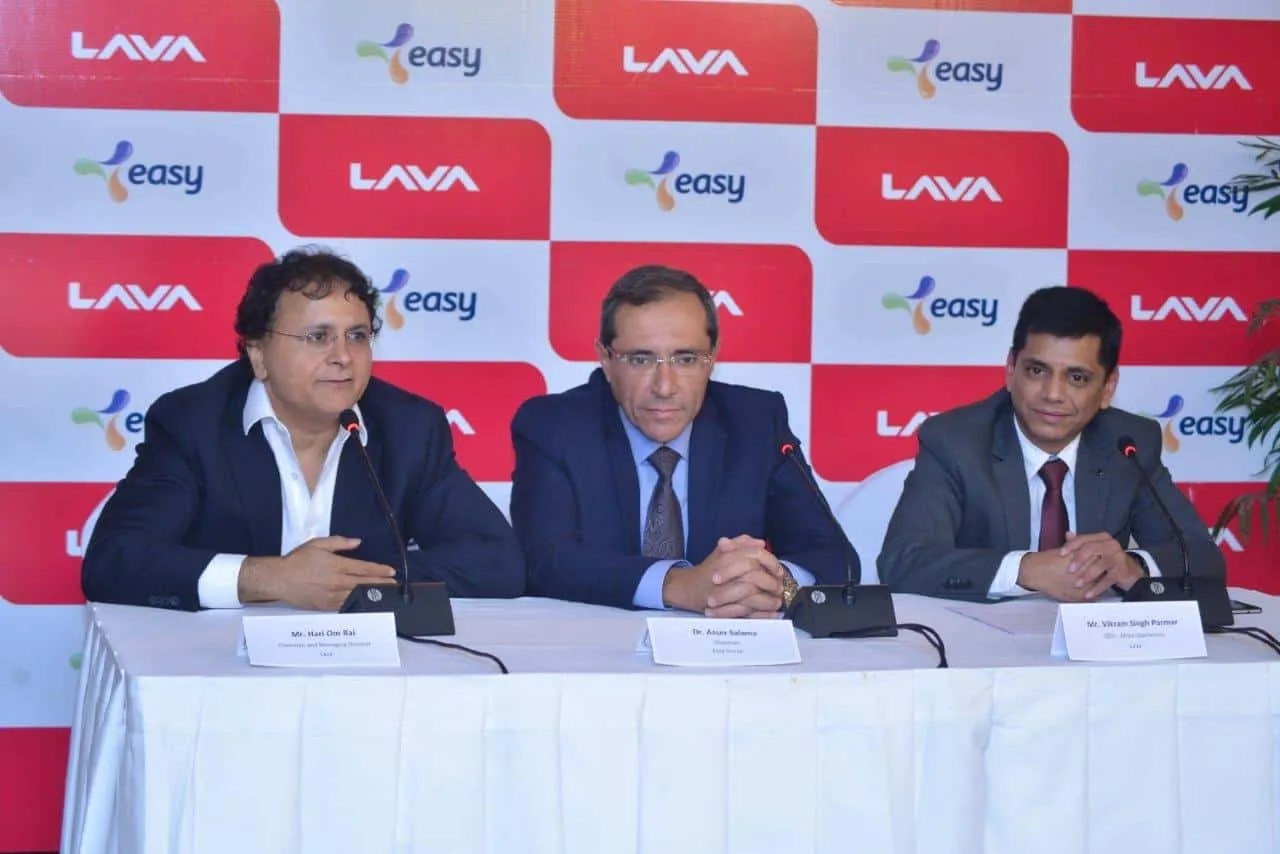 LAVA recently signed a Memorandum of Understanding (MoU) with Egypt based Easy Group - to offer Lava's products in Egypt through a Joint Venture company.
The MoU was signed by Hari Om Rai, Chairman and Managing Director, Lava and Asser Salama, Chairman, Easy Group at the joint Business Council of India and Egyptian Federation of Chamber of Commerce in New Delhi.
With a focus on making reliable and innovative technologies accessible, Lava has an aggressive plan for Egyptian market.  Lava, in this strategic move, will leverage Easy Group's market leadership position in distribution and reach - to make its products available across the country including feature phones, smartphones, tablets and accessories.
To begin with, the partnership will create 2000 direct and 5000 indirect employment opportunities in the next 6 months and over 10,000 employment opportunities in the next 5 years.  This partnership also aims at developing entrepreneurship opportunities through the joint venture's unique distribution and service model.
Additionally, the collaboration between the two companies is expected to pave the way for increased export and manufacturing opportunities in Egypt.
This partnership is a step forward towards strengthening Government of India's Make in India initiative – In India for India and the World. Lava is strengthening its manufacturing in India to cater to both domestic and international markets. The company has earmarked an overall investment of INR 2615 crores for ramping up the existing manufacturing units along with setting up more manufacturing facilities to increase the overall production capacity to 216 million units per annum in the next five to eight years. To demonstrate its commitment to emerging markets, Lava is also steering the mobile phone design roadmap in India and is working towards establishing the very 1st Mobile Phone Design Center in India by end of 2017.
Commenting on the joint venture, Hari Om Rai, Chairman and Managing Director, Lava said "At Lava, our vision is to empower people to do more and be more – not only in India but also across nations.  Our foray in Egypt is a step forward in that direction and we are very delighted to partner with Easy Group who shares our vision and values.  The partnership is also a testimony to our focus on 'Make in India' initiative – In India for India and the World".
Commenting on the joint venture, Vikram Singh Parmar, CEO – Africa Operations, Lava said, "We are extremely delighted to announce our collaboration with Easy Group. Egypt is among top three mobile handset markets of Africa and presents massive growth opportunities. We believe that our diversified range of reliable products, and experience in catering to a developing market such as India will definitely help us in empowering consumers in Egypt. We are the leading mobile handset company in India, Thailand, Nepal, Bangladesh and we have no doubt that we will enjoy similar market position in Egypt with the support from Easy Group."
The joint venture will set up its complete end to end business operations in Egypt and will be headquartered in Cairo, Egypt. The MoU will enable the company to start exporting its products from India to Egypt, while Easy Group will provide necessary support to promote and distribute products in the country. As part of the way forward plan, Lava will also explore opportunities to set manufacturing facilities and assembly units in Egypt which will also help the company in exporting products to the North African region.
Delighted on the partnership, Asser Salama, Chairman, Easy Group said, "We are pleased to partner with Lava and look forward to an exciting journey ahead with a new and strong partner in Asia. The MoU is aimed at enhancing productivity, reducing costs and accelerating mobile phone adoption in the market by delivering new and better products to Egyptian citizens."
Today, India and Egypt are at the cusp of a larger transformation, which captures economy, businesses, science and technology and several other areas. Both the countries have all the components of a very strong bilateral engagement. Today, a rapidly transforming Egypt has embarked on a journey of democratization and restructuring. The IMF has observed that "Egypt is a strong country with great potential". As a $286-billion economy with around 89 million consumers — the second largest in Africa — the potential and scope of Egypt as a market are immense.