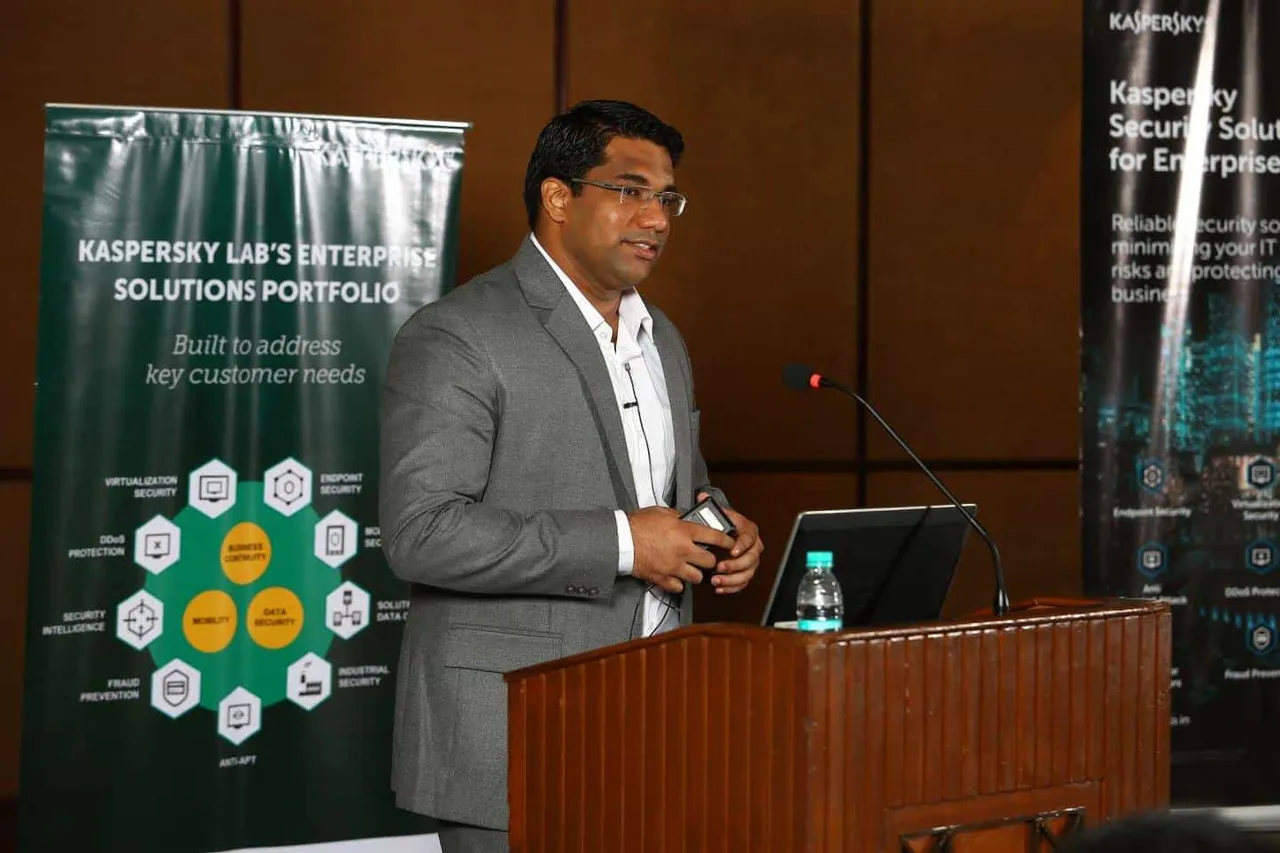 Leading cyber security brand Kaspersky Lab conducted a very successful partner pitstop with its national B2B distributor eCaps Computers in Chennai on April 27, 2017. The event that started at 7pm was held at the sprawling Crowne Plaza Chennai Adyar Park where the 61 attendants engaged in discussing how to take Kaspersky's vision for India, forward.
Kaspersky Lab and eCAPS Computers have forged a strong partnership in their years together. As is Kaspersky Lab's tradition, they decided to conduct this Partner Pitstop so as to not just communicate their strategy and demonstrate key products, but also to bring the new prospective partners on board with Kaspersky Lab.
At the meeting, Sahil Jamnawale, Regional Sales Manager, Kaspersky Lab deliberated in detail Kaspersky Lab's profile for the new prospective partners. He later also gave them comprehensive information about Kaspersky Lab's non-endpoint offerings. Kaspersky Lab's Security for Virtualization & Datacenter, Security Intelligence Services and other enterprise offerings was elaborately discussed. The partner benefits and margins got a dedicated two-way dialogue slot too. The roadmap for 2017 was presented to the partners, with all of them being bullish about their growth prospects.
Altaf  Halde, MD – South Asia, Kaspersky Lab said "Kaspersky Lab has been built, and we always say this, with the unrelenting support it gets from all its partners. Engaging with them is an important step in engaging with our end-customers. Our partner pitstops are crucial to the fabric of Kaspersky Lab. At this one, we focused on our non-endpoint offerings and services. We had an invigorating discussion and we are all on one page on the year ahead. We are positive of growth, profits, and partner and customer satisfaction."
Gunasegharan, Director – eCaps Computers was equally enthused. "We've had a very fruitful partnership with Kaspersky as their national distributor. With the participation of over 29 partners, this was a very successful pitstop. There were numerous updates on Kaspersky Lab products & services that needed a detailed dialogue. Partners saw great business opportunity in the non-endpoint products & services. And it's always crucial to get a feel of the on-ground realities from the partners. These pitstops are a great way to stay updated and keep the feel of community alive in the Kaspersky family."
As the evening came to a close with refreshing cocktails and a delicious spread of dinner, the discussions on the year ahead continued with endless enthusiasm. It's perhaps this constant source of inspiration that Kaspersky Lab passes on to the entire network, that's the reason behind their global dominance.