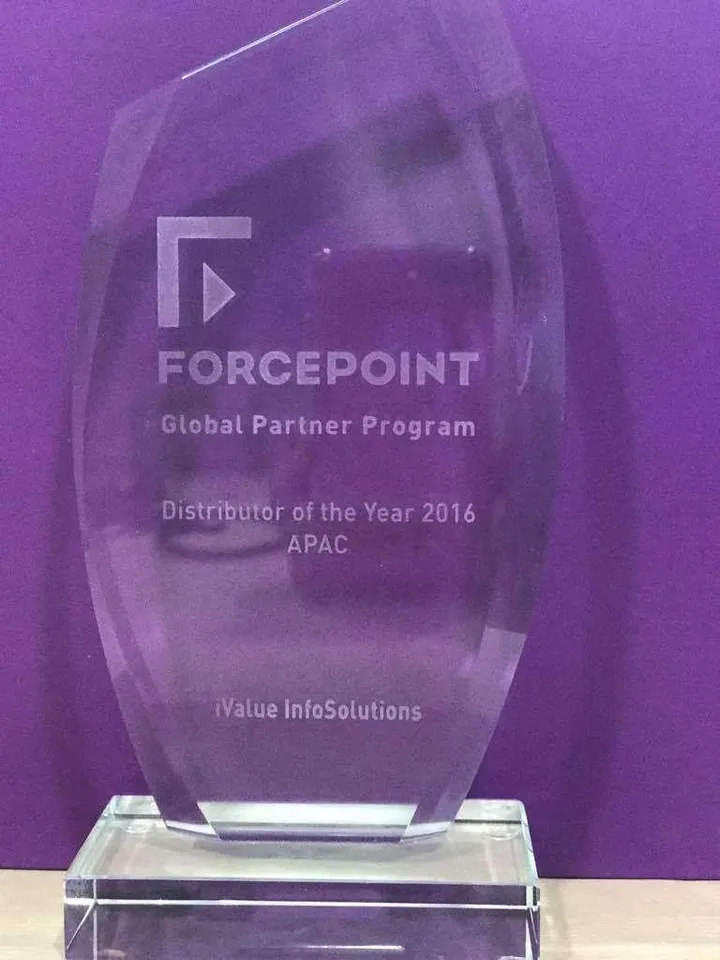 iValue InfoSolutions has been awarded as the "Best Value Added Distributor (VAD) for APAC" by Forcepoint. The award recognizes iValue's efforts and performance in achieving the highest business volume in the Asia Pacific region for Forcepoint. The award was presented to iValue during the Forcepoint APAC Partner Conference 2017 held recently at Le Méridien, Bangkok, Thailand.
During the last fiscal, iValue continued to grow over five times the industry average, clocking more than sixty percent growth year-on-year.  Forcepoint's business is a key driver of iValue's fast paced growth in India leveraging on its industry leading solutions offering in cloud security (web security, email security) and data and insider threat security (Forcepoint DLP).
"Collaborative approach between iValue and Forcepoint team in the market has helped iValue win recognition at APAC level," said Subodh Anchan, Director - Alliances at iValue InfoSolutions. "We cherish the success and growth through our long standing relationship with Forcepoint and look forward to partnering more deeply for world level recognitions moving forward."
"iValue has been a trusted business partner for a long time. They have made an incredible impact in creating a sustainable, high-performance partner ecosystem that has greatly contributed to the growth of Forcepoint's business in India," said Maurizio Garavello, Vice President of Sales, APAC, Forcepoint. "Their proactive support and expertise in ensuring an ongoing successful partner enablement program has helped Forcepoint and our partners achieve continued success in large and hybrid IT environments, especially in the government and BFSI segments. I commend iValue on their tremendous accomplishment and congratulate them for being recognized as the best Value Added Distributor in Asia Pacific."