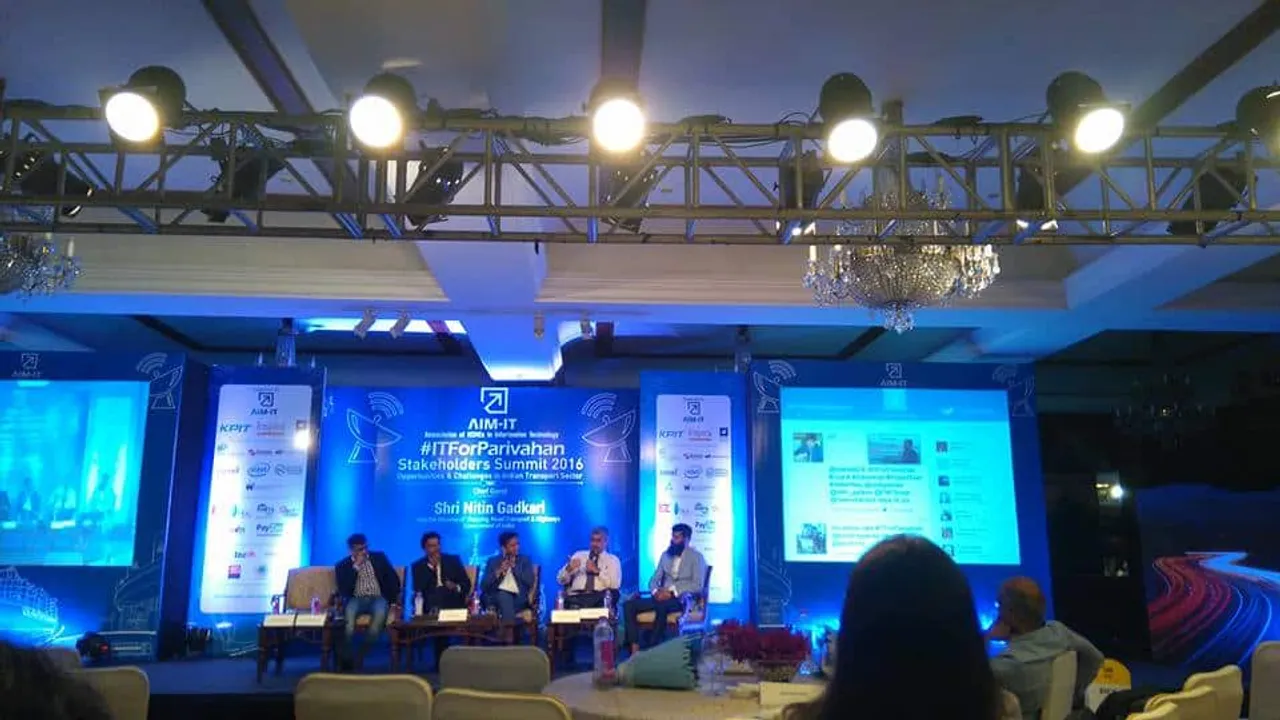 #ITforParivahan
#ITforParivahan is an idea to transform the country into a better one by using IT for Transport, most importantly, it makes us to think how governance could be better through public participation. AIM-IT (Association of MSMEs for IT) organised an event at Delhi, for effective governance in transportation.
The event of the association saw participation of relevant stakeholders including central & state government ministers, bureaucrats, IT and logistics companies, start-ups, innovators and policy makers. Discussion was held on various important topics in sessions such as the future of Smart shipping & smart road networks; Start up India, Enabling efficient logistics, transport & E-commerce and Smarter roads, Smarter transport.
The highlight of the event was unveiling the draft policy document about On Vehicle Smart Module(OVSM). On the occasion, the Chief Guest Minister Nitin Gadkari stressed on importance of monitoring. He said,  "Transport Ministry aims to contribute to at least 3% of GDP over the next two years through higher implementation of technology",  he also added "the infrastructure of the country is most important thing for progress, regarding the transport sector, we have already said it to use maximum IT as required. We have PACE, the monitoring system which is monitoring 900 projects worth 6 lakh crore, we can identify problems and see the progress and the most important thing is the monitoring by which we can increase efficiency. The use of IT In different sectors is agenda for us and we have to find solutions." He also threw light on various projects which are being worked under government takings.
AIM-IT chairman, Vinit Goenka stated, "IT should be used as a decision support system in strengthening, maintaining and upgrading national transport system. #ITforparivahan can provide solution to the challenges we face today, but also prepare us better for hurdles of tomorrow."
Talking about transport in smart cities he said, "Smart cities would clearly define the future of India's urban infrastructure. We do realise that India can have 100 smart cities only if it invests in technology which will help build a strong and efficient logistics network. Smart movement of goods and people within cities will become essential as the stress on efficiency increases."
Transport and communication prsonalities such as Kuldeep Goyal, MD, BSNL elaborated on preparing telecommunication infrastructure to help transportation, whereas Sushil Kumar, Dy. Director General(IoT) talked about smart cities and shared his views on how machine to machine communication can help in making cities smarter and in turn transportation smarter.
OVSM is one of top 5 recommendations which was selected after wide campaign. #ITforParivahan campaign was started in September 2015 by the IT task force members with an aim to make governance effective through public participation, which was reached out by many technocrats and 1.5 crore Indians through media campaign. Idea of OVSM was given by entrepreneur Vishwajeet, which was revealed at the event. It's a simple technology with RFID, GPRS, GPS, smart card reader etc, to help in smart transportation. This device can be installed in any vehicle, and technology is already being used in many countries.
AIM-IT aims to infuse IT into parivahan and making  it digital and for this many measurements are to be implemented, Sanjay Jaju announced launching  of 3 projects this coming 16 may which will help in making this idea into reality.