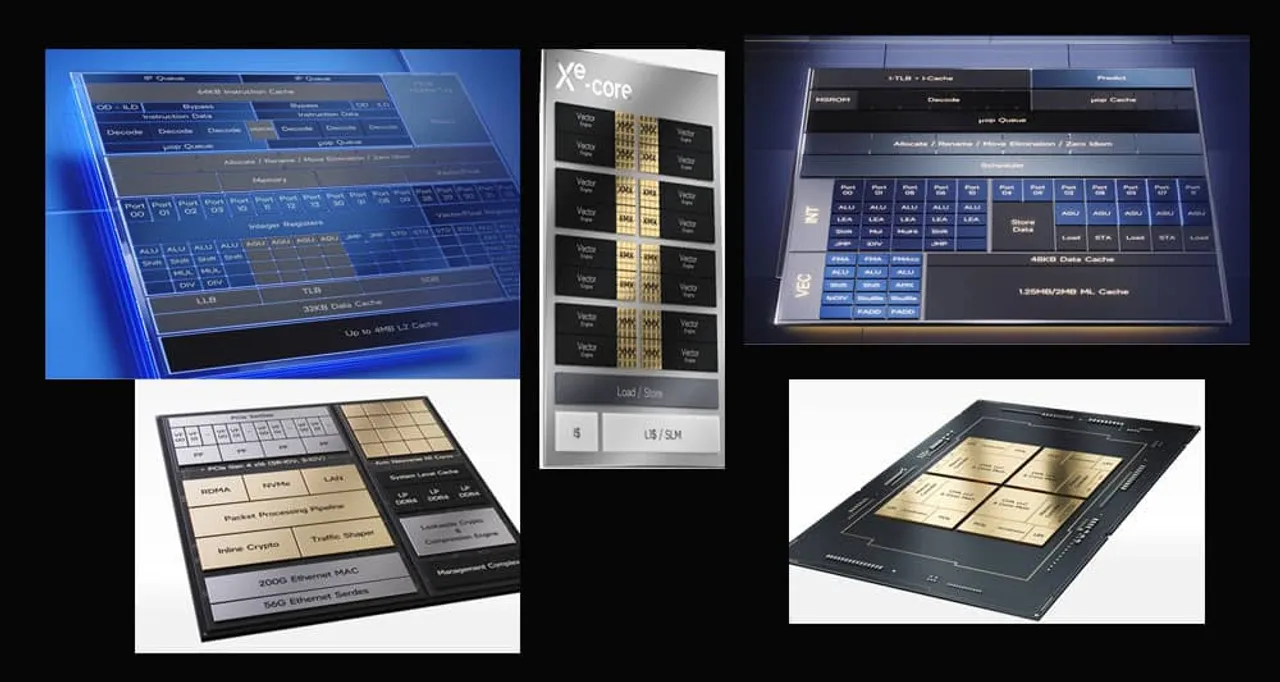 At Architecture Day 2021, Intel detailed the company's architectural innovations to meet this exploding demand, setting the stage for new generations of leadership products. Intel architects provided details on two new x86 central processing unit architectures; Intel's first performance hybrid architecture and Intel Thread Director; Intel's next-generation datacentre processors; infrastructure processing unit architectures; and upcoming graphics architectures as the new architectural innovations.
 x86 Architectures With its Efficient-core and its Performance-core, Intel signals the biggest architectural innovations shift in a generation for x86 central processing units. The Efficient-core micro-architecture is designed for throughput efficiency and efficient offloading of background tasks for multitasking. It runs at low voltage and creates headroom to increase frequency and ramp up performance for more demanding workloads. The Performance-core micro-architecture is designed for speed, the highest performing CPU core Intel has built. It pushes the limits of low latency and single-threaded application performance and provides a significant boost at high-power efficiency that can better support large applications.
Client Computing – "Alder Lake," Intel Thread Director Intel's next-generation client architecture, code-named "Alder Lake," is Intel's first performance hybrid architecture. Alder Lake integrates a Performance-core and an Efficient-core to provide significant performance across all workload types. For the cores to work seamlessly with the operating system, Intel developed Intel® Thread Director. Built directly into the core, Thread Director empowers the operating system to place the right thread on the right core at the right time. Alder Lake will deliver performance that scales to support all client segments from ultra-portable laptops to enthusiast and commercial desktops.
Client Computing – Graphics Xe-HPG is a new discrete graphics micro-architecture for gamers and creators designed for scalability and enthusiast-class performance with a software-first approach. Products based on this micro-architecture will come to market in the first quarter of 2022 under the Intel Arc brand and Alchemist family of system-on-chips.
Data Center – Sapphire Rapids Combining Intel's Performancecores with new accelerator cores, "Sapphire Rapids," the next generation of Intel Xeon Scalable processors, represents the industry's biggest data center platform advancement in over a decade. The processor delivers substantial compute performance across dynamic and increasingly demanding data center usages and is workload-optimized to deliver high performance on elastic compute models like cloud, micro-services and artificial intelligence.
Datacentre – Infrastructure Processing Unit The IPU is designed to enable cloud and communication service providers to reduce overhead and free up performance for central processing units. Among the new IPU architectures: Mount Evans is Intel's first ASIC IPU, designed to address the complexity of diverse and dispersed data centers. Oak Springs Canyon is an IPU reference platform built with the Intel® Xeon D processor and the Intel® AgilexFPGA. And the Intel N6000 Accelerated Development Platform is designed for use with Xeon-based servers.
Datacentre – Ponte Vecchio Based on the Xe-HPC microarchitecture, Ponte Vecchio delivers industry-leading FLOPs and compute density to accelerate artificial intelligence, high performance computing and advanced analytics workloads. Intel disclosed details of the Xe-HPC microarchitecture, including that A0 silicon performance is providing greater than 45 TFLOPS FP32 throughput, greater than 5 TBps memory fabric bandwidth and greater than 2 TBps connectivity bandwidth.