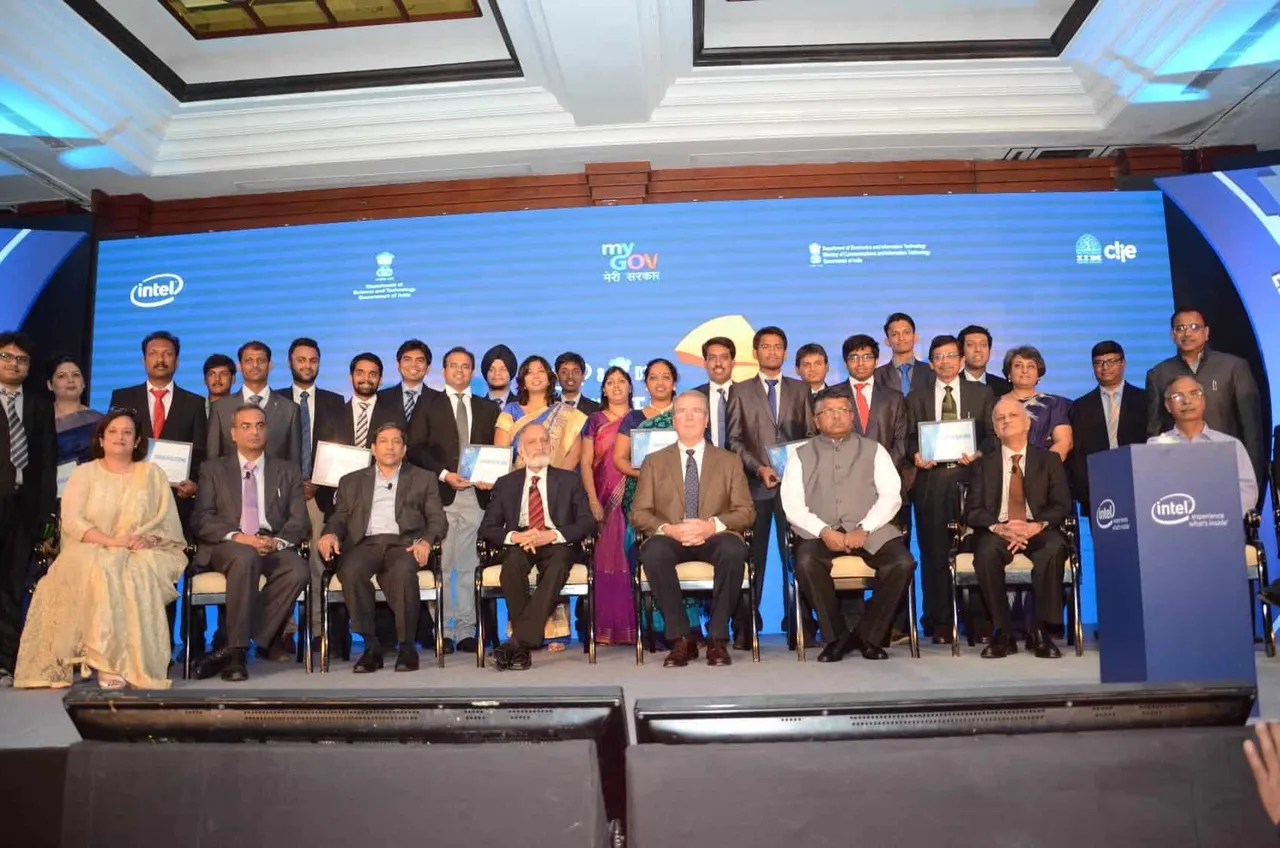 Intel has launched the "Ek Kadam Unnati ki Aur" program and initiative has been taken to empower non-urban citizens through technology. Intel aimed at driving technology adoption and making the benefits of technology broadly accessible across India in support of the Digital India campaign. 'Ek Kadam Unnati Ki Aur' program, through which Intel will work with national and regional governments to create a blueprint to drive technology enabled transformation at the grassroots in 10 states in India.
Also, Intel revealed and awarded top 10 teams in the Intel and DST innovate for Digital India challenge i.e. Aurassure (Bhubhneshwar), Jayalakshmi Agrotech (Bangalore), Indian TTS (Ahmedabad), Asha+ (Chennai), Airpaper (Hassan), Embryyo (Pune), Aapna Seva (Bangalore), Haqdarshak (Chennai), Tjay (Bangalore) and DEIAB(Delhi).
Under the Ek Kadam Unnati Ki Aur program, Intel will work with national and regional governments to create a blueprint to drive technology enabled transformation at the grassroots level in 10 states. Intel aims to work closely with entities like Common Services Centers* (CSCs) and MyGov* that provide last mile citizen services across the country to set up Digital India Unnati Kendras that will provide devices, relevant local content and training for citizens thereby creating opportunities for development and empowerment in the 10 states.
Speaking at the occasion, Ravi Shankar Prasad, Minister of Communications and IT said, "I would like to congratulate and thank Intel and the innovators for taking us one step closer to our goal of Digital India through the Innovate for Digital India Challenge. We strongly believe that grassroots level innovation built through robust Public Private Partnerships like this will lead the way towards achieving a truly digital India. I would also like to congratulate Intel for launching the Ek Kadam Unnati Ki Aur. Programs like these are the need of the hour to enable citizens, facilitate digital infrastructure as a utility and provide governance as well as services on demand."
Also, he announced that separate portal would be created for innovators who can register and showcase their innovation publicly. The portal would empower and encourage innovators to mark their talent at higher levels with the power of technology. Apart from this he ensured that worthy innovators would be supported by government to move ahead.
Sharing his views, Gregory R. Pearson, Senior Vice-President and General Manager, Sales and Marketing Group, Intel Corporation said, "Intel is committed to support the Digital India vision and we believe this vision can be realized with strong collaboration between the government and the technology ecosystem. We are pleased to launch the Ek Kadam Unnati Ki Aur program for making technology mainstream in non-urban India in collaboration with the government."
Speaking on Intel's commitment towards Digital India, Debjani Ghosh, Vice-President, Sales and Marketing Group and Managing Director, Intel South Asia said, "Intel has been fostering innovation in India for over two decades now. We are extremely proud of the milestones we have achieved across the two areas of our commitment to Digital India, through Skills Development and Innovation. I would like to take this opportunity to thank the government departments and my industry colleagues who strongly supported the Innovate for Digital India Challenge. We look forward to continuing collaboration to scale our Ek Kadam Unnati Ki Aur initiative towards making Digital India a reality."
Also, she expressed that Intel will also empower women from all walks of life so that they can use technology in their lives and live with dignity. Although, Intel has been providing trainings to women in rural areas and has started with its first Unnati Kendra in Mehboobnagar, Hyderabad run by Manganeshwari who has trained around 100 women. Intel would be continuing with the same further.
Intel is also providing broader support for Digital India through its multiple initiatives, including the Intel & DST Innovate For Digital India Challenge, Intel India Maker lab that provides infrastructure to budding entrepreneurs and platforms; Initiative for Research and Innovation in Science* (IRIS); Intel India Embedded Challenge and Intel® International Science & Engineering Fair (Intel ISEF), that stimulate a culture of innovation and technology enabled transformation in young Indians.