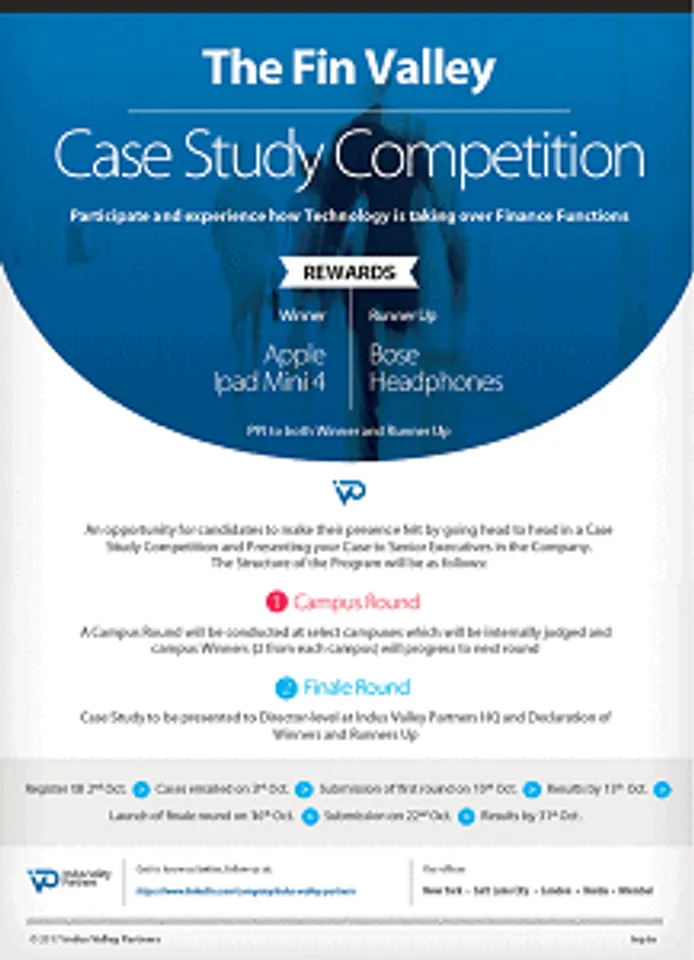 Indus Valley Partners (IVP) launched the first edition of Fin Valley Contest. The program is being organised in collaboration with India's leading management colleges including; Indian Institute of Management – Rohtak, Jamnalal Bajaj Institute of Management Studies (JBIMS), Narsee Monjee Institute of Management Studies (NMIMS) and Indian Institute of Foreign Trade (IIFT).
With this program, IVP is focused on providing insights about the fintech space and  give them opportunity to work on finance as well as real life business problems. Further, IVP is awarding the winners with exciting prizes including; an Apple iPad Mini4 for the winner and Bose headphones for the runner up. In addition to this, both winners would also be provided with an opportunity for Pre Placement Interview with the company, hence giving their career in fintech space a great kick-start.
Sweta Mishra, Director HR, Indus Valley Partners during the launch said, "We are thrilled with the launch of this initiative and strongly believe that each and every participant would give in their best. With this contest, we would be majorly focus on preparing the next gen workforce to embrace the changing industry landscapes and expand their horizon towards solving business problems in this current era of automation.
To add on to the fun factor, we are rewarding our winners with exciting prizes and offering them with Pre Placement Interview opportunity with IVP. We are keen to initiate more of such programs in collaboration with other colleges as well, in the near future. ."
In the contest, the participants will be provided with a case study based on real business problem to which they will be required to provide an appropriate approach  and  solve the same . The parameter for evaluation would be on student's understanding of the problem, validity of assumptions, relevance and practicality of the solution , research involved and team work.
The contest will be conducted in two rounds:
Campus round: This will be the first round where the case study from the students will be judged internally by college professors and stakeholders.  Every team will comprise 2 to 3 members. In this round two winners from each campus will be proceeded to the next round.
Finale round: In this round the case studies prepared by the 8 teams from 4 college students will be judged by the senior leadership at Indus Valley Partners. They will then declare the final winner and the runner up of the contest.
The contest will be initiated on the 3rd October, however, the students have to submit their registration by 2nd October.